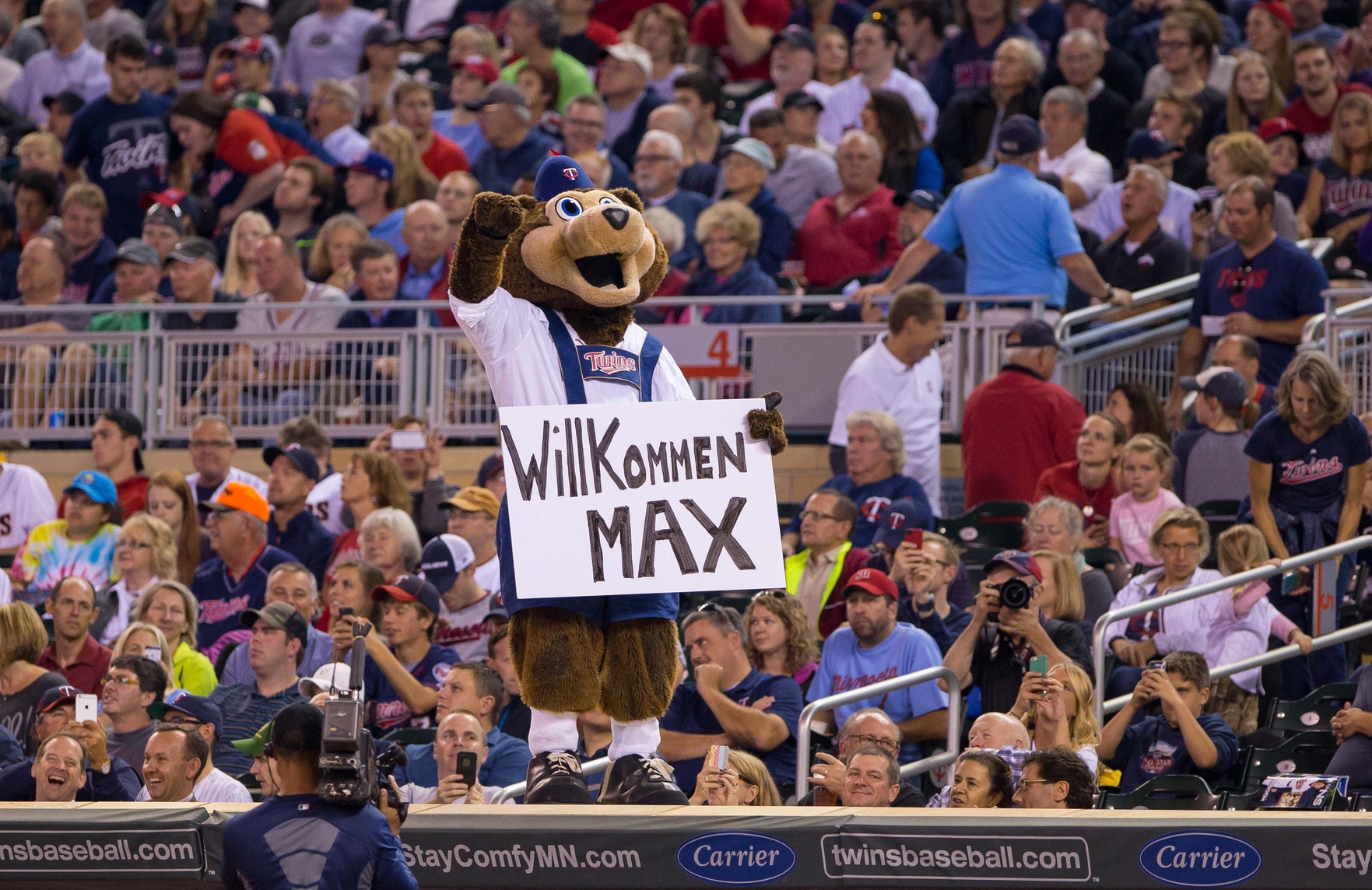 Image courtesy of Brad Rempel- USAToday Sports
A season ago it was Eddie Rosario, slugging two homers in 17 spring games, who drove the conversation regarding him coming north. In 2014, Aaron Hicks turned 18 spring games into a .327/.364/.462 slash line that had him looking ready to assume the full time center field gig for the Twins. Heading into 2016, there's no doubt going to be "that guy" again, but the question is who.
While you're beginning to put together some thoughts as to who that may be, let me offer some insight as to what the favorites may look like. Here are who have the best odds of being the talk of the Twins' spring down in Fort Myers.
Max Kepler 4/1:
There's little doubt that Kepler has one of the best shots to impress at Twins camp. At different points this offseason, I've considered his potential to break camp with the big league club and immediately head north. I've addressed him first here since he's the lone member of this list who is not a non-roster invitee. Kepler's .318/.410/.520 slash line from 2015 is already impressive, and his debut at the end of the year suggests the Twins aren't going to hold him back for long. I expect a strong spring from the German prospect, but still see him starting the season on the farm.
Nick Burdi 5/2:
Right on Kepler's heels is 2014 Minnesota Twins draft pick Nick Burdi. Expected to be somewhat accelerated through the system, Burdi hit a bit of a speed bump last year. Despite the demotion, it's how he rebounded that has me believing 2016 is going to be a big year for the former Lousiville Cardinal. Burdi owned the Arizona Fall League, posting a 0.00 ERA across 8.0 innings and compiling a 12.4 K/9 while walking just 1.1 BB/9 (command being his biggest shortcoming thus far). The Twins pen is in need of help, and going up against the likes of Fernando Abad, Buddy Boshers, Brandon Kintzler, and a couple of others for a final pen spot, Burdi could actually push himself to the top of the group.
Jake Reed 15/1:
Tied to Burdi, being from the same draft class, much of Reed's reasoning is similar to the aforementioned Burdi. He's a budding reliever in an organization whose major league pen needs significant help. Reed is not quite the hard-thrower Burdi is, and his strikeout rates are lower (8.5 K/9 across two MiLB seasons). That said, Reed also dominated in the Arizona Fall League (1.69 ERA in 10.2 IP) which was nice to see. Coming off less of an injury history than J.T. Chargois (who I expect to debut with the Twins this season as well), Reed has the opportunity to turn some heads this spring.
Jose Berrios 25/1:
While no doubt a long shot, the odds being stacked against Berrios breaking camp with the Twins aren't really any indication of his performance. At this point, and even at the end of last season, Berrios has accomplished all he can on the farm. he owned a 2.87 ERA and a 9.5 K/9 a year ago while walking batters at just a 2.1 BB/9 clip. He was actually better at Triple-A than Double-A, and the Twins could use need him in their rotation. Spring will be about forcing the Twins' hand as to how early they promote him, even if that won't be Opening Day. He'll be kept down past the Super 2 deadline, and I'd guess Minnesota will have him up around May. Dominating this spring would be nice, but it's not going to get him the immediate call.
Joe Benson 75/1:
A familiar face makes his way back onto the scene for the Twins, and it's actually not as crazy a thought as it might seem. Minnesota brought back former top prospect Benson following a stint playing Indy Ball. Now 27 and having not played in the big leagues since 2011, Benson is looking at a monumental task to crack the 25-man roster. He hit a mediocre .248/.351/.361 at Double and Triple-A for the Mets and Braves organizations respectively. His time with the Sugar Land Skeeters was brief, and the numbers weren't thrilling there either. Working in Benson's favor is a projected outfield of Eddie Rosario, Byron Buxton, and Miguel Sano. Benson is a plus defender, and Shane Robinson is no longer with the organization to provide a defensive replacement type. Should Buxton not start with the Twins (he will), the path becomes even more realistic. I wouldn't bet on it, but a torrid spring and toss- up roster decision, Benson could end up being the Twins 25th man.
For more from Off The Baggy, click here. Follow @tlschwerz