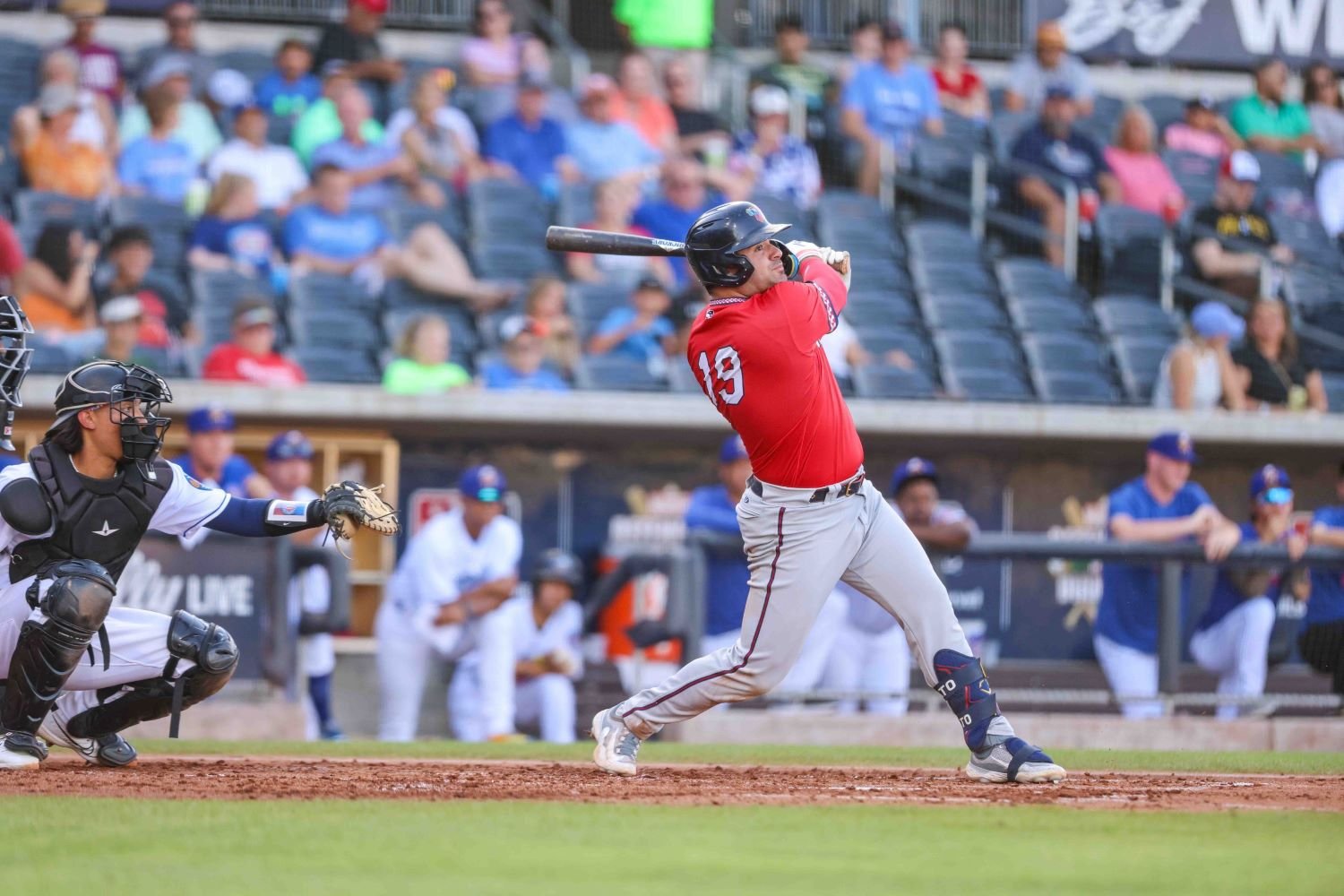 Image courtesy of Ed Bailey (Photo is of Aaron Sabato)
TRANSACTIONS
None

Saints Sentinel
St. Paul 5, Iowa 7
Box Score
Patrick Murphy: 5 IP, 7 H, 4 ER, 3 BB, 4 K
HR: None
Multi-hit games: Austin Martin (2-for-4, R, RBI)
The Saints were eliminated from playoff contention on Saturday.
Despite an incredible 80-62 record—good enough for 1st place in the International League West division—St. Paul trails two other teams in the International League in total record. With one of those teams being the seven games up Durham Bulls—victorious today while the Saints lost—the seven games remaining make it impossible for St. Paul to pass the Bulls, who own the tiebreaker over the Saints. It's a tough outcome for a team that has played so well. 
Starter Patrick Murphy had seen better days. He oversaw runs in the first three frames, giving the Cubs a six-run advantage with some aid from poor defense. It was a rare stumble for the former reliever, who had dominated in his new role up to this point.
Despite the immediate deficit, the bats rumbled, gestating for five innings before unleashing a pair of runs in the 6th and a trio of scores in the 8th. The first two plated when Gilberto Celestino swiped home after Iowa's catcher fired a bad throw to 2nd in an attempt to catch Austin Martin stealing; Trevor Larnach then singled in Martin. The 8th was another democratic effort, with Michael Helman doubling, Martin grounding out, and Larnach coaxing in a final run with a sacrifice fly.
That was it, though, as St. Paul finally receded and Iowa plated an unnecessary seventh run to bring the game to its eventual end.
Technically old friend Nick Burdi pitched 2/3 of an inning for the Cubs. Minnesota's 2014 2nd-round pick tossed three frames for the big-league club in 2023, but has spent most of the season in the minors; it's the first pro season he has pitched in since 2020.
Chicago's 13th-best prospect—1st baseman Matt Mervis—doubled in four at-bats.
Wind Surge Wisdom
Wichita 7, Midland 8
Box Score
Sean Mooney: 1 IP, 0 H, 0 ER, 0 BB, 1 K
HR: Alex Isola (20), Aaron Sabato (12)
Multi-hit games: Alex Isola (2-for-4, HR, 2 R, RBI), Jake Rucker (3-for-4, 2 R), Ben Ross (2-for-3, 2 R, RBI, BB), Willie Joe Garry Jr. (2-for-4, 2B, RBI)
Wichita blew a 7-4 lead in the 9th, losing in horrifying fashion in the penultimate game of their regular season.
Sean Mooney was the starter, but Jaylen Nowlin entered after an inning as the bulk pitcher. He was inefficient. Midland pounced on the lefty for four earned runs, not punishing his walks, and instead choosing to blast two homers off him, giving them a slim advantage.
It didn't last. Wichita kept pace early with piranha-esque singles and stolen bases before transitioning to modern Twins ball, smacking extra-base hits around the field to eventually give the Wind Surge a hearty 7-4 lead heading into the 9th. 
But then, tragedy. Miguel Rodriguez earned the inning's first out, completely unaware of the fortune change soon to occur. Two singles, a walk, and a fielding error knocked him out of the game, scoring a run in the process. With Francis Peguero tabbed as the man set to establish order, the RockHounds simply continued their terror; Max Muncy—no, not that one—smoked a bases-clearing double, handing Midland a lead unthinkable just two outs earlier. The Wind Surge never recovered.
Wichita is technically still alive in their playoff race, needing a win on Sunday with a Cardinals' loss to punch their ticket.
Catcher Daniel Susac served as Midland's best prospect; he homered and struck out twice.
Kernels Nuggets
The Kernels did not play on Saturday. They won their previous playoff series, sending them to the Midwest League championship against the Great Lakes Loons with game 1 starting on Sunday. 
Mussel Matters
The Mighty Mussels' 2023 regular season is over; they will not play again this year. 
TWINS DAILY PLAYERS OF THE DAY
Twins Daily Minor League Pitcher of the Day – Isaac Mattson
Twins Daily Minor League Hitter of the Day – Alex Isola
PROSPECT SUMMARY
Here's a look at how the Twins Daily Top 20 Twins Prospects performed:
#5 - Matt Wallner (Minnesota) - 1-3, BB, K
#8 - Austin Martin (St. Paul) - 2-4, R, RBI
#10 - Tanner Schobel (Wichita) - 0-1
#17 - Yunior Severino (St. Paul) - 0-3, BB, K
#18 - Jose Salas (Cedar Rapids) - 0-4, K
SUNDAY'S PROBABLE STARTERS
St. Paul @ Iowa (1:08 PM) - RHP David Festa
Midland @ Wichita (1:05 PM) - TBD
Cedar Rapids @ Great Lakes (12:05 PM) - LHP Christian MacLeod