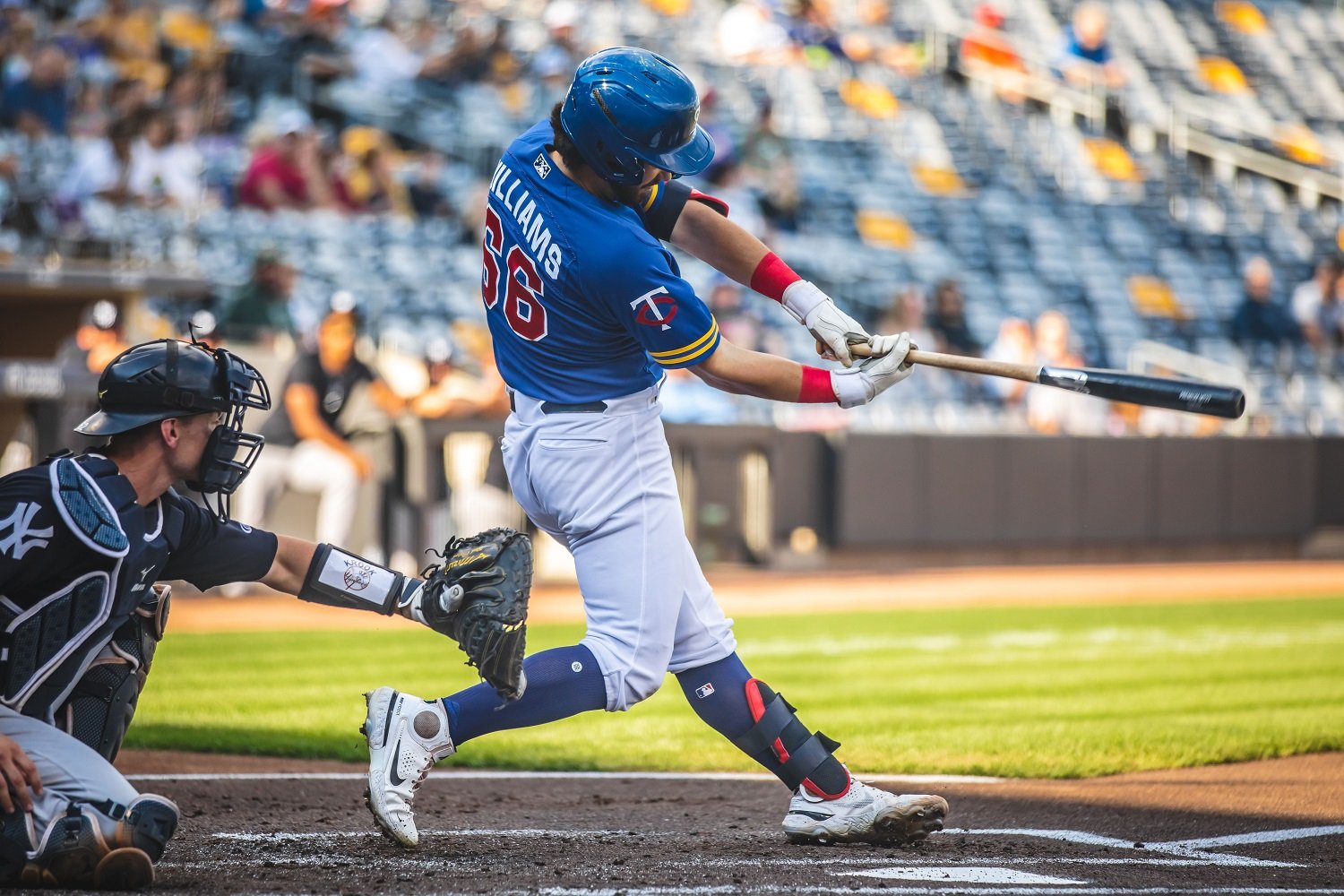 Image courtesy of Rob Thompson, St. Paul Saints (photo of Chris Williams)
TRANSACTIONS
After appearing in a game Monday for the FCL Twins, IF Austin Martin continued his rehab assignment with the Fort Myers Mighty Mussels.
The St. Paul Saints were assigned 3B Seth Gray from Wichita.

The Cedar Rapids Kernels sent RHP Owen Griffith on a rehab assignment with the FCL Twins.
SAINTS SENTINEL
Iowa 4, St. Paul 10
Box Score
Jordan Balazovic was the scheduled starter early Tuesday morning, but by game time the Saints went with an opener in Cody Laweryson, before handing it over to Balazovic.
Laweryson pitched into the second inning, but his pitch count soared and after recording two outs, gave up a three-run homer to end his outing. Balazovic then came on and gave up a pair of doubles to put another run on the board for the Cubs, before getting his first strikeout to end the second inning. Laweryson went 1 2/3 IP, and was charged with three runs on three hits and two walks, while striking out three on 48 pitches (27 for strikes).
Of note from the Saints Broadcast, the talk was of Balazovic coming out of the bullpen, and how the Twins wanted to get him used to that instead of the routine of starting. They may be onto something, even if his usage has been odd this year if that's the case.
Anyway, they might be onto something as Balazovic cruised for the next three innings, allowing just one hit and two walks, while punching out six more Iowa hitters. He finished with one earned run allowed on three hits and two walks, striking out seven total. He still threw 71 pitches, which you'd rather see in about five innings, but made it work. He was 94-96 MPH with his fastball, and dropped in some great breaking balls hitters watched for called third strikes.
The Saints offense scored first in the game thanks to International League Player of the Week, Matt Wallner. His double in the first inning left his bat at 106.3 MPH to score Andrew Stevenson, who had led off with a single.
In the bottom of the fourth, they cut the Cubs lead to two, when Jose Miranda delivered an RBI double. Almost unfathomably, this was Miranda's first double since joining the Saints. He added his second in the eighth inning.
In the fifth, the Saints loaded the bases with nobody out, and Jair Camargo cashed them all in with his sixth home run of the season, a 447-foot grand slam that put them out front 6-4.
After Balazovic's day was done, Austin Schulfer pitched a scoreless sixth inning, working around three singles thanks to Wallner's arm in right field, as his bullet cut down a runner at home to keep the inning scoreless. Austin Brice chipped in two scoreless frames, striking out three.
In the eighth inning, a single, double, and walk loaded the bases again for the Saints, and this time it was Chris Williams with the moonshot. His 440-foot grand slam made it 10-4 Saints.
Oliver Ortega finished it out with a scoreless ninth to send the CHS Field faithful home happy, and ensure Balazovic earned his first career triple-A win.
The Saints knocked out 13 hits as a team, with Stevenson (3-for-4, 2 R, 2B), Miranda (2-for-5, R, 2 2B, RBI, K), Williams (2-for-4, 2 R, HR, 4 RBI, BB, K), and Mark Contreras (2-for-5, R, K) collecting multiple hits.
WIND SURGE WISDOM
Wichita 5, San Antonio 6
Box Score
The Wind Surge jumped out to an early 5-0 lead after two innings, stringing together a bunch of doubles in both frames.
Brooks Lee led off the game with his 17th double of the year, extending his Texas League leading tally. Then it was Yunior Severino and Jake Rucker who followed suit to give them a 2-0 lead before an out was recorded. Pat Winkel later added an RBI single to make it three runs in the first.
In the second, Lee got a two-out rally started with his 18th double, Severino drew a walk, then Rucker brought them both in with his second double in the first two frames for the 5-0 lead. 
Unfortunately for Wichita, they got just two more hits the rest of the way, and San Antonio battled back.
Starter Carlos Luna went the first four innings, allowing one run on three hits and three walks, while striking out three. His run allowed came in the fourth on a solo home run. Hunter McMahon delivered a scoreless fifth, but didn't make it out of the sixth. He was charged with two earned runs on three hits in 1 2/3 innings, striking out one. Jordan Brink went the next 1 1/3 scoreless, allowing one hit and one walk.
Regi Grace then made his double-A debut, delivering a scoreless eighth inning to pick up a hold and keep the Wind Surge's two-run lead intact. He walked one and threw 14 pitches (7 strikes). 
In the bottom of the ninth Wichita turned to Curtis Taylor, and it didn't work. Two walks and a hit-batter loaded the bases before Francis Peguero was brought in. His first pitch was sent into center field for a bases-clearing double, and walk-off win for the Missions.
Lee (2-for-5, 2 R, 2 2B) and Rucker (2-for-2, R, 2 2B, 4 RBI, BB) led the way for the offense, but what started out white hot, finished ice cold for the team as whole and San Antonio was able to steal game one of their six-game series late.
KERNELS NUGGETS
Cedar Rapids 1, Dayton 6 (5 innings)
Box Score
The Kernels series opener against the Dragons was cut a bit short by rain in Dayton, Ohio but it may have been for the best.
They fell behind 5-0 after just two innings, as starter Kyle Jones got ambushed from his first pitch. Literally, as it went for a solo home run to begin the bottom of the first inning. From there, a walk, single, and an error made it a 2-0 for Dayton after one.
In the second inning, another error led to an RBI single and two-run homer, and the Dragons were in control. Jones went on to finish four innings, allowing those five runs (three earned) on four hits and two walks. On a positive note, he did strike out seven.
Malik Barrington came on to start the fifth and allowed one run on two hits, while striking out two.
The Cedar Rapids offense managed just two hits in the shortened contest, which came from Emmanuel Rodriguez and Kala'i Rosario. Rosario's single in the third drove in their only run of the game, scoring Tanner Schobel who walked twice in three at-bats. As a team the Kernels did draw seven walks, but were just 1-for-5 with runners in scoring position.
Right-hander Mike Paredes is scheduled to pitch on Wednesday, taking on former Twins first round draft pick Chase Petty, who has a 0.56 ERA, 0.81 WHIP, and 21 strikeouts for the Dragons in four starts and 16 innings pitched on the season so far.
MUSSEL MATTERS
Clearwater 10, Fort Myers 5
Box Score
Fort Myers starter Develson Aria recorded only one out in this contest, and the Mighty Mussels never recovered. Aria couldn't find the strike zone, walking five of the first seven hitters of the game and before the inning was over had four earned runs on his ledger. Emergency reliever A.J. Labas managed to keep the damage to just that and added a scoreless second inning, allowing one hit and one walk while striking out three in 1 2/3 innings.
Danny Moreno (1 2/3 IP, 4 H, 4 R (3 earned), BB), Samuel Perez (3 1/3 IP, 2 H, 1 ER, 2 BB, K), Johnathan Lavallee (1 1/3 IP, 2 H, 1 ER, BB), and infielder Mikey Perez (2/3 IP) accounted for the rest of the pitching staff's innings.
The Mighty Mussels' scoring came in just two innings, with three runs in the fourth inning on a Rubel Cespedes RBI double and Alec Sayre two-RBI single, then two in the eighth thanks to a double steal of home and second base, and an RBI single from Cespedes.
Jorel Ortega (2-for-3, 2 R, BB, K, SB) and Cespedes (2-for-4, R, 2B, 2 RBI, 2 K) had multiple hits, and Dylan Neuse chipped in a double. Gilberto Celestino continued his rehab assignment but finished 0-for-4 with three strikeouts.
Austin Martin began his rehab assignment playing second base and batting second. He was 0-for-3 with a walk.
COMPLEX CHRONICLES
FCL Twins 5, FCL Rays 6
Box Score
Jack Noble put together a strong start for the Twins, finishing the first five innings, allowing just one run on three hits and three walks, while striking out five. The rehabbing Owen Griffith pitched a scoreless sixth inning, striking out one
Down 1-0 at that point, but the Twins offense finally got going in the seventh. A sac fly from Bryan Acuna tied it, then two batters later Anderson Nova put them in front 4-1 with a three-run home run.
Unfortunately, the Rays countered with five of their own in the bottom half. Carlos Gutierrez finished the final two innings for the Twins, but gave up those five runs on three hits and a walk while striking out four.
Yasser Mercedes was 1-for-2 with a pair of walks out of the leadoff spot. Jose Rodriguez was 1-for-3 with a run scored and a walk. Byron Chourio scored a run and drew two walks in four plate appearances.
DOMINICAN DAILY
DSL Twins 3, DSL Phillies Red 4
Box Score
The Twins got solid pitching for the first five innings, allowing just one run as a team in that timeframe. They were led by starter Adrian Bohorquez who went the first three innings, and recorded all nine of his outs via strikeout. He allowed two runs (one earned) on three hits and a walk. But they weren't able to hold on from there.
Oscar Paredes (1 IP), Jeicol Surumuy (2/3 IP, 3 H, K), Jose Ojo (1/3 IP), Leonardo Lugo (2 2/3 IP, 3 H, 2 R, 3 BB, 2 K), and Reynel Garcia (1/3 IP) finished off the rest of the game, with Lugo getting saddled with a blown save and the loss.
The lineup managed just six hits, with shortstop Yilber Herrera and first baseman Javier Roman collecting doubles and an RBI. The Twins biggest bonus baby of the year, Ariel Castro, went 1-for-3 with a walk and a strikeout hitting in the three-hole. Catcher Carlos Silva was also 1-for-3 with a walk and two K's.
TWINS DAILY MINOR LEAGUE PLAYERS OF THE DAY
Pitcher of the Day - Jordan Balazovic, St. Paul Saints (W, 3 1/3 IP, 3 H, 1 ER, 2 BB, 7 K)
Hitter of the Day - Chris Williams, St. Paul Saints (2-for-4, 2 R, HR, 4 RBI, BB, K)
PROSPECT SUMMARY
#1 - Brooks Lee (Wichita) - 2-for-5, 2 R, 2 2B
#3 - Emmanuel Rodriguez (Cedar Rapids) - 1-for-2, BB
#4 - Edouard Julien (St. Paul) - 1-for-5, R, 2 K
#9 - Matt Wallner (St. Paul) - 1-for-3, R, 2B, RBI, BB, HBP, 2 K
#10 - Yasser Mercedes (FCL) - 1-for-2, 2 BB
#11 - Austin Martin (Rehab-Fort Myers) - 0-for-3, BB
#12 - Jose Salas (Cedar Rapids) - 0-for-2, K
#13 - Noah Miller (Cedar Rapids) - 0-for-1, BB, K
#14 - Jordan Balazovic (St. Paul) - W, 3 1/3 IP, 3 H, 1 ER, 2 BB, 7 K
#18 - Jose Rodriguez (FCL) - 1-for-3, R, BB, K
#19 - Yunior Severino (Wichita) - 1-for-4, 2 R, 2B, BB, 2 K
WEDNESDAY'S PROBABLE STARTERS
Iowa @ St. Paul (7:07 PM CDT) - RHP Aaron Sanchez (3-4, 3.72 ERA)
Wichita @ San Antonio (7:05 PM CDT) - LHP Aaron Rozek (0-2, 6.11 ERA)
Cedar Rapids @ Dayton (6:05 PM CDT) - RHP Mike Paredes (2-0, 2.11 ERA)
Clearwater @ Fort Myers (6:00 PM CDT) - RHP C.J. Culpepper (2-2, 2.59 ERA)
Please feel free to ask questions and discuss Tuesday's games!