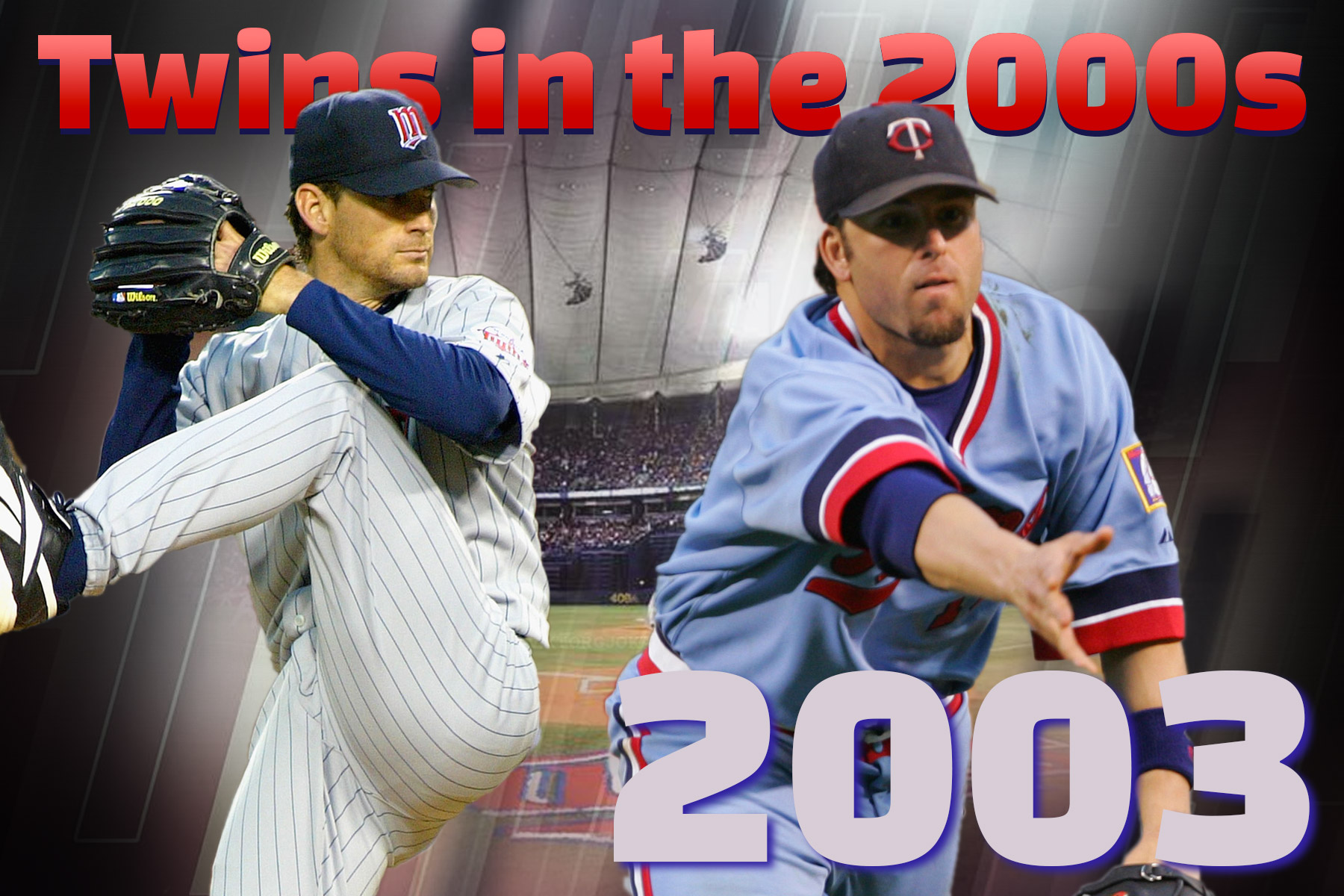 Image courtesy of Brock Beauchamp
We're running a 20-part series in which we look back at each Minnesota Twins season of the 2000s. A rotation of different writers will highlight key moments, unearth forgotten details, and share nostalgic tales from the past two decades leading up to the present. This installment covers the 2003 season.
Team Record: 90-72
Finish: 1st Place in AL Central
All-Star: Eddie Guardado (RP)
Awards: Torii Hunter (Gold Glove, CF)
Playoffs: Lost to NYY 3-1 in ALDS
Season Overview
The 2003 season represented a big opportunity for a Twins franchise that was looking to repeat as division champs for the first time in more than three decades (1969-70). They had come within three wins of a World Series berth the prior season, and the AL Central was again ripe for the taking. Cleveland sunk below .500 in 2002 as they pivoted into a rebuild following a dynastic run in the division. The Royals and White Sox were mediocre coming into '03, and the Tigers were unspeakably atrocious.
This was seemingly a moment for Minnesota to ramp up and capitalize, but instead, it sticks in the memory as a prime example of this organization's inability to make impact moves and get over the hump during Terry Ryan's winning window. One of Ryan's most eventful years at the helm featured more bad than good.
Following a 2002 season that saw each of Minnesota's top three rotation staples – Brad Radke, Eric Milton, and Joe Mays – regress, starting pitching was an open question mark. Ryan passed on free agents or trades, trusting the trio to rebound and succeed alongside veteran Rick Reed and young talent Kyle Lohse.
In early spring training, the Twins received a grim revelation: Milton needed knee surgery, and it would cost him most the season. The lefty's workload – 970 innings pitched in the majors through age 26 – had taken a toll. He made it back to pitch a few times in September and the playoffs, but would be traded that winter.
The silver lining of Milton's absence meant that a path was open for Johan Santana, coming off a rather sensational showing as swing man in 2002. But here Ryan made one of his most infamous and infuriating decisions as GM. Rather than entrusting the 24-year-old Santana and his brilliant stuff, Ryan decided to sign 38-year-old free agent Kenny Rogers, a soft-tossing lefty who embodied the term "rubber arm."
Rogers was expectedly mediocre, joining the status quo in a rotation with no standouts. Santana worked in a long relief and spot starter role, posting a 2.86 ERA over 66 innings in this capacity before finally joining the rotation full-time in mid-July. By then, Mays had a 6.57 ERA through 18 starts, courtesy of an egregiously long leash. Reed was proving to be totally gassed at 38 (he retired after the season). Radke was battling through the worst season of his career. Lohse was spiraling after a great start.
At the All-Star break, Ron Gardenhire's Twins were looking woeful, back 7 1/2 games in the standings and sinking. Two moves are rightfully remembered as catalysts in the massive second-half turnaround to come:
On July 11th, Santana joined the rotation for good after three dominant months in the bullpen. He didn't miss a beat with the role switch, posting an 8-2 record and 3.22 ERA in 15 starts, then starting Game 1 of the ALDS.

On July 16th, Ryan traded outfielder Bobby Kielty to the Toronto Blue Jays for Shannon Stewart. As a disciplined, OBP-minded veteran leadoff hitter, Stewart filled a hole that had existed since Matt Lawton's departure. Displacing the incumbent rotation of Kielty and Dustan Mohr (aka Dusty Kielmohr) in right, the newcomer slashed .322/.384/.470 with numerous clutch hits in 65 games for the Twins, finishing fourth in AL MVP voting.

Even with Stewart's addition, Minnesota's offense was far from dazzling. The entire division-winning lineup from 2002 had returned, with one glaring exception: David Ortiz, released by Ryan in the offseason to make room for Rule 5 draft pick José Morban, who never played as a Twin. Ortiz signed with Boston and immediately blossomed, posting a .961 OPS with 31 homers and 101 RBIs. He finished fifth for MVP, one spot behind Stewart.
The disastrous Ortiz decision haunted Minnesota's power-hungry lineup in 2003, and for many years to come.
Absent Ortiz, Gardenhire cycled through many promising young bats in the system, with mixed results. Young outfielders like Lew Ford and Michael Restovich made good impressions in short stints. Former first-round pick Matt LeCroy saw his most extensive action yet, hitting 17 homers in 107 games at age 27. First base prospect Justin Morneau got his feet wet, slashing .226/.287/.377 with four homers in 40 games as a rookie.
With a mix of new and familiar faces, the Twins rallied to erase a big deficit down the stretch, going 37-18 after July 31st and putting the Central on ice with an 11-game winning streak (all against division opponents) in mid-September.
On September 23rd, they clinched their second straight division title with a win over Cleveland at the Metrodome. You can watch the (strangely subdued?) celebration ensue after All-Star closer Eddie Guardado records the last out around the 1-hour, 53-minute mark in this video:
Next up was Minnesota's first-ever postseason matchup against the New York Yankees. The Twins won Game 1 by a score of 3-1 in the Bronx, with the starter Santana tossing four scoreless innings, and then Minnesota's offense completely shut down. They scored one run apiece in the next three games as New York cruised to the ALCS (and eventually a World Series loss to the Marlins).
Coming up short against the Yankees in October would become a new norm for the Twins, but across the roster, longtime fixtures were in flux. The arrival of Morneau suggested Mientkiewicz's days in Minnesota were numbered. Meanwhile, Pierzynski had to be wondering about his own future with Joe Mauer fully affirming his status as baseball's No. 1 prospect, conquering Double-A and making a clear case for MLB readiness.
Team MVP: Shannon Stewart, LF
Other Contenders: Johan Santana (SP/RP), Corey Koskie (3B), A.J. Pierzynski ©, Torii Hunter (CF)
With this choice, I'm betraying my own analytical scruples. It's tough to make a pure statistical case for Stewart being the team's MVP in 2003. I mean, he played only 65 games with the Twins, ranking fifth among their position players in both fWAR and bWAR. Was he really more valuable than guys like Koskie, Pierzynski and Hunter, who put forth quality production all year long while providing excellent defense at key positions?
In this case, the narrative wins out. Stewart finished fourth in AL MVP balloting – behind Álex Rodríguez, Carlos Delgado and Jorge Posada – as observers everywhere took notice of the Twins' total transformation following the trade. And this narrative isn't totally baseless; despite being with Minnesota for less than half a season, Stewart led the team's position players in Win Probability Added (2.17).
3 Most Pivotal Games
July 17th: Won vs. Oakland Athletics, 6-2
In the first contest out of the break, Stewart made his Twins debut, with Minnesota sitting a season-high 7 1/2 games out of first. The big addition had a quiet night, finishing 0-for-5, but nonetheless the Twins notched a big win thanks to five first-inning runs against Tim Hudson (owner of a 2.71 ERA coming in).
The victory sparked a five-game winning streak, as the Twins ignited their second-half surge.
September 18th: Won vs. Chicago White Sox, 5-3
On September 15th, Minnesota completed a four-game sweep in Cleveland and took sole possession of first place for the first time since June. Next up: a chance to widen their half-game lead, with three home tilts against the White Sox team they'd just supplanted.
The Twins won the first two games behind Radke and Rogers. In the third, Lohse outpitched Bartolo Colon while Jones homered twice in another sweep-clincher. It pushed Minnesota up by 3 1/2 games in the standings with only eight left to play.
October 2nd: Lost @ New York Yankees, 4-1
The Twins rode their momentum into October with a stunning Game 1 victory at Yankee Stadium, as five pitchers combined to hold New York to a single run. The strong pitching would continue, but in Game 2, Minnesota's bats went silent and stayed that way.
Andy Pettitte worked seven innings and Mariano Rivera followed with two as the Twins managed just one score – a solo homer by Hunter in the fifth. The Twins were similarly shut down by Roger Clemens and David Wells in the next two games, and it was over. For now.
Unforgettable Highlights
Burying Buehrle
In 2003, White Sox starter Mark Buehrle was just getting started in a long career full of tormenting the Minnesota Twins, against whom he would win more games (30) than any other opponent. But on one rare and glorious day, May 16th, the Twins got the best of Buehrle, pounding him for 10 runs (nine earned) over 3 1/3 innings in an eventual 18-3 laugher. Kielty drove in five runs and Hunter drove in four. Pierzynski went 4-for-4.
Jacque Jones Sets Record for Leadoff Homers
On June 7th, in his native city of San Diego, Jones blasted his 20th and final leadoff homer as a Twin. The upcoming addition of Stewart would spell the end of Jones' days as an unorthodox low-OBP, high-SLG No. 1 hitter, but his franchise record for dingers out of the leadoff spot would hold for 14 years until Brian Dozier broke it in July of 2017.
New Leaders of the Pitching Staff Make a Statement
The Twins lost at home against Cleveland on August 13th by a score of 5-0. So why was this game special? Because up until relievers Juan Rincón and J.C. Romero combined to give up five runs in the top of the 14th inning, the Twins had shut down Cleveland's offense via a trio of hurlers who represented the best of Minnesota's pitching in 2003.
Santana fired eight shutout innings. LaTroy Hawkins followed with four strikeouts over two scoreless frames. Guardado then delivered two perfect innings of his own. It's a shame the offense couldn't do anything in this one ... but a fitting preview of the postseason.
Hawk Spreads His Wings
Two years earlier, Hawkins torpedoed Minnesota's playoff chances with a second-half meltdown as closer. Here in 2003, pitching ahead of Guardado, Hawk reached the height of his prowess as setup man with a 1.86 ERA and team-leading 4.13 Win Probability Added. He was pivotal in the team's rally to the postseason, allowing one run over 24 mostly high-leverage innings in August and September as the Twins surged.
In Game 1 of the ALDS, under the brightest spotlight at Yankee Stadium, Hawkins entered in the seventh with no outs and a man on first, Twins leading 3-0. After giving up a leadoff single, Hawkins mowed down six straight, four on strikeouts, bridging to Guardado who closed it out.
The Twins have won only one playoff game since. After the season, Hawkins and Guardado both departed as free agents, going out on major high notes.
One Detail You Probably Forgot
I mentioned earlier that Restovich and Ford had nice showings as young outfielders getting looks in the big leagues, but neither were quite at the level of Mike Ryan, a 25-year-old middling prospect who had one of the wildest and most random Twins stints this side of Glenn Williams (see: 2005).
Called up in mid-August, Ryan played semi-regularly down the stretch as Minnesota completed its AL Central comeback, slashing .393/.441/.754 with five homers and seven doubles in 68 plate appearances. His 1.195 OPS in 2003 remains the highest of any season in franchise history for a player with 50-plus plate appearances.
Fun Fact
Micheal Nakamura, a Japanese-born side-arming righty reliever out of Australia, was a fun project that sadly didn't work out. He signed with the Twins in 1997 and debuted in 2003, but posted a 7.82 ERA in 12 appearances, and was waived the following spring. He had a short stint in Toronto, allowing Gary Sheffield's 400th home run in his second-to-last MLB appearance, then signed with NPB in Japan in 2005, joining the Nippon Ham Fighters alongside an 18-year-old phenom named Yu Darvish.
Previous Installments: