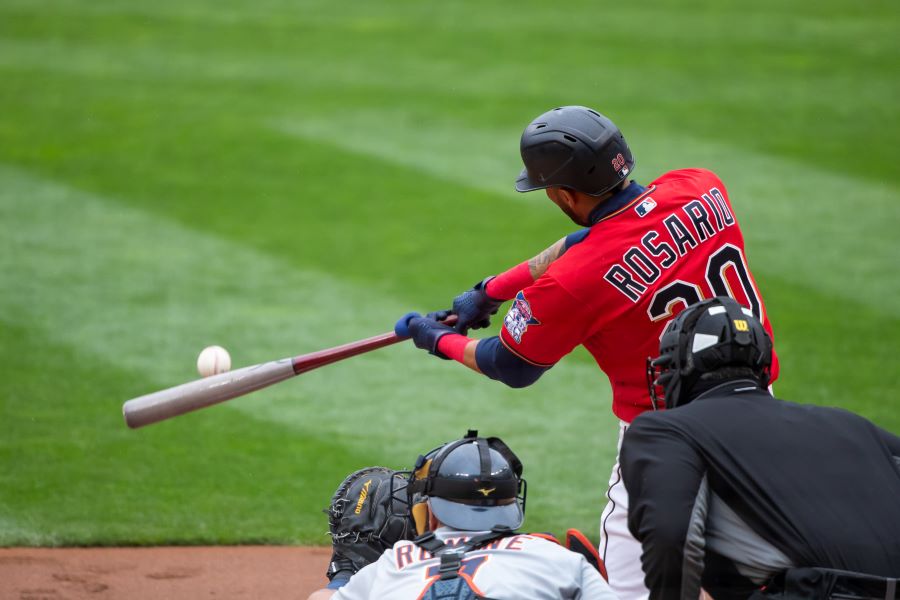 Image courtesy of © Brad Rempel - USA TODAY Sports
Wednesday night's matchup against Lucas Giolito was a nice little microcosm of what a more patient Eddie could do against one of the game's best pitchers. In his first plate appearance Rosario took a first pitch called strike on a fastball and then swung through a changeup to fall behind 0-2. He was able to lay off a high fastball (not at all an easy feat for our Eddie) and then foul off two consecutive changeups. Finally, he took the fourth changeup he saw over the fence to put the Twins up 1-0.
In his second go at Giolito, Rosario was able to coax a five-pitch walk without ever swinging the bat and scored on a Byron Buxton home run. In his third-and-final chance against Chicago's ace, Rosario worked a full count but ended up swinging through a changeup. All in all, three pretty impressive plate appearances against a great pitcher.
Part of Eddie's more patient approach has been swinging the bat less. Thus far in 2019, Rosario has swung at 52.4% of pitches compared to 57.1% for his career. This is still over the MLB average (46.5%), but a significant reduction nonetheless for the free-swinging Rosario. A big part of the reduced rate came from not swinging at first pitches. Rosario's first pitch swing rate is down to 32.8% from 41.9% last season. And Rosario's getting less strikes than ever as only 40.1% of pitches that he sees are in the strike zone (compared to an MLB-average of 48.4%), so taking less hacks makes sense.
The good news is that Rosario is walking at an 8.8% rate, more than double his abysmal 3.7% in 2019. And he's still not striking out much (14.6%). Despite the patience, Rosario actually got off to a poor start, and if we dig a little deeper it's easy to see why. While the walks were there he wasn't doing much damage with the bat (though he's damaged the Twins plenty with defense and base running – maybe that can be this offseason's focus!). The problem is that Eddie is still chasing at a high clip (40%, basically his career average), while swinging at significantly less pitches in the zone (71.1%, compared to 80.8 in 2019). Rosario's contact rates have held steady, but he's getting less pitches in the zone and swinging at fewer of them.
With a new approach it's reasonable to expect some time and adjustments before it pays dividends, and we may be beginning to see a better version of Rosario. He's added a little more aggressiveness to his approach as the season has worn on and he could be approaching a happy medium. Rosario has stopped taking as many pitches in September and the results have been impressive, as he's slashing .300/.352/.580 for the month with four home runs in 54 plate appearances. He's been laying off the hard stuff (he's hitting only .182 against four-seamers) and crushing off-speed stuff (.727 slugging vs. changeups). With the increased swings, the walk rate has come down to 7.4% for the month, which seems like a decent place for Rosario to be considering his overall results have been much better (his BABIP has also been closer to normal this month at .282, while it was all the way down to .227 in July and August).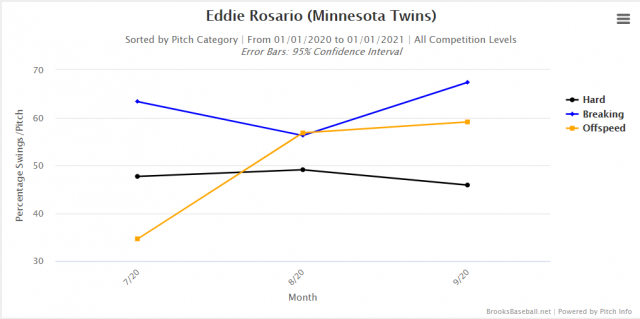 Even as he's figuring his way around the new approach, Rosario's offensive numbers on the year have been pretty respectable with a 108 wRC+, and if his small September sample is any indication of things to come, Rosario might have another level that we're beginning to see.
Facing free-agency for the first time after the 2021 season, Rosario should be extra motivated next year, and it makes sense for Minnesota to keep him around for one more year with Nelson Cruz hitting the market, and the trio of Alex Kirilloff, Trevor Larnach, and Brent Rooker not having the benefit of a minor league season. Rosario's a polarizing figure who can be infuriating at times, but perhaps his patience at the plate can carry over to the base paths and outfield, and give us an even better Eddie in 2021. If not, at least one of the aforementioned trio would be more than willing to take his place.
MORE FROM TWINS DAILY
— Latest Twins coverage from our writers
— Recent Twins discussion in our forums