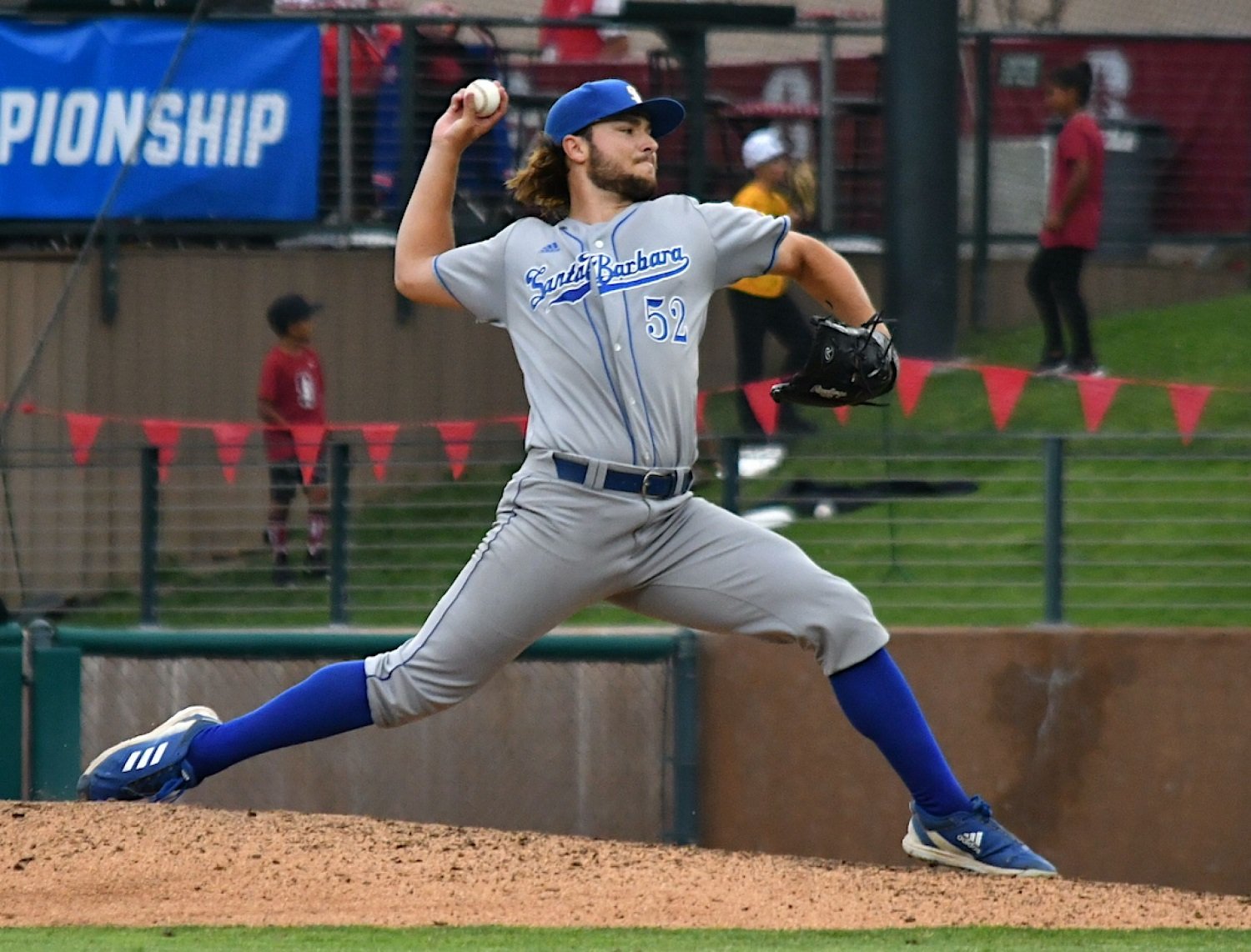 Image courtesy of Lily Chubb
Cory Lewis went through a UC-Santa Barbara program that also produced current Cleveland Guardians ace Shane Bieber. Lewis is a big-bodied thrower at 6'5" and uses an analytical background to get the most from his stuff. He has a plethora of offerings and also mixes in a knuckleball that can be usable at the big league level. This type of talent is one that should turn heads for Twins fans.
I caught up with the Gauchos' former Friday starter, and he had a lot of great insight to offer.
Twins Daily: As a California kid, how much of a priority was it to stay in your home state and play college baseball?
Cory Lewis: I would say it was pretty important to me because I knew that I wanted my parents to be able to come to most of my games. Going to Santa Barbara was perfect for me because it was just far enough away for me to feel away from home but also it gave me the opportunity to play at a place where my parents were able to attend the games.
TD: You pitched as one of UCSB's best starters over the past two years, what helped you to be so successful at that level?
CL: I would definitely say how my fastball and curveball paired up, as well as throwing five pitches for strikes most of the time really helped me be successful. The vertical break of my fastball really helped me be able to pitch up in the zone and miss barrels. My curveball tunneled perfectly with my fastball so it was a great 1-2 punch. When I had all five pitches around the zone, the hitters were usually in trouble.
TD: Predominantly a fastball/curveball pitcher, what's your total arsenal look like?
CL: The full arsenal would probably go in order of fastball, knuckle curveball (12/6), changeup, knuckleball, and slider. The slider has always been a work in progress as it has been pretty inconsistent, but I have been pretty confident in my other pitches. I have thrown fastball, curveball, knuckleball, change-up to lefties and fastball, curveball, knuckleball, slider mostly to righties.
TD: As a taller pitcher and someone that may benefit from spin rates and advanced analytics, how much do numbers play into your process?
CL: I would say they play a pretty big role in my process mainly with my fastball. Without advanced analytics on my fastball, I do not think that I would have known how well my fastball plays up in the zone. The induced vertical break usually hovers around 23-25 on average and has gotten up to 29 at its top. As for my off-speeds, they typically have less spin than expected. My curveball and slider do not spin at crazy high numbers, but they still tend to work well with my fastball.
TD: What do you know about the Minnesota Twins? Have you ever been to Target Field?
CL: Honestly, I don't know much! But I am excited to learn much more about the history and current team. I would say most of my knowledge has come from MLB the Show whenever they release Twins legends like Joe Mauer, Kirby Puckett, Justin Morneau, and many others. I have never been to Target Field, but it looks great on TV.
TD: If there's something you want Twins Territory to know specifically about you, what is it?
CL: Something specifically about me would be that I love to golf in my free time, although I'm not the best, but I have a good time on the course. I also want to get into fishing a little more because I know there are a ton of lakes in Minnesota. I've mainly only been fishing in the ocean so I know freshwater fishing can be a lot different.