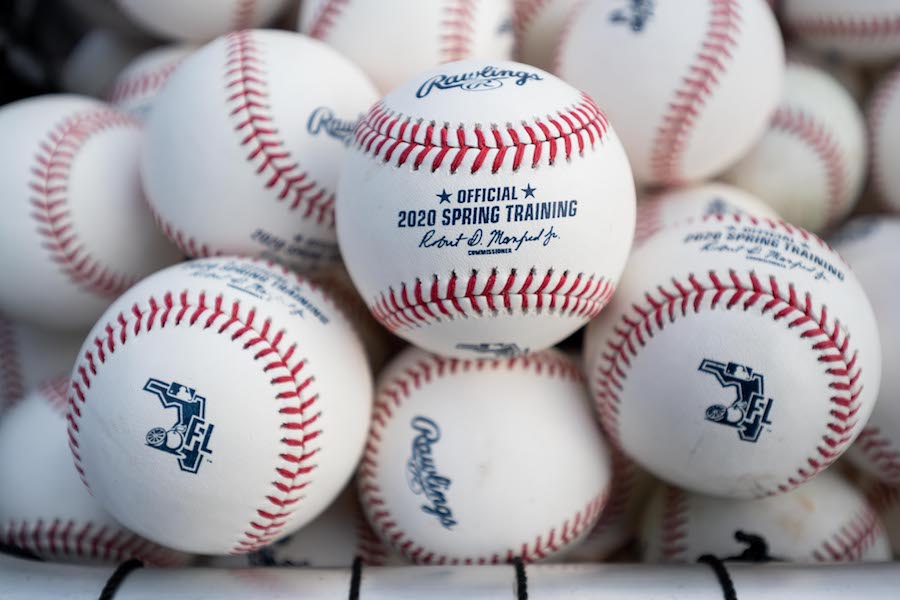 Image courtesy of © Douglas DeFelice-USA TODAY Sports
Rewind to this time last year and just about every projection system had a good but not great view of Minnesota under first-year manager Rocco Baldelli. PECOTA tabbed the Twins for a .500 record, while the Sporting News's panel had them registering 83 wins. In 2020 PECOTA calls the Bomba Squad odds-on favorites to win the division tallying 93 victories.
The result looks correct, but I'll take aim at the final records and results within the shifting Central.
1. Minnesota Twins 98-64 (93-69*)
Last year I characterized the Twins position by saying "no team has done more in the division to take strides forward." That may not hold true in comparison to the Chicago White Sox for 2020, but Minnesota was a substantially better squad to begin with. They don't need to win 101 games this time around, but they won't be any less dominant. Josh Donaldson makes the lineup look like the best in the game, and Kenta Maeda provides stability to a deep rotation. They'll add down the stretch if need be, and there's bottom feeders to still pick on. Expecting a slight slide from Cleveland, wins won't be hard to come by.
2. Cleveland Indians 85-77 (86-76*)
It looked like Cleveland would take a step back last year, but it wasn't quite as substantiated as I may have expected. Gone are both Corey Kluber and Trevor Bauer. The outfield has more questions than answers, and Francisco Lindor could conceivably be on his way out at any time. As has always been the case, the rotation will remain a threat, and you can bet they'll develop another arm or two that will make an impact. The Indians should be competitive, but I don't think the second Wild Card is coming from this division, and the dive off the deep end could be immediate here.
3. Chicago White Sox 84-78 (83-79*)
Easily viewed as the darlings of the offseason, the White Sox did a ton to add talent on the 26-man roster. With internal pieces beginning to mature, it made sense to supplement. Yasmani Grandal is a massive get for them, but that's really where the talent additions cease to outweigh the names. Gio Gonzalez and Dallas Keuchel are known commodities, but neither fit real well as ground ball pitchers in front of a poor defense. Nomar Mazara isn't a good defender, and his corner partner Eloy was rough during his rookie year. Luis Robert could certainly be the real deal out of the gate, but the Southsiders seems to be looking for a lot from Nick Madrigal. Lucas Giolito put together a nice half-season, and Michael Kopech will factor in, but it's actually Reynaldo Lopez I may be most intrigued by. This is a squad worth watching, and they'll make some noise, but this is much more the 2017 Twins than it is the 2019 version.
4. Kansas City Royals 61-101 (68-94*)
Things get ugly in a hurry here at the bottom of the AL Central. Kansas City won just 59 games a year ago, and they did very little in terms of adding talent. Whit Merrifield is a star, and Jorge Soler broke out, but the roster is really void of much else. Maikel Franco is a dart throw at third, and retaining 36-year-old Alex Gordon is more nostalgia than anything else. Maybe Salvador Perez returns from a missed 2019 and is a threat, but then again he's never been much of a bat anyways. The Royals could easily bring up the rear in the division, but I'll give them the benefit of doubt that they keep some of the gap established between them and Detroit a year ago.
5. Detroit Tigers 55-107 (69-93*)
Across baseball in 2019, only the AL Central had two teams lose 100 or more games. That seems near certain to repeat itself in my estimation. Detroit added some veteran talent in Jonathan Schoop and C.J. Cron to bolster the infield. Miguel Cabrera looks cooked though, and Cameron Maybin probably represents their best free agent acquisition. Matt Boyd looked the part of a staff ace for part of the year, and if he can get back to that at the beginning of 2020, they'd be silly not to move him by the deadline. I like Spencer Turnbull a decent amount, but Casey Mize should show up for this group in the next handful of months. With Mize being potentially joined by Matt Manning, Tarik Skubal, and Alex Faedo this year, fans will have plenty of their future to watch. It probably won't pan out much better immediately, but they have hope.
*Designates 2020 PECOTA projection as of February 17, 2020
MORE FROM TWINS DAILY
— Latest Twins coverage from our writers
— Recent Twins discussion in our forums