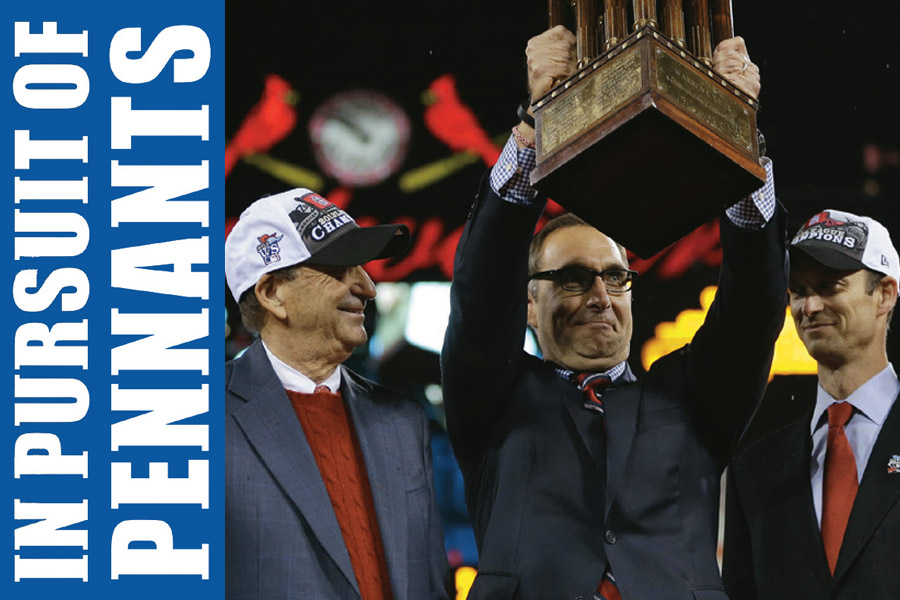 Epstein became the general manager of the Red Sox in November 2002, after the team was spurned by Billy Beane. In fact, Beane's strong recommendation of Epstein helped him get the job. Owner John Henry had made his fortune as a commodities trader, developing a system that took the emotional element out of trading decisions. To run his team he naturally wanted someone with an analytical mindset, someone who made decisions based on data and evidence.
The 2002 Red Sox had won 93 games, and featured Pedro Martinez, Nomar Garciaparra, Manny Ramirez, Derek Lowe, Tim Wakefield, Johnny Damon, Jason Varitek and Trot Nixon. It was a great core, though the team also had obvious holes and they were competing against a team — the Yankees — which had won 103 games and seemed primed to continue doing so. To fill these holes, Epstein, like Beane, would rely on a modern understanding of how to value players, and how players were likely to develop.
Epstein had a very busy and productive first few months, landing David Ortiz, Bill Muellar, Kevin Millar, Mike Timlin, Bronson Arroyo and Todd Walker in low-cost deals. Several incumbents regressed in 2003, but Epstein's tremendous haul got them up to 95 wins and, ultimately, a devastating seventh game loss to the Yankees in the ALCS. Epstein went after bigger fish the next winter, and landed Curt Schilling, Keith Foulke, and Mark Belhorn, along with manager Terry Francona. This got them to 98 wins, and, after finally slaying the Yankees in an epic ALCS, their first World Series title in 86 years.
After Epstein got the job he repeatedly said that he wanted to build a "$100 million player development machine" to provide (1) young talent for the Red Sox, (2) depth to deal with injuries or poor performance, and (3) assets to trade to fill in holes. It all started with the amateur draft and young international free agents. The 2003-2004 teams had their success before Epstein's machine had been built, but he did not lose sight of the future, the team he wanted to create.
In the two offseasons following their 2004 championship, the Red Sox lost several high-priced free agents, including Martinez, Lowe, and Damon, while cashing in the additional draft picks they received as compensation. Meanwhile, the organization was developing the next generation of stars. The Red Sox drafted Kevin Youkilis in 2001, Jon Lester in 2002, Jonathan Papelbon in 2003, Dustin Pedroia in 2004, and Clay Buchholz and Jacoby Ellsbury in 2005 — extraordinary production, and all of them were largely developed in Epstein's system. By 2007, all six had reached the big leagues and, along with a few trade acquisitions and free-agent signings, helped the Red Sox win another World Series. As sweet as the first title was, it was the second that validated Epstein's approach.
The Red Sox won 95 games in both 2008, resulting in an oh-so-close seven-game ALCS loss to the Rays, and 2009, a first round sweep by the Angels. The latter playoff exit, coupled with the hated Yankees' World Series triumph, made Epstein conclude that it was time to wait for the next team to develop. Although he believed the team could continue to compete with a few low-cost patches, "we all don't want to sacrifice our competitiveness during the bridge just for the future. So we're just trying to balance both those issues." These comments were skewered in the press ("It's nice that Theo has a passion for player development," wrote Dan Shaughnessy in the Globe, "but asking fans to take a year off is outrageous. Henry is a billionaire and the Sox are making bundles of money.") At least partly as a result of the backlash from fans and media, Epstein's bosses told him to double down and spend more money.
Within a few weeks the Red Sox signed John Lackey, Adrian Beltre, Mike Cameron, and Marco Scutaro. After the Red Sox, with the second-highest payroll in baseball, failed to make the postseason in 2010, the team opened the vault even wider, signing Carl Crawford (seven years, $142 million) and trading for Adrian Gonzalez and extending his contract (seven years, $154 million). Several of the signings cost the team draft choices, and the Gonzalez deal cost them three of the best players in their system.
The Red Sox were hailed as a super-team heading into the 2011 season, and they played like it for five months. At the end of August they had an 83-52 record, the best record in the American League. Thanks mainly to dreadful pitching, they crashed to 7-20 in September, losing the division race and, on the final day of the season, the wild card as well. After this stunning collapse and multiple stories concerning turmoil in the clubhouse, Francona, sensing ownership had lost faith in him, resigned. A couple of weeks later Epstein followed suit, taking a job with the Cubs as President of Baseball Operations.
"It was my fault," Epstein lamented later. "I ****ed up by giving in to [the trades and signings]. I think [baseball ops] was really good at being true to our approach in the early and middle years, then toward the end—and I blame myself for this—we sort of gave in to it."
With the Cubs, Epstein has a better title and more rope but essentially the same job. He hired Jed Hoyer as the GM, but in reality Hoyer fills a role much like a traditional assistant GM. A modern baseball ops group has a lot to do and requires a much broader array of talent than it did even a generation ago. If things go well a lot of people will deserve and receive credit for it.
Importantly, Epstein resolved to build his machine and fight for it. Unlike in Boston, he took over a team with little talent, so his patient approach offered little immediate relief for the faithful — the club finished 61-101, 66-96, and 73-89 his first three years.
But there is hope. We hate to get ahead of the story here, but Epstein appears to have executed the first part of his plan wonderfully. There is a lot of young or mid-career talent and the farm system is loaded. Epstein signed Jon Lester, and traded for catcher Miguel Montero and outfielder Dexter Fowler, suggesting he feels the team is getting close. The team could contend for the post-season this year, and will be expected to do so starting in 2016. If Epstein pulls this off, if he wins in Chicago after winning in Boston, he will deserve a much higher ranking than this, well into the top ten and talk of Cooperstown. But for now we will leave him here, and follow along with the rest of you.
To read more about the history of baseball operations and the GM, please buy our new book In Pursuit of Pennants–Baseball Operations from Deadball to Moneyball via the publisher or at your favorite on-line store.