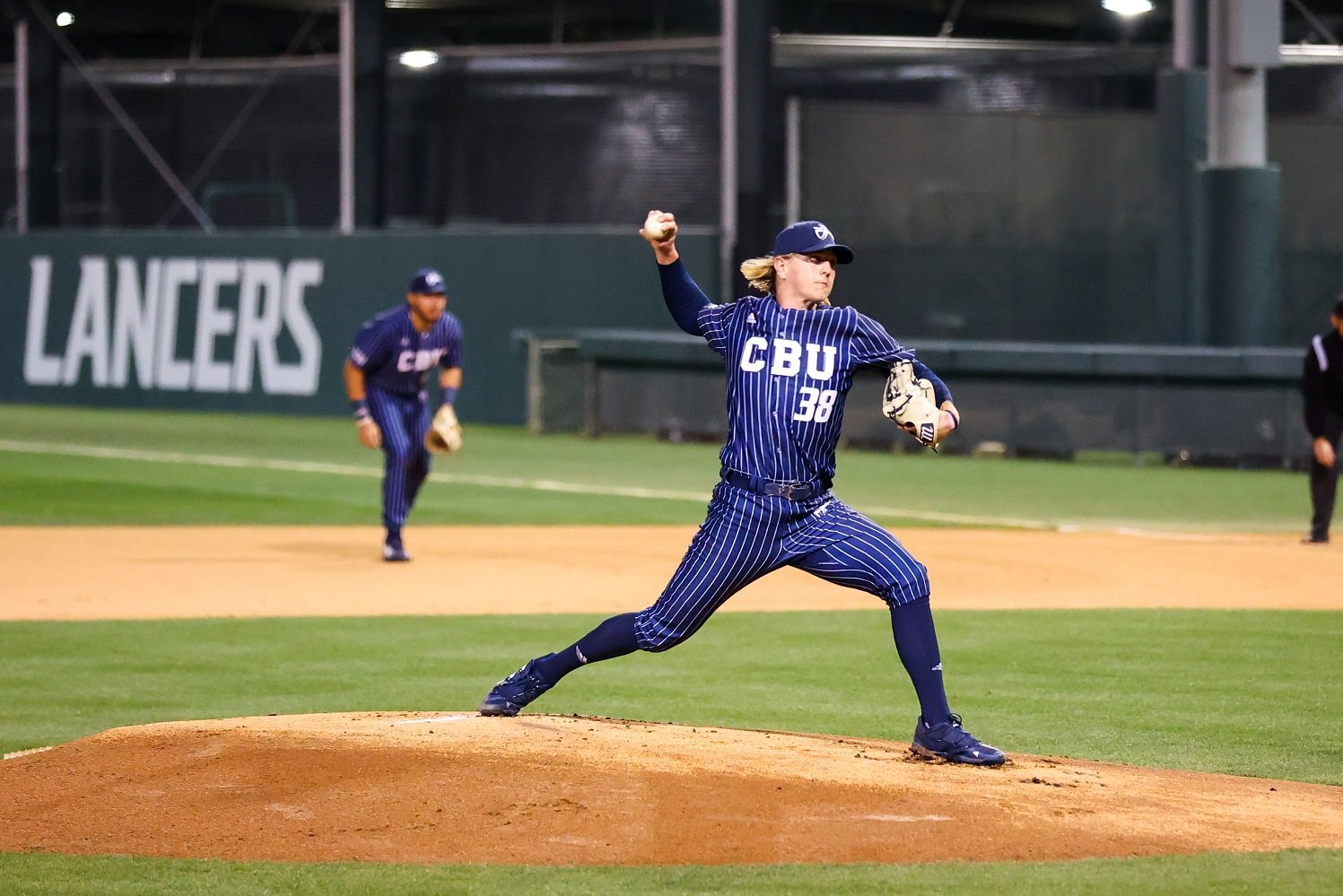 Image courtesy of CBU Athletics/Zac Zeman
A native of California, C.J. Culpepper stayed home when going to college. After appearing exclusively out of the bullpen in 2021, he compiled 69 innings as a starter this past year. Culpepper posted a solid 3.26 ERA and allowed opposing hitters to bat just .216 off of him. A righty that averaged more than a strikeout per inning, he's certainly hoping to take another step with the Twins.
Before his professional career gets going, he was kind enough to answer a few questions.
Twins Daily: Working as a starter for the first time in your collegiate career this season, how did that change your process in attacking lineups and going through games?
C.J. Culpepper: I knew that changing from a closer to a starter I needed to get through lineups multiple times. So not falling into a pattern was huge for me. Trusting every pitch that coach calls I put all of my trust into that pitch. Execute every pitch to the best of my ability.
TD: Give us an idea of your repertoire. What do you feature? What's your best pitch? Is there an offering you're looking to improve?
CC: I feature a four-seam fastball with natural cut, a slider, curveball, and a change-up My best pitch is my slider, I have become very comfortable throwing it where and when I want! I can always look to improve all my pitches but one above all is my change up, has really good bite and depth to it, just need it more consistent.
TD: The .216 opponent batting average against last season is impressive. What do you think best sets you up for success on the mound?
CC: Attacking hitters, stay on the attack whether I am way ahead in the count, or way behind in the count, attack the hitter! Finish the hitter as fast as I can and let the defense work behind you. Soft contact and finishing hitters early is where I think I find most of my success.
TD: Obviously you took steps forward in development throughout school. What has been the biggest leap and how do you think you got there?
CC: The biggest thing I did to grow each semester of school was to watch and learn from the older guys, ask questions, and watch how they held themselves up and composed themselves. Listening to coach, and not doing my own thing. Coach has been so good to me and what he says is the best way for me to succeed!
TD: What do you know about the Minnesota Twins? Have you ever been to Target Field?
CC: The Twins have a good farm system and are very good at developing their players! When they bring someone up, they are good, and better than when they started. I have never been to Target Field, but it is definitely on my bucket list to go visit though!
TD: What is something you want Twins Territory to know about you, either as a person or player?
CC: I am kind, caring, and wouldn't be where I am without the grace of God! I am a hard worker I know what I am capable of and I won't stop until what I want is done! I am excited to get to work and start this thing up! Go Twins!