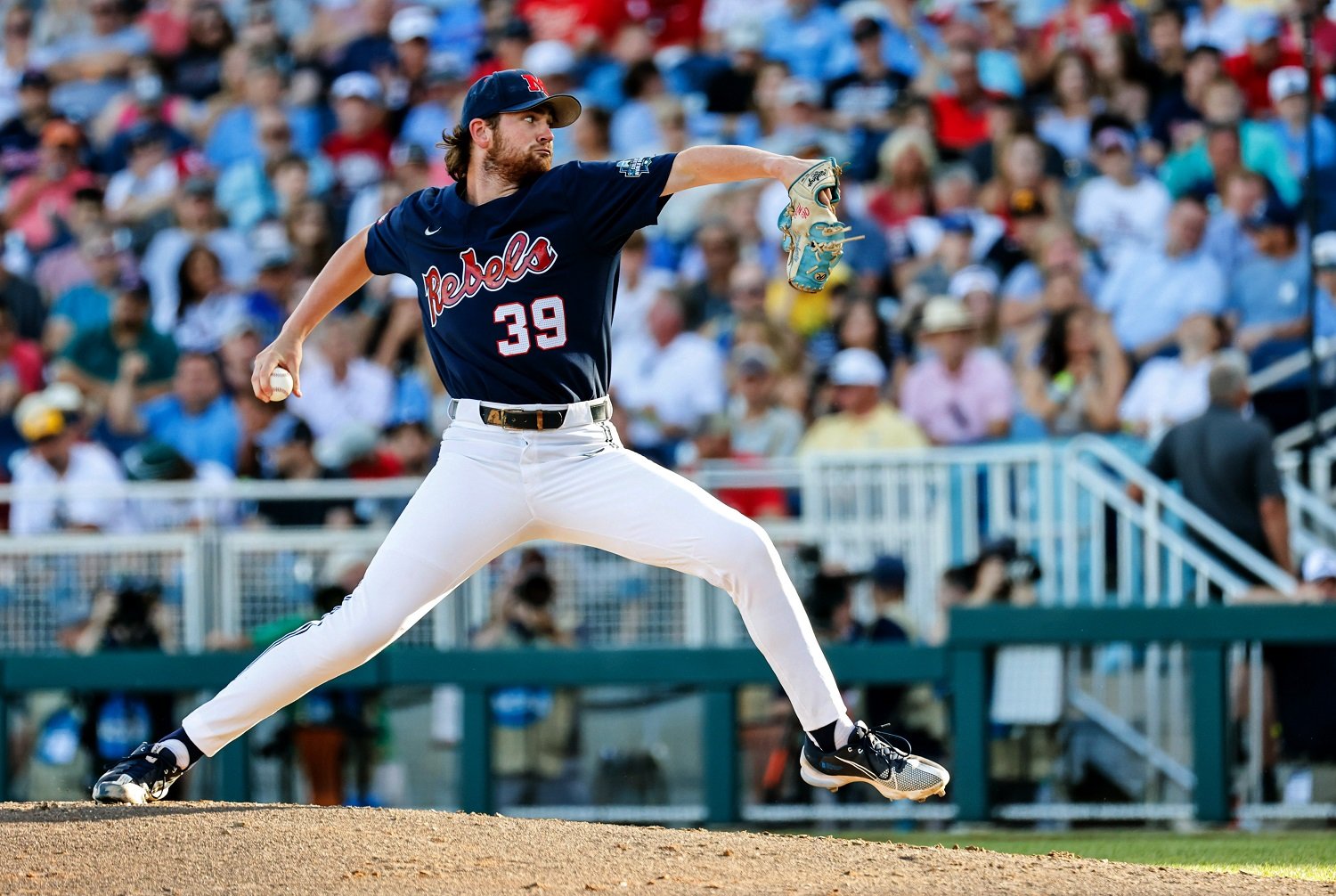 Image courtesy of Jaylynn Nash-USA TODAY Sports
Pitching for Ole Miss, Jack Dougherty put up big strikeout numbers while splitting time as both a starter and a reliever. Although he was a little snakebit by home runs in 2023, he has consistently shown an ability to miss bats over the course of his college career. It remains to be seen how the Twins will develop him, but there is plenty to like about the profile.
Dougherty will soon head to Fort Myers as he starts his professional career, but first he had some time to introduce himself a bit further.
Twins Daily: Three years of SEC baseball in which your innings increased each season is no joke. What about your time at Mississippi has you most ready for pro ball?
Jack Dougherty: I think Ole Miss has more than prepared me for professional baseball. Day in and day out I get to face top round guys and the constant competition there is something that really prepared me for this. 
TD: Obviously you worked mainly as a reliever in college, does your mentality or approach change at all when you're starting? Do you go about attacking hitters differently?
JD: Starting and relieving is fairly similar to me mentally, the name of the game is get the hitter out so it doesn't really matter if it's the first inning or the ninth. 
TD: You have had some nice strikeout rates over the course of your career, and home runs weren't really an issue until this past season. Was there something you felt different about in 2023?
JD: 2023 was a tough year for us all around but it was just a little weird to go between starting and relieving from a routine standpoint. It was a little difficult to get in a groove when things are changing week to week.
TD: Velocity hasn't necessarily been your calling card, but the Twins have done a good job of adding to that. What are you most excited about when it comes to your continued professional development?
JD: I think just being able to really dive into my flaws and perfect my craft is something I really look forward to. I'm very intrigued by pitching in general, so really getting into that is exciting to me.
TD: With a fastball and slider combination, what does your complete arsenal look like and what is your level of comfort in using those pitches?
JD: I throw fastball, slider, cutter, and changeup. I felt my changeup was a little under used and I'm excited to see what that can turn into. 
TD: Looking at the Twins, what do you know about the organization, Minnesota, or Target Field?
JD: I'm not too familiar with the Twins organization but I know it's filled with rich history and some great players and I'm looking to cement my name next to those! 
TD: After so many years of pushing towards this goal and now achieving it, what's the first  thing you're doing to celebrate?
JD: It was really special to hear my name called in the draft but my goal is much bigger than that. I did take a little time to celebrate with the people closest to me and just embrace them and thank them for what they have done for me.
Welcome to Twins Territory, Jack!