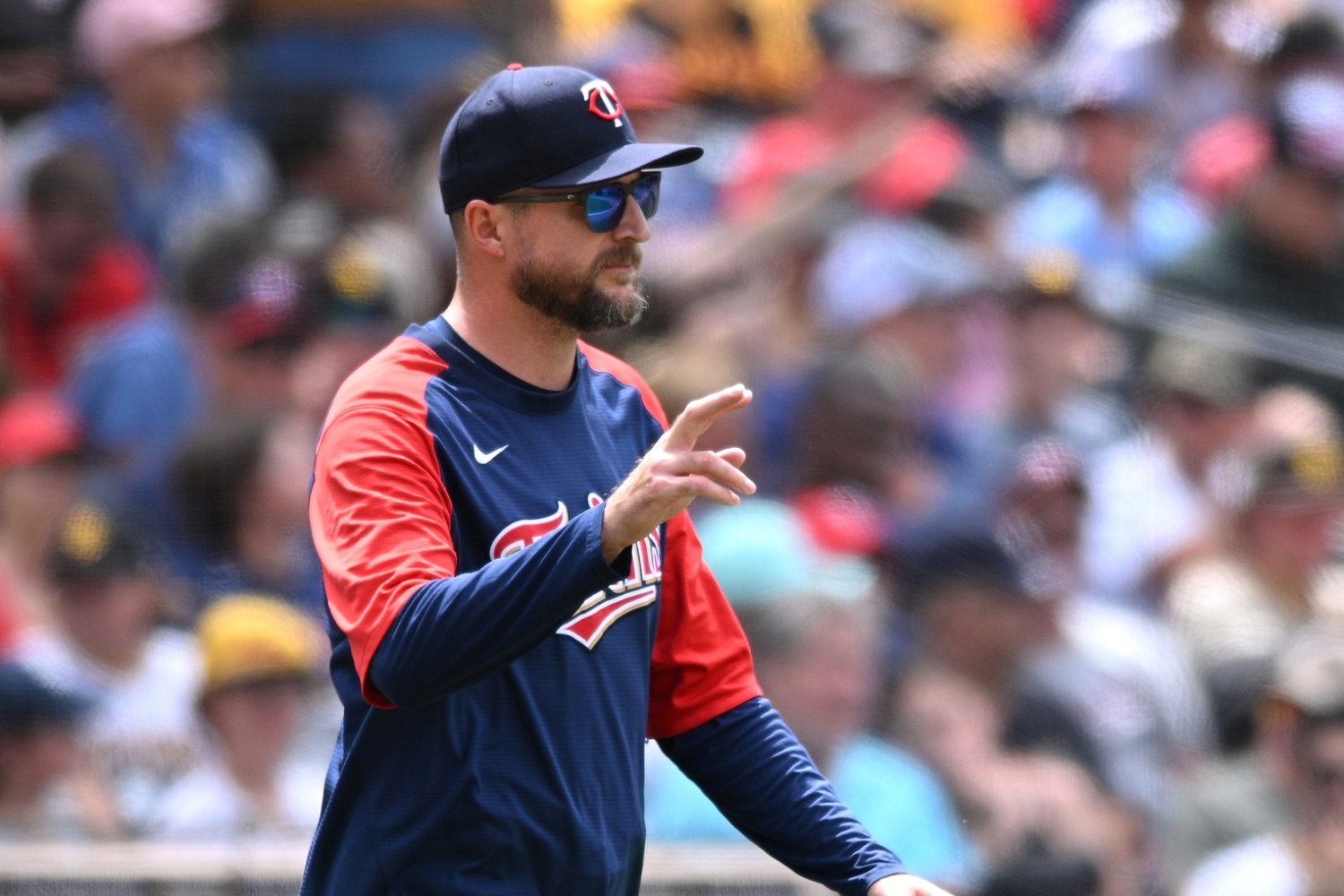 Image courtesy of © Orlando Ramirez-USA TODAY Sports
The Minnesota Twins bullpen has become a regular topic of discussion on Twins Twitter (mostly for negative reasons). Blowing leads is a sore subject among fans, and Emilio Pagan and Griffin Jax had some rough outings this past week that led to Minnesota losses. Jax in particular has been struggling. After posting a 3.36 ERA and going 7-4 in relief last season, the righty has regressed to a 5.59 ERA and 2-6 record this year. 
This definitely matters to the Twins and their fans, but does it matter to fantasy players? Jax and Pagan are unlikely to be owned in many leagues, so the short answer is "no." However, there is some secondary impact. For one, it solidifies Jhoan Duran and Jorge Lopez as the clear-cut top options in the bullpen. That really wasn't in question, though there was some thought that Jax could be used in the eighth and ninth innings at certain points if he pitched well. That seems unlikely now. Duran and Lopez already had value in fantasy leagues, but they could be even more valuable if Rocco Baldelli leans on them a bit more and their usage ticks upward slightly.
Obviously, blowing leads has a clear negative impact on starting pitchers because they miss out on potential wins. Joe Ryan's 6-1 record has been a big part of his early-season fantasy value. If the Twins continue to let leads slip away in the middle innings, all the starters take a small hit, though Ryan, Sonny Gray, Pablo Lopez and Bailey Ober should continue to be fine fantasy options, while Louie Varland has held his own lately, too.
One final note on the bullpen: Brock Stewart is a little more interesting if Jax continues to struggle. It's hard to see anyone outside of Duran or Lopez having a ton of fantasy appeal, but in deeper leagues, it's worth keeping an eye on most relievers who are pitching well. Stewart could be a Duran or Lopez injury away from stepping into a setup role, which would likely lead to more holds and possibly some save opportunities. He's not worth adding now, but he's a lot closer to the fantasy radar than he was at the start of the year.
Let's look at some key injury updates, plus which Twins have their stock rising and falling from a fantasy perspective due to results from the past week as well as a prospect to keep an eye on. I'll also take a look at the week ahead and highlight some matchups to target and avoid.
Twins Injury Updates
Byron Buxton
Expected return: TBD
In what's become an annual tradition, there is unfortunately some Buxton injury news to report. He left Saturday's game with knee tightness and won't play Sunday. On a more fortunate note, the Twins are saying it's a minor issue, at least for now. Stay tuned to lineups on Monday to see if the panic meter should rise any higher.
Jorge Polanco
Expected return: TBD
The Twins placed Polanco on the injured list Saturday due to a hamstring strain. He had been performing well at the plate with a .284 average, four home runs and 14 RBI in 23 games. Hamstring injuries can be tricky, so it's unclear at this point when Polanco will be ready to return. This paves the way for the return for Edouard Julien, who gets a big boost in fantasy value if he sees regular action at second base.
Nick Gordon
Expected return: TBD
Gordon is out indefinitely with a fractured right leg. It's a blow to the Twins' depth given his ability to play multiple positions, but it doesn't have a huge impact on fantasy leagues. Kyle Farmer likely gets a slight boost in fantasy value as a result, though he's already been seeing regular playing time lately at third base (and doing quite well – more on that below).
Max Kepler
Expected return: TBD
Kepler ran recently for the first time since injuring his hamstring, but there's no clear date for his return. Trevor Larnach continues to serve as Kepler's replacement and he's been inconsistent at the plate, though he's shown flashes of potential throughout the season. Kyle Garlick is also back on the MLB roster in place of Gordon, so he'll likely have occasional value in daily formats when he starts against lefties, just like he has in the past.
Kenta Maeda
Expected return: TBD
Maeda remains sidelined with a right triceps strain without a clear timetable for his return. Louie Varland has mostly done well in his place with a 4.18 ERA and 31 strikeouts across 28 innings. Home runs continue to be his main weakness, as he's given up seven in those 28 innings.
Royce Lewis
Expected return: Early June
Lewis has been hitting the cover off the ball in his rehab assignment, which has to be getting Minnesota fans and fantasy players alike excited. When Lewis is able to return, he'll likely see time at third base and possibly in center field. He should play often no matter where he is in the field, as the Twins could use an offensive jolt. Fantasy managers may want to stash Lewis in an IL spot now, as he has the talent to make a big impact later this season.
Twins Fantasy Player Trends
Stock Rising: Kyle Farmer
ESPN ownership: 3%
It's probably time to give this dude a little more recognition. Farmer has been solid for Minnesota with a .319 average, three home runs, 14 RBI and 15 runs scored across 21 games. He's also taken over as the regular third baseman following the demotion of Jose Miranda. The eventual return of Lewis may complicate things, but if Farmer continues to hit, he'll find his way in the lineup most days. As an added bonus, he's likely eligible at third and shortstop in a lot of leagues, and he could gain eligibility at second if he sees more time there in place of Polanco. Anybody who starts most days, has dual-position eligibility and bats above .300 is worth at least considering in most fantasy formats.
Stock Falling: Byron Buxton
ESPN ownership: 74%
This is solely based on his uncertain health status and his well-documented injury history. For now, the Twins are saying Buxton is dealing with a minor knee issue, but we've seen things snowball in the past with the outfielder. At the very least, fantasy managers should begin thinking about some backup plans if Buxton needs an IL stint. Lewis makes a lot of sense depending on when he returns, and he could see time at both DH and in center field. For Buxton, his fantasy value the rest of the season is tied directly to his availability. He's dynamic when he's in the lineup but obviously not much use when he's not. One immediate concern, whether Buxton misses extended time or not, is the possibility that he runs less. Buxton was already running less than he did as a younger player, though he did have two stolen bases in a game at Dodger Stadium this past week. We may not see him record a game with multiple steals the rest of the way if Minnesota gets more cautious.
Prospect Spotlight
Matt Wallner  (Current team: Triple-A)
Wallner continues to toe the line between Triple-A and the majors. He's played in 29 games for the Saints and posted a strong .902 OPS so far. The outfielder saw action in six games for Minnesota earlier in the year and failed to record a hit. Last year, Wallner managed his first two MLB home runs in limited action. It's clear that he's probably too good for Triple-A but hasn't quite gotten a full-time shot yet in the majors. With Kepler out, right field could be an option if Larnach falls into another extended slump. Wallner may also get the call at some point if Buxton misses time and the Twins need some DH candidates. For now, Wallner is a AAAA guy waiting in the wings.
Upcoming Week Matchup Notes
3 Games vs Giants (Alex Cobb, Sean Manaea, Anthony DeSclafani)
3 Games vs Blue Jays (Kevin Gausman, Chris Bassitt, Jose Berrios)
After coming back from their West Coast road trip, the Twins will welcome another West Coast team before getting guests from Canada. Minnesota also welcomes back old friend Jose Berrios.
San Francisco seems to be the easier opponent on paper, and the Twins are lined up to use Ober, Gray and Ryan in the series. I'd fire all three of them up with confidence in those spots.
Two-Start Starting Pitchers 
Ober lines up to start Monday and Sunday. The Giants matchup looks positive, as they're just 21st in the league in runs scored. Toronto is a bit better at 13th, though it's hard not to like Ober at pitcher-friendly Target Field. He's a good target in leagues with weekly lineups. I also like Ober in daily formats on Monday.
Twins Fantasy Hitters to Watch
The best matchups this week appear to be against Manaea and Berrios. Manaea has a 7.81 ERA and 1.70 WHIP, and the lefty is allowing righties to hit .299 against him this year. Carlos Correa is just 8-for-43 (.186 average) against Manaea all time, but he might be worth considering here along with Farmer and Buxton if he's healthy.
Berrios, meanwhile, has a 4.61 ERA, 1.25 WHIP and lefties are hitting .303 against him this year. So this would essentially be the opposite of the Manaea matchup, as you'd want to look at the likes of Larnach and Joey Gallo as the centerpieces of a stack in daily formats.
The other matchups this week look like they could be pitchers' duels. Cobb has a sub-2.00 ERA, DeSclafani has a sub-1.00 WHIP, and Gausman and Bassitt have both been stingy for the Blue Jays. These would all be contrarian plays in daily formats. One sneaky note: Christian Vazquez is 12-for-19 in his career against Cobb, so he'd be a cheap and lightly used dart throw in DFS (assuming he's in the lineup).
I'm also keeping my eye on second base with Polanco out. Willi Castro got the start there on Saturday, but he feels like a reserve option for this team. Julien will probably see more time here moving forward and could be useful this week with the Twins only facing the one lefty. To that point, he's in the lineup Sunday as the cleanup hitter.
Any Twins-related fantasy insights to share? Let me know in the COMMENTS, plus post your thoughts on the matchups this week.