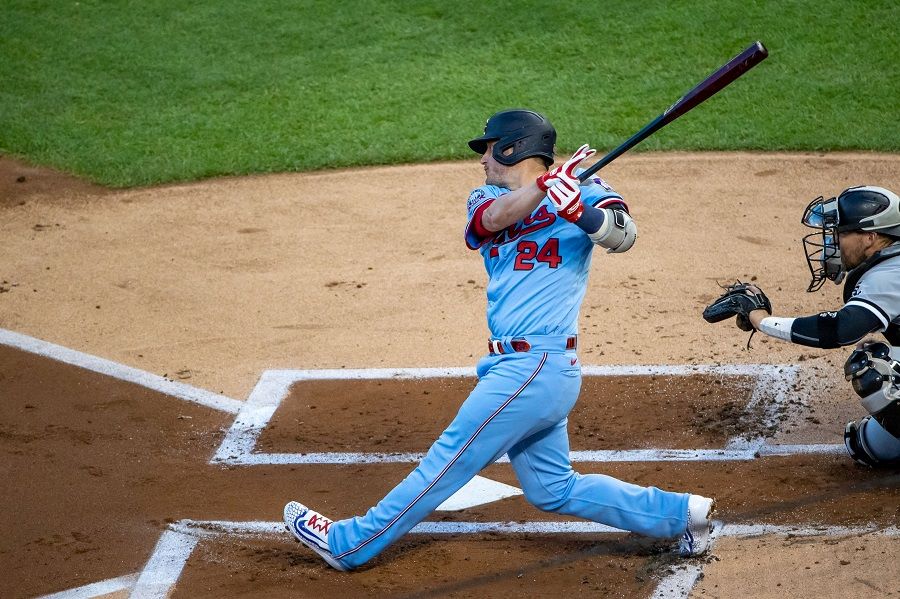 Image courtesy of © Jesse Johnson - USA TODAY Sports
The concept of "hotness" is something that's been widely written and debated about in sports, and naturally with hitting there's always some amount of luck involved. However, it seems if a batter's mechanics are in-whack, timing is down, and discipline is there, good results will generally follow. It's all about the process. With that said we'll be focusing on the results, specifically the last 14 days.
We'll start Rocco Baldelli-style, with the positive.
Who's Hot?
1) Byron Buxton – .300/.317/.850 (205 wRC+)
The fact that the .850 at the end of Buxton's slash line is his slugging percentage and not his OPS shows just how hot Buxton's been. In the last 14 days he's jacked seven home runs and knocked in 12, while accumulating 0.8 fWAR. Is his swing at everything, no walk approach sustainable? Highly unlikely. But as long as the dingers continue, the walks can wait.
2) Eddie Rosario – .293/.370/.585, (157 wRC+)
Eddie's refined approach might actually be a good model for Buxton going into next season. It took a while and has been kind of a quiet, controlled fire, but it certainly looks like Rosario's patience is paying off. It would be really fun to see how the results would play out over a full season (Rosario is on a 39 home run and 117 RBI pace for 162 games) but continuing his hot-streak throughout the playoffs works as well.
3) Josh Donaldson – .205/.354/.436, (115 wRC+)
Donaldson's triple slash isn't as impressive as our next two hitters, but he's playing every day, taking plenty of walks, and has been even hotter in the last seven days (.278/.435/.611). He's presumably healthy and finally looking like the player the Twins thought they were getting when Donaldson signed his hundred-million dollar contract.
4) Jake Cave – .300/.333/.800 (194 wRC+)
Cave's great game against the Tigers in the series finale (two home runs) certainly boosted his 14-day triple slash, and he even threw in one of his patented hold-your-breath-cause-if-he misses-it-we-might-be-watching-an-inside-the-park-home run catches to boot. His aggressiveness is up there with Buxton's, and fortunately for the Twins, his slash-line has been as well (relative to our tiny 14-game sample of course). Cave should provide value as a pinch hitter-and-runner in the postseason.
5) Ryan Jeffers - .294/.368/.647 (171 wRC+)
Jeffers' somewhat surprising prowess with the bat and good defense, combined with Mitch Garver's nightmare season, puts the Twins in a bit of a catching conundrum come October. Do they go with the more experienced Garver, or the red-hot Jeffers? Should the Twins extend the postseason past the wild-card round, they'll both be needed, but don't be surprised if Minnesota favors the hot hand (or mitt, if you will).
Who's Not?
Now for the not so fun part. Garver's time on the IL keeps him off this list, and although he hit a home run in his first game back, he also struck out three times. It's more than fair to say he's cold. We'll give him an un-honorable mention.
1) Miguel Sanó – .095/.095/.310 (-7 wRC+)
Sanó's no stranger to streakiness, and unfortunately for the Twins, he's currently entrenched in the icy variety. He's also no stranger to striking out. When he's going well the misses are palatable, but Sano's struck out at a 50% clip over the last 14 games. Hopefully he'll get it turned around over the final three games – he's also no stranger to hot streaks.
2) Jorge Polanco – .171/.295/.200 (39 wRC+)
His improved defense has made his lack of success with the bat a bit easier to take, but it's hard to classify Polanco's 2020 as anything less than a disappointment. The rabbit ball undoubtedly contributed to Polanco's power outbreak last year, but even with some expected regression, his .360 slugging percentage on the year resembles the light-hitting shortstops of a by-gone era.
3) Nelson Cruz – .172/.250/.310, (42 wRC+)
Cruz's 14-day sample is even smaller (20 PA) due to sitting out the last four games with a sore knee/hamstring. The injury and Cruz's age are more alarming than the numbers. The Twins are (justifiably) playing it safe with the 40-year-old slugger. Cruz has obviously been amazing over the last two seasons, but things can go south quickly at his age and even with his great numbers there are some potential signs of a coming regression. Overall, he's swinging more, specifically on pitches outside of the strike zone and less on pitches in the zone, which is a trend in aging hitters. He's also got a career high K-rate and a .368 BABIP, potentially pointing to some fortunate results in his batted balls. The sample has been small and the changes not all that pronounced, but certainly something worth considering as Cruz enters free-agency at the season's conclusion. But I digress. Let's just hope that Cruz and his understudy can heat up in time for a Bomba-filled October.
MORE FROM TWINS DAILY
— Latest Twins coverage from our writers
— Recent Twins discussion in our forums