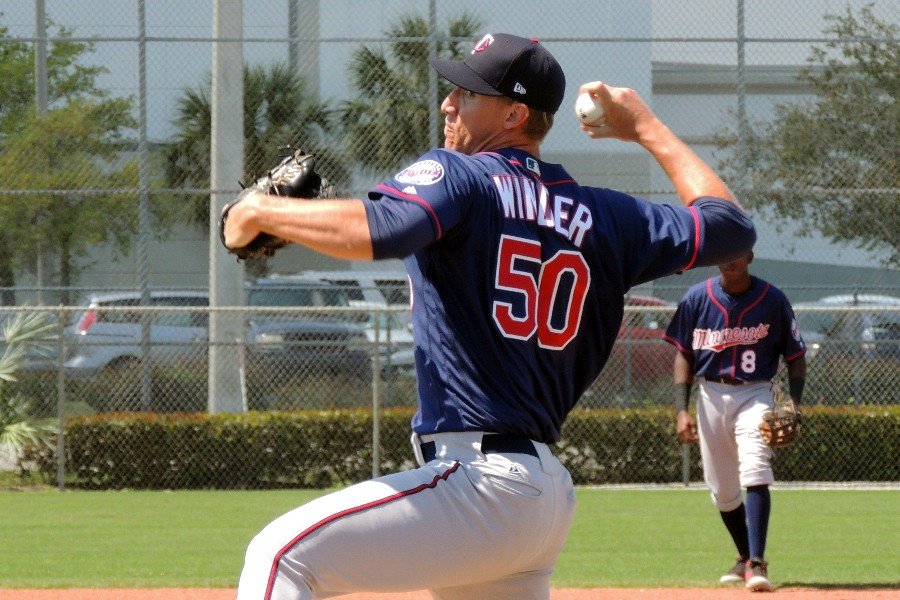 Image courtesy of Seth Stohs, Twins Daily
The Twins will be faced with several decisions during the offseason concerning the makeup of their roster, beginning with who's placed on and removed from the 40-man. While it may seem as though the team will be confronted with many impossible decisions, the fact of the matter is that the Twins are well-positioned to add critical prospects to the 40-man without losing much in the way of established talent and productivity. 
Below is a discussion of the Twins 40-man roster, primarily regarding their top prospects. Twins Daily's most recent Top 30 prospect list was used for reference. 
Already on the 40-man
Jordan Balazovic, RHP
Jhoan Duran, RHP
Drew Strotman, RHP
Gilberto Celestino, OF
Edwar Colina, RHP
Brent Rooker, OF/DH
Nick Gordon, UTIL
Of the players listed above, only Rooker's future with the team appears to be dubious. Perhaps Gordon's as well. If the Twins were to try to drop them from the 40-man — something that I don't consider to be particularly likely — they both would be claimed. While Rooker and Gordon may not remain as Twins for the long haul, Minnesota likely won't just give them away for free. The remainder of the athletes above will probably fill critical roles with the Twins, if not next summer, then in the summers to follow.
Not eligible for Rule 5 Draft or Minor League Free Agency
Matt Canterino, RHP
Simeon Woods Richardson, RHP
Austin Martin, OF/SS
Aaron Sabato, 1B/DH
Keoni Cavaco, INF
Misael Urbina, OF
Matt Wallner, OF/DH
Alerick Soulaire, UTIL
Will Holland, INF
Marco Raya, RHP
Spencer Steer, INF
Steve Hajjar, LHP
Louie Varland, RHP
Noah Miller, INF
Chase Petty, RHP
All of these guys are going to be sticking around for at least one more season, if not longer. To be eligible for the Rule 5 Draft, a player must have spent at least five seasons with the same team if they were signed or drafted during or after high school or at least four seasons if drafted out of college. To be eligible for minor league free agency, an athlete must have spent at least six full seasons with the same team. None of the players above meet the criteria, so they aren't going anywhere unless traded.
Additionally, save for perhaps Austin Martin and Matt Canterino, it's unlikely that any of the above athletes will be promoted to the majors at any point next season. The majority are still fairly young or lack professional experience, meaning some more seasoning in the minor leagues is more than warranted. 
40-man Locks
Jose Miranda, INF
Joe Ryan, RHP
Josh Winder, RHP
Cole Sands, RHP
Royce Lewis, SS/OF
Jovani Moran, LHP
There's no chance that the Twins will risk losing any of these guys. Miranda has been the most impressive minor league player in the system — if not all of MiLB — and will likely slot in somewhere in the infield next season. Joe Ryan and Josh Winder will probably be among those competing for a starting rotation spot next spring. Cole Sands has dominated the minors when healthy. Royce Lewis is a potential franchise cornerstone. Jovani Moran is already an MLB-caliber reliever. While all five athletes may not make the Opening Day roster, they will all accumulate service time beginning next summer, if not sooner.
50/50 Chance
Blayne Enlow, RHP
Chris Vallimont, RHP
Yennier Cano, RHP
Ian Hamilton, RHP
Yunior Severino, INF
Jermaine Palacios, INF
Here's where the Twins need to make some decisions. 
Enlow was a third-round pick in 2017 out of high school and has been phenomenal during his minor league career. However, he will miss a good chunk of next season — if not the entire season — after undergoing Tommy John surgery earlier this summer. While that may seem to disqualify him from Rule 5 consideration, a team could select Enlow and easily keep him on the 60-day IL for the entire season. Doing so would save his 40-man roster spot for another athlete and effectively eliminate the chance for Enlow to be returned to the Twins. Because of this, I would not be surprised if the Twins placed him on the 40-man rather than risk losing him for nothing.
As I have discussed frequently, Vallimont is an enigma. He has fantastic raw stuff and strikeout numbers, but he lacks command and gives up too many free passes and runs. While he may eventually become an MLB pitcher, he isn't particularly close to being one at the moment. For this reason, I think it would be unlikely that a team would select him in the Rule 5 Draft, and, as such, I could see the Twins keeping him off their 40-man.
Cano is an electric bullpen arm that dominated the lower minor leagues but has struggled a little bit since being promoted to Triple-A. That said, he has the raw stuff to carve out a major league career. He's already 27-years-old, but has only spent two seasons in the minors after signing as a free agent in 2019. So while he isn't eligible for the Rule 5 Draft or minor league free agency, one figures that if he's going to make it to the big leagues, he'll likely have to do it soon. I'd be surprised if we don't see him in Minneapolis at some point next season. Odds are that he won't be added to the 40-man until next season if he isn't by the end of this one.
Both Severino and Palacios were former highly-touted prospects who failed to live up to expectations, though both have been performing exceptionally well as of late. As was the case with Vallimont, neither are ready to face MLB pitchers consistently. However, both still have a fair amount of potential, especially if their recent output remains. Palacios would be eligible for free agency if he is not rostered, while Severino would be exposed to the Rule 5 Draft. If I'm the Twins, I place Severino on the 40-man and hope I can re-sign Palacios.
Hamilton's situation is akin to that of Palacios. He's a former highly-regarded prospect who will be eligible for free agency if not added to the 40-man. He's shown promise this season at the Triple-A level, hitting 100 mph with his fastball on multiple occasions. Frankly, it's a little surprising that the Twins haven't given him a shot to this point, and, who knows, maybe they'll do so before the summer is over. Regardless, Hamilton has shown that he still has MLB talent and simply letting him walk could prove to be a poor decision.
Rather Unlikely Notable Prospects
Wander Javier, SS
Trey Cabbage, OF/DH
Both Javier and Cabbage will be eligible for minor league free agency following the season, though I doubt that the Twins will use that fact as motivation to put them on the 40-man. Javier has been too inconsistent at the plate to justify a roster spot, while Cabbage is a power-hitting corner outfielder/1B/DH-type. Cabbage is in the midst of a career year and does have some value; however, the Twins are loaded with young, power-hitting outfield talent. He could probably fetch something like a potential bullpen arm in a trade, but the odds of a team trading for him when they could try to sign him away from the Twins are low.
Impending Free Agents
Michael Pineda, RHP
Alexander Colome, RHP
Andrelton Simmons, SS
The Twins may try to re-sign Pineda and Colome this coming winter, but Simmons seems highly unlikely to return, especially with Lewis's arrival right around the corner. I'd put the over/under on open 40-man roster spots from this group at 1.5.
40-Man Spots That May Be Up For Grabs
Charlie Barnes, LHP
Devin Smeltzer, LHP
Beau Burrows, RHP
Danny Coulombe, LHP
Luke Farrell, RHP
Edgar Garcia, RHP
Ralph Garza Jr., RHP
Juan Minaya, RHP
Cody Stashak, RHP
Lewis Thorpe, LHP
Nick Vincent, RHP
Derek Law, RHP
Willians Astudillo, UTIL
Jake Cave, OF
Kyle Garlick, OF
Rob Refsnyder, OF
The Twins have a bevy of bullpen arms, bench players, and trade candidates that could be on the move this offseason. As such, the team has at least 16 40-man spots — and that may be an underestimate — to play with. Add in the impending free agents, and that number jumps to 19. Subtract the locks, and that number falls to 14. So while it may seem as though the Twins are on the cusp of a roster crunch at first blush, the reality is that the team has plenty of room to play with this coming winter. If the team loses anyone to the Rule 5 Draft or minor league free agency, it's because the team determined that they were of little value to them moving forward. 
MORE FROM TWINS DAILY
— Latest Twins coverage from our writers
— Recent Twins discussion in our forums
— Follow Twins Daily via Twitter, Facebook or email
— Read more of Lucas's minor league prospect coverage here