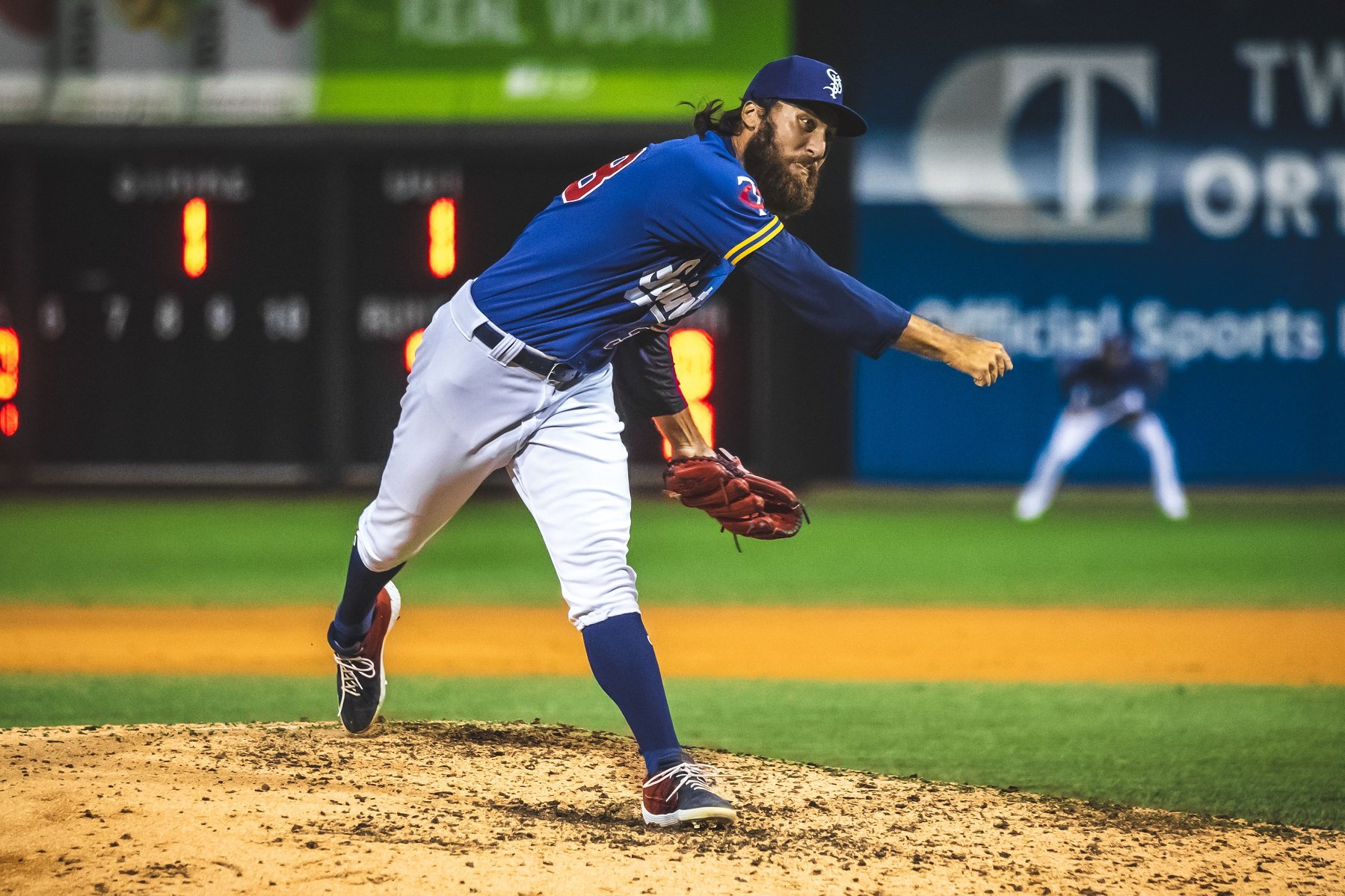 Image courtesy of Rob Thompson, St. Paul Saints (photo of Ryan Mason)
Understandably, much of the early off-season Twins conjecture has surrounded trades and free-agent additions the Twins can make to boost their beleaguered pitching staff. The promotion of Jovani Moran and his dynamic changeup is indicative of another direction the organization will have to succeed at if they are to compete in 2022, promoting from within.
Twins fans have bemoaned the organization's poor returns on developing its own pitching for as long as I can remember. 2022 will be the year that narrative begins to change. It's well known that the Twins have a stable (sorry PETA) of young arms in AA and above, with Josh Winder, Jhoan Duran, Cole Sands, Chris Vallimont, Jordan Balazovic approaching major league consideration. What about bullpen options? Here are three names Twins fans should be familiar with who will likely feature in the major league bullpen during the 2022 season.
Ian Hamilton
Ian Hamilton is perhaps the best known of the trio to Twins fans. A former White Sox top prospect, Hamilton has made a remarkable recovery from a minor car accident and being struck in the face by a batted ball in 2019. Hamilton struck out 33.5% of hitters he faced in 2021 (13.1 K/9) and has enough velocity to be a high-leverage arm. Control was Hamilton's issue in 2021, with a 15.2% BB%. Hamilton spoke of the challenges of regaining confidence in his mechanics after his injuries. If he can return to the type of command he showed in the 2018 season 5.1% BB%, he could be a huge boon to the Twins bullpen in 2022.
Ryan Mason
Conversely, Ryan Mason is the name on this list least well known by Twins fans. It's time to pay attention. Mason was drafted in the 13th round of the 2016 draft out of UC-Berkley. The 6'6 California native was promoted to the Saints at the end of July, after impressing at AA Wichita. Mason combined for 54 innings across two minor-league levels with the Twins and got better when he was promoted to St. Paul. He struck out 29.4% of the batters he faced at AAA (12.1 K/9) and managed a 3.47 FIP. Similarly to Hamilton, it's control that will be a decisive factor for Mason. At AAA in 2021, he walked 11.8% of hitters (4.8 BB/9). Also like Hamilton, he has a history of good control prior to a pandemic-lost 2020 season (1.6 BB/9 in 92 2/3 innings between 2018-2019). Mason is another MLB-caliber arm to watch out for in 2022.
Yennier Cano
Cano is an unusual bullpen prospect. The 27-year-old out of Cuba throws in the mid-to-upper 90s and offers a fastball, slider, splitter combination which he executed to great effect in St. Paul in 2021. Cano's ascent through the Twins MiLB ranks is impressive. He has moved from Rookie ball to AAA in just two seasons, with a season off in-between due to the pandemic. Cano struck out 25.7% of hitters he faced in 51 AAA innings (10.2 K/9). Cano struggled with his control at AAA with a 12.8% BB%, compared to just 6.2% at AA. Similar to Hamilton and Mason, Cano has shown the stuff and performance to be a high-leverage arm, if he can arrive at a greater level of consistency.
These three internal options for the Twins bullpen have striking similarities. Excellent arms, excellent stuff, and a need to develop more consistent control. Whether that need arose through injury, or simply missed development time, it's critical the Twins begin to show the type of success developing their own relievers as many have predicted for their starters in forthcoming seasons. While there is work to be done for all three, make no mistake. Help for the major-league arm barn is on the way from St. Paul.