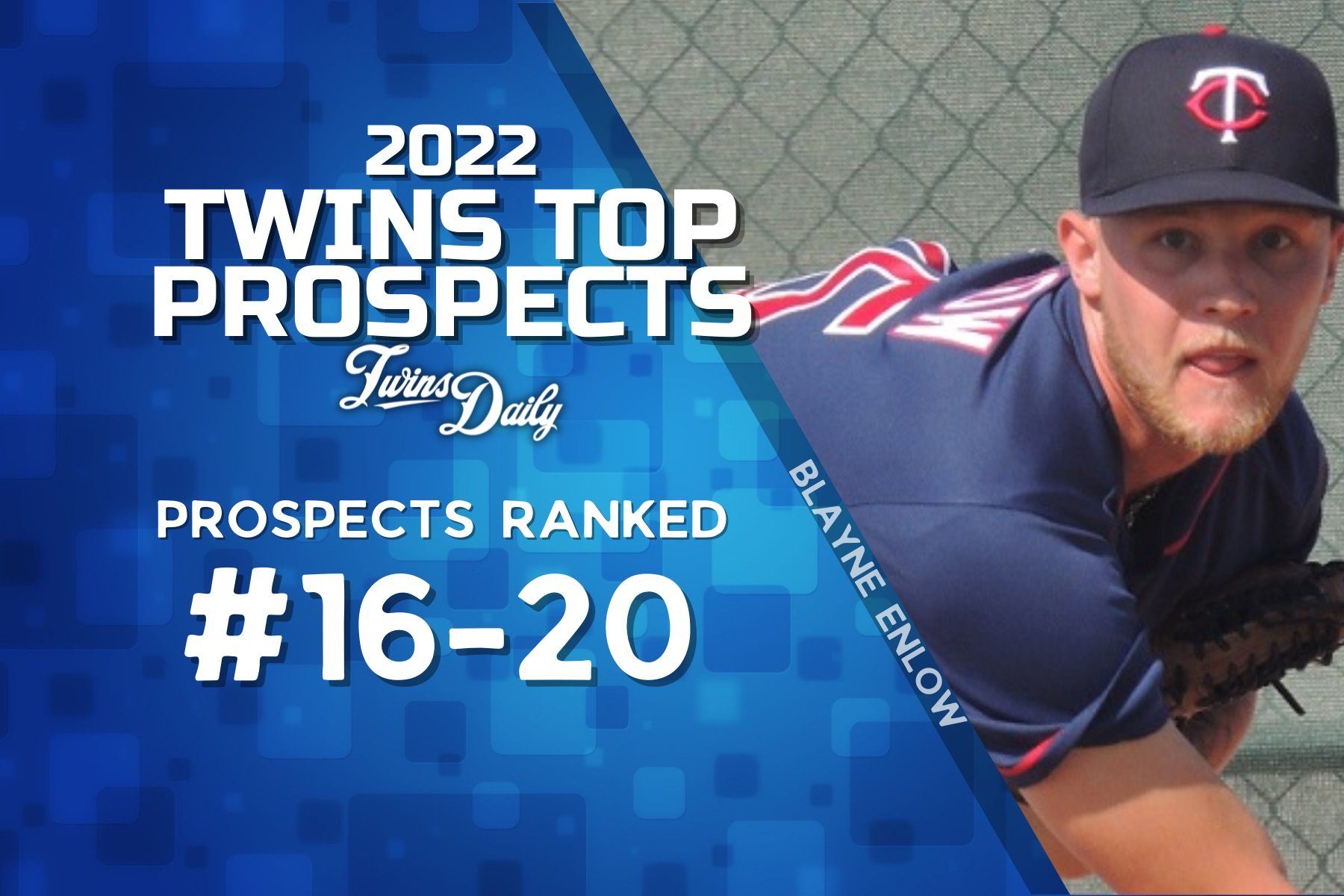 Image courtesy of Thiéres Rabelo, Twins Daily
Twins prospects ranking between 16-20 in our series highlights a dynamic group of players, some brimming with upside and others with higher perceived floors. Let's break it down. 
20. LHP Steve Hajjar
Age: 21
2021 (Michigan): 14 starts, 81 2/3 IP, 3.09 ERA, 32% K, 8.5% BB
The Twins selected Hajjar with the 61st pick in last June's draft, expressing serious interest in Massachusetts's 2018 Gatorade Player of the Year. Hajjar is a sizeable lefty with a plus-changeup. Like Bailey Ober and Joe Ryan, Hajjar's fastball gets on hitters promptly because of his extension. 
Hajjar was excellent in his two seasons at Michigan, pitching to a 3.01 ERA with a 31% strikeout rate in just over 100 innings. Hajjar has a deceptive delivery, relying primarily on a fastball-changeup combo with a loopy curve. Hajjar has a chance to move quickly up the system.
19. INF Edouard Julien
Age: 22
2021 (A-A+): 112 games, .267/.434/.480, 28 2B, 18 HR, 34/39 SB, 28% K, 21% BB
Julien had an exciting season last summer. He walked or struck out in nearly half of his plate appearances while nabbing 34 bases in 39 tries. Julien hit .267 but walked 110 times. It was a strong season overall for Julien, but there are some blemishes, especially considering he's still in the low minors. 
With a left-handed stroke, Julien reached base in 44% of his appearances against right-handed pitchers. Julien logged 20 starts at first base, 38 at second base, 22 at third, 15 in left field, and 15 at DH. Like many of the other position players in the Twins' system, Julien will continue to play all over the diamond. 
18. INF Spencer Steer
Age: 24
2021 (A+-AA): 110 games, .254/.348/.484, 18 2B, 3 3B, 24 HR, 21.5% K, 11% BB
An example of the Twins helping their contact-oriented prospects tap into more power; Steer hit 24 homers in 110 games in 2021. He had never hit more than six homers in a season, dating back to Oregon. Steer broke out at Cedar Rapids before struggling initially in Wichita. He had a 26-game stretch where he hit .307/.371/.634 (1.004 OPS) for the Surge. 
Steer worked hard to add more pop to his bat, and his progression has significantly improved his ceiling. Instead of a future slap-hitting utility player, Steer now projects as a potential double-digit homer bat. Steer's development is certainly encouraging. 
17. RHP Blayne Enlow
Age: 22
2021 (A+): 3 starts, 14 2/3 IP, 1.84 ERA, 39% K, 10% BB
Enlow was off to a terrific start in Cedar Rapids before an elbow injury (and Tommy John surgery) ended his season. Enlow will have thrown just 14 2/3 Minor League innings in over two years when he returns. Even then, the Twins chose to protect him by adding him to the 40-man roster this offseason. 
The Twins signed Enlow for $2M in the 2017 draft, pulling him away from a commitment to LSU with an over-slot bonus. Enlow's fastball had ticked up last summer, an encouraging sign after it sat in the low-90s in a mediocre 2019. Enlow is young, talented, and driven and will be right back on the radar when he returns. 
16. OF Emmanuel Rodríguez
Age: 18
2021 (FCL): 37 games, .214/.346/.524, 5 2B, 2 3B, 10 HR, 37% K, 15% BB
Rodríguez gained considerable buzz after his power-heavy debut for the FCL Twins. 58% of his plate appearances ended in a walk, strikeout, or home run. To slug .524 in his pro debut at 18 years old is reason enough for excitement, but there are things Rodríguez has to work on as he works his way up. 
Touted for his advanced approach at the plate, Rodríguez is oozing with projection. Scouts have tabbed Rodríguez with above-average speed in centerfield with a chance to stay there permanently. If you're looking for a talented potential future top prospect for the Twins, Rodríguez is probably your best bet.
MORE FROM TWINS DAILY
— Latest Twins coverage from our writers
— Recent Twins discussion in our forums
— Follow Twins Daily via Twitter, Facebook, or email