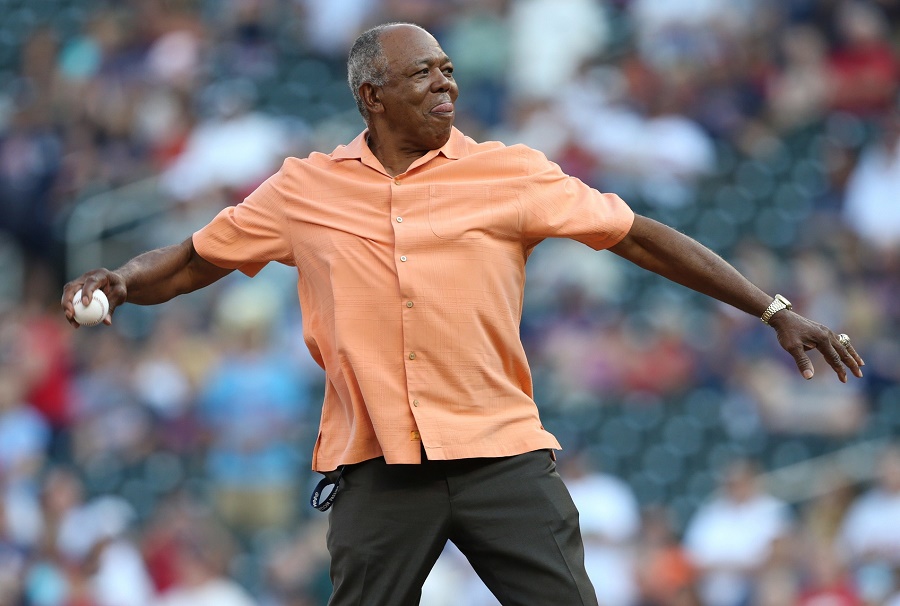 Image courtesy of Jesse Johnson, USA Today
On December 8, the 16-person Veteran's Committii will vote on which of the ten players from the Golden Era should be elected. Like the Baseball Writer's vote, to gain enshrinement in Cooperstown, a player will need 75% of the vote (or, 12 votes).
Tony Oliva is a Twins legend. He is a member of the Minnesota Twins Hall of Fame and is one of the five best players in team history. However, he was not voted into the Hall of Fame after 15 years on the Baseball Writers' ballot. In fact, he never accumulated more than 47.3% of the vote.
However, thanks to the Hall of Fame's addition of this Golden Era vote, Oliva has another chance. As Twins fans, we can certainly support one of ours being awarded the greatest honor a baseball player can receive.
The Case For Oliva
Players are to be considered or judged based on several criteria including record, ability, integrity, character, sportsmanship and contributions to the team.
However, it all starts with record as a player since there are a lot of people of high character and integrity in the game. So, let's start with his playing career.
Oliva had cups of coffee with the Twins in 1962 and 1963. In 1964, he was the American League Rookie of the Year and won the league batting title when he hit .323. In 1965, he hit .321, becoming the only player in team history to win back-to-back batting titles. In 1966, he led the league in hits for the third straight year but his .307 batting average was second behind Frank Robinson. In 1971, he hit a career-high .337 for his third and final batting title.
He led the league in hits five times, and four times he led the league in doubles. Three times he finished in the top five in MVP voting. Five times he finished in the top ten.
All-Star appearances mean different things to different people these days, but the reason it was called The Golden Era is because so many of baseball's elite players came from that era. To have been selected for eight straight All-Star games, from 1964 through 1971, tells us how great he was in the era.
The Twins actually released Oliva in 1961 because he was so bad defensively in the outfield. However, he turned around his defense in right field enough to earn a Gold Glove Award in 1966. He was known to have had one of the strongest arms in baseball.
Oliva's peak was from 1964 through 1971 (ages 25-32). Unfortunately, he was able to play just ten games in 1972 because of his knees. I wanted to see where Oliva ranked during that eight year stretch compared to his contemporaries.
His triple slash line for that time frame was .313/.360/.507 (.867). That is an adjusted-OPS+ of 140. In other words, he was 40% better than the average player for that stretch.

His .313 batting average was tied with Pete Rose for fourth in MLB, behind Roberto Clemente (.334), Rico Carty (.322), and Matty Alou (.314). It was best in the American League, ahead of teammate and roommate Rod Carew's .306 average.

Because he was such an aggressive hitter, his on-base percentage ranks 31st from that time frame, but it is 13th in the American League.

That said, he was third in the American League with 90 intentional walks. Only sluggers Harmon Killebrew and Frank Howard were intentionally walked more often in the AL. That is a sign of the respect opponents had for him.

His slugging percentage is tied for 10th in MLB for that time frame. However, in the American League, only Frank Robinson, Harmon Killebrew and Frank Howard rank ahead of him.

His OPS was 14th in baseball, sixth in the American League (top five – Frank Robinson, Harmon Killebrew, Carl Yastrzemski, Frank Howard and Mickey Mantle).

His 1,455 hits was behind only Rose (1,554), Lou Brock (1,552), Billy Williams (1,516) and Clemente (1,460). In the AL, Brooks Robinson's 1,313 hits was second to Oliva.

His 278 doubles was best in MLB from 1964-1971.

His 46 triples ranked 12th in MLB and fourth in the American League.

His 177 home runs ranked 15th in all of baseball and eighth in the AL.

His 719 RBI was 13th overall behind 11 Hall of Famers (and just ahead of three more). That RBI total ranked fourth in the American League (leader was Harmon Killebrew).

He was 10th in MLB with 711 runs scored, which ranked second in the American League.

Many think that the knee injuries completely derailed his career. Sure, it slowed him down, but he was still pretty good. After playing in just ten games in 1972, Oliva became the Twins DH in 1973 and played in 374 games over the next three seasons.
In those three years, he hit a combined .283/.338/.401 (.740). That may sound somewhat pedestrian, especially in comparison to those first eight full seasons. However, with an adjusted OPS+ of 109, he was still nine percent better than the average player.
So, did he fade after the injuries, and after he turned 32? Sure, a little. He was still a very good player. Despite hobbling when he walked. Despite Rod Carew's stories of Oliva crying himself to sleep at night in pain, or limping to get ice, he still continued to play at a very high level.
That said, there will always be the question of What If... with Tony Oliva's career. His career hitting line, from 1962-1975, is .304/.353/.476 (.830) which equates to an adjusted-OPS+ of 131.
He accumulated 329 doubles, 48 triples, 220 home runs and 947 RBI.
Post-Playing Career
Oliva came to the United States from Cuba for an opportunity to play baseball and earn a living. However, he got married in South Dakota and has made Bloomington his home for 50 years. He has remained active in the organization.
In fact, many may forget that he was that Twins first base coach in 1985 and their hitting coach from 1986 through 1991. I think most Twins fans would agree that was a pretty good stretch for the Twins.
Since then, he has been a special adviser for the Twins. He has spent time in Ft. Myers as an instructor as well as going around to the minor league affiliates to do much of the same. He is very active in the community, often representing the Twins at events. Currently, he is an Analyst on the Twins Spanish Radio network and a minor league instructor.
Seemingly all Twins fans have a good Oliva story. For me, the first one was in 2001 while in Cooperstown for Kirby Puckett and Dave Winfield's Hall of Fame Induction weekend. Just walking through the streets of Cooperstown, Oliva was chatting with fans and taking pictures. I happened to be in a store when my brother got his picture taken with him.
In the last fifteen years, Oliva has had many honors bestowed on him. His #6 was retired by the Twins. He was part of the inaugural Twins Hall of Fame class. He was also named to the Latino Baseball Hall of Fame. In 2011, the bronze statue of Oliva was dedicated outside of Gate 6 at Target Field.
In short, he has been an ambassador of the game of baseball in the Upper Midwest for half of a century. His joy permeates a room when he is at the front sharing stories of his playing days, his Twins Caravan trips and more. He exudes integrity and character.
What Can I Do?
As we mentioned at the start, YOU can help Tony Oliva get votes. You can mail a letter to the Golden Era Veterans Committee about why you think Tony Oliva should be in the Hall of Fame.
The best way to influence the voting committee is by sending letters in support of Tony. VoteTonyO is working to send over 13,000 pieces of mail from fans, but more is needed. There are two things you can do to help the effort:
1. Mail pre-stamped VoteTonyO postcards
VoteTonyO has designed and printed 8,000 custom postcards that are pre-stamped and pre-addressed. All you have to do is write a short message on the back and mail them in. These postcards are available for fans at no cost. To request postcards, email , providing your mailing address and desired quantity (in increments of 25).
If you have more to say to the Hall of Fame voters about why Tony should be inducted, mail a letter to:
Don't forget to write "VoteTonyO" on the front and back of the envelope. The vote is on December 8th, so you will need to get your letter or postcard as soon as possible.