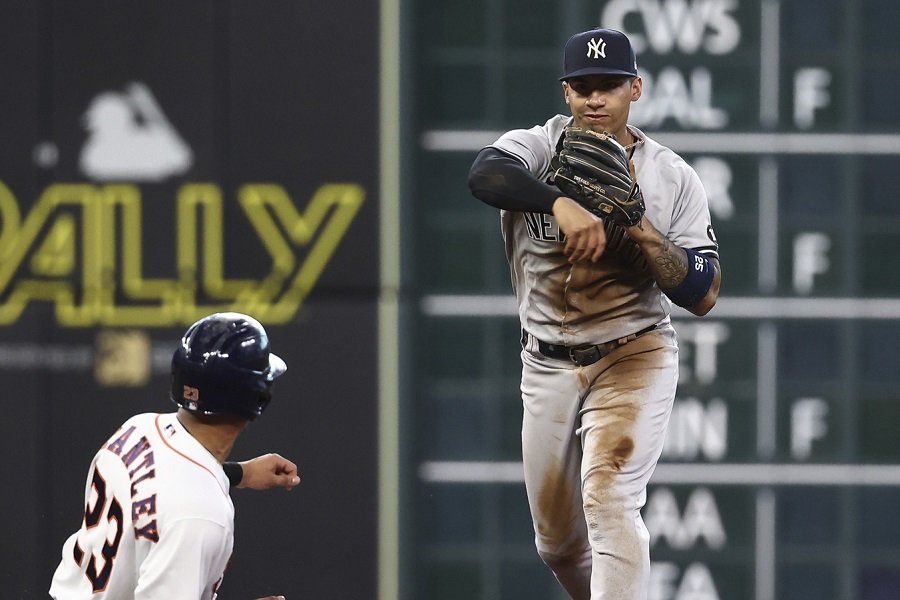 Image courtesy of © Troy Taormina-USA TODAY Sports
Across baseball, teams will be vying for free-agent shortstops like Carlos Correa, Trevor Story, and Corey Seager. Minnesota can try to outbid other teams for their services, but the current front office doesn't have a great track record when it comes to free-agent signings. Instead, the team can look to a buy-low candidate at shortstop. 

The Yankees are a team that spends money on the free-agent front as they currently have a payroll of over $200 million. New York may also be looking for a shortstop replacement. Gleyber Torres has been the team's starting shortstop, but he has struggled over the last two seasons. Since 2020, he has hit .248/.330/.353 with 36 extra-base hits in 151 games.

Torres, a two-time All-Star, turns 25-years-old this winter. He broke into the big leagues as a 21-year-old and posted a 125 OPS+ while averaging 31 homers through his first two seasons. Shortstop is a challenging position for any team to fill, and it is especially tough in the Bronx with players following Derek Jeter's footsteps. Still, Torres was considered one of baseball's best prospects, and he showed it early in his career. 
 Why Would the Yankees Trade Him?
Torres has struggled to make hard contact for multiple seasons as his Baseball Savant page has much more blue than red. He ranks in the 40th percentile or lower in average exit velocity, hard-hit %, xwOBA, xSLG, barrel %, and whiff %. His worst category is outs above average, where he ranks in the first percentile. 

Besides his offensive decline, his defense has also been stretched at shortstop. According to SABR's Defensive Index, Torres has been the AL's third-worst defensive shortstop in 2021. Back in 2019, the last full season, he was one of only seven AL shortstops with a positive SDI. There's a chance an undisclosed injury is impacting his performance, but the Yankees might be ready to move on. 

For any team looking to acquire Torres, it doesn't seem likely for him to be this bad of a player. He was highly regarded as a prospect, and he had multiple years of big-league success. Minnesota can hope that a change in coaching staffs allows him to return to his previous form. Even his current manager believes he will be an impact player for a long time. 
What Would the Twins Have to Trade?
After a disappointing season, the Twins may have multiple players that would be considered buy-low candidates. One name to consider is Max Kepler. Like Torres, Kepler had a monster 2018 season at the plate, but both players have struggled since that point. They are each under team control through the 2024 season, and there's a chance each player can improve with a change to a new organization.

New York's outfield dimensions are certainly a benefit for left-handed hitters like Kepler. Torres might be helped by being out of New York's bright lights. Baseball Trade Values claims a straight trade of Kepler for Torres is a fair trade for each team and would likely be accepted from a future value standpoint. New York may also want prospect capital in return for Torres, and the Twins certainly have options down on the farm. 

The Twins should be prepared to make the call if the Yankees are ready to move on from Torres.

Is Torres a player the Twins should target? Leave a COMMENT and start the discussion.

MORE FROM TWINS DAILY
— Latest Twins coverage from our writers
— Recent Twins discussion in our forums
— Follow Twins Daily via Twitter, Facebook or email