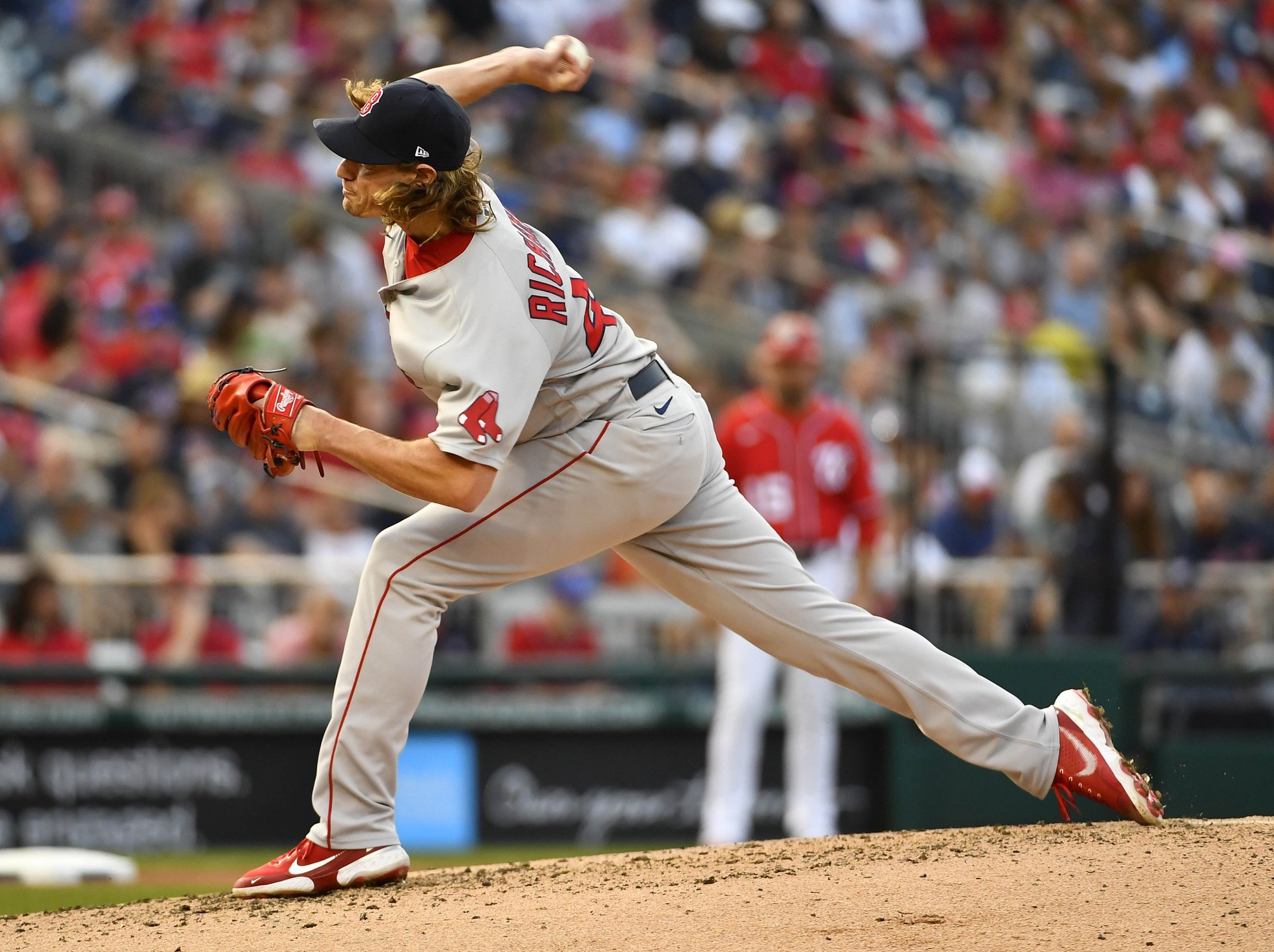 Image courtesy of Brad Mills-USA TODAY Sports (Garrett Richards)
Earlier this week, Dan Hayes of The Athletic penned a piece sizing up the monumental challenge ahead of the Twins as they seek to fill the top three spots in their rotation from the outside. 
The end of the piece includes this quote from the Twins GM, which really caught my attention:
"I think with the challenge comes opportunity," Levine said. "We're going to be as creative as we can be in terms of not being necessarily hemmed into the notion of it has to look exactly the way it has always looked. We may end up looking at this from the lens of how many multi-inning guys can we add to a staff and how far does that take us?"
While Levine's allusion is not overly specific, one could take it to mean the Twins are envisioning a staff filled with "hybrid" pitchers – not quite starters, but not traditional one-inning relievers either – stringing together nine-inning games, without the expectation of one guy throwing six or seven. 
This is, in some respects, the direction baseball is trending, and it's been very noticeable in recent postseasons. 
For a team in Minnesota's position, embracing this revolution fully would make a lot of sense. Here are some reasons why:
Free agent starting pitchers are expensive and hazardous. Mid-market teams like the Twins rarely play at the highest level because it's tough to be outbid resource-intensive (not to mention more appealing) heavy hitters, and because getting it wrong on a guy you commit $100+ million to can really set you back. 
As Hayes notes in his article, the Twins face an especially tough challenge because the two "sure things" in their rotation, Bailey Ober and Joe Ryan, are young and inexperienced starters who threw about 100 innings apiece this season. They'll surely have workload limits in place next year, and the model we're discussing would help accommodate that, while reducing a need to compensate by going out and finding proven durable workhorses on the open market (far and few between, highly expensive).
Theoretically this could be a way to maximize effectiveness for a multitude of pitchers. We've seen many failing starters reinvent themselves as outstanding relievers, and this would be a pivot in the same vein. Guys can let loose more in shorter stints, rely on a two- or three-pitch mix, and avoid going through the lineup multiple times.
In the not-too-distant past, it would've been difficult if not impossible to facilitate a system like this, but the expansion of rosters and the ability to continually carry 13-14 pitchers makes it feasible. 
You might ask, what types of pitchers would fit under an approach like this? There are a few names on the free agent market that catch my eye, but first, let's discuss some internal candidates to thrive under such an arrangement.
Randy Dobnak: He's not really built up to a starter's full workload after throwing 46 and 70 innings in the last two seasons. As a multi-inning reliever or "extended opener" type starter, he'd be able to stretch out without pushing too hard. 
Griffin Jax: I wrote a while ago about why I like Jax as a candidate to level-up in a relief role: he's got one really good pitch (his slider), and he held opponents to a .597 OPS the first time through the lineup this year. Limiting him to two- or three-inning stints could help unlock his peak form.
Lewis Thorpe: I'm not sure if the Twins will continue to try and see things through with Thorpe, and it wouldn't surprise me if he's dumped from the 40-man roster in the near future. That said, if they are committed to giving him one more shot to get healthy and show his stuff, this seems like the way to do it. Full-time starter is out the window at this point.
Upcoming Prospects: The Twins have a wealth of near-ready prospects in the minors, but most of them have been plagued by injury issues and nearly all will need to be carefully managed and monitored. This approach helps here, just as it does with managing young MLB starters like Ober and Ryan.
Of course, the Twins can't do it all with what they have on hand. They'll need to bring in some talent. The downside of this model is that established MLB starters are probably not going to want to sign on for such unconventional and reduced usage. The upside is that you can possibly make savvy and cost-effective moves, signing down-and-out guys and turning them around. 
To be clear, the kinds of pitchers who would likely to be signed to support this framework are NOT going to excite anyone. As you look at some of the names I'll throw out below, it's important to think of them not as they are, but as what they could be. Surely no one in Seattle was excited when they signed downtrodden starter Kendall Graveman for $1.25M last year, but now he's suddenly a hot commodity after posting a 1.77 ERA as a reliever.
Here are a few pitchers from the current free agent class who strike me as fits in the hybrid mold:
Garrett Richards: Struggled as a starter for Boston this year, but moved to the bullpen in mid-August and posted a 3.42 ERA with one homer allowed in 18 appearances the rest of the way. He threw two or more innings in five of those appearances.
Jordan Lyles: Been terrible the past two years while mostly pitching out of the rotation. But he's still only 31 and had some success as a multi-inning RP/swing-man type as recently as 2018.
Vince Velasquez: I don't have a specific reason for identifying Velasquez in this mix other than he's always had good stuff that has never really played as a starter. Why not try something else? He'll be extremely cheap despite a career 9.9 K/9 rate.
Trevor Cahill: Sort of the same deal here as above. Cahill has a good repertoire but has struggled to sustainably harness it. He has plenty of experience as both starter and reliever, so the shift to a role like this could be relatively natural for him. 
Josh Tomlin: There's nothing very interesting or exciting about Tomlin; I just think he'd be a likely target if the Twins were to take an approach like this. He's an experienced veteran who spent the past three years in Atlanta pitching in such a capacity – frequent multi-inning relief appearances with the occasional start mixed in – and he has Derek Falvey ties from his days in Cleveland.
I'm sure much of the response to names like these, or even to an overall experimental approach like the one being proposed, will be some variation of "Cheap Pohlads." But I'd submit that the cost efficiencies of this approach enable the team to invest heavily elsewhere – say, a star shortstop, or a high-end closer, or putting all of their chips on one workhorse type starter while using the shorter-duration usage patterns otherwise. 
Will the Twins actually lean into a radically innovative pitching staff model like this? I don't know. Would I personally advise it? I'm not sure. But you don't have to read between the lines much to see they're considering something along these lines, and you don't have to squint too hard to see the logic and potential value in it. 
"How many multi-inning guys can we add to a staff and how far does that take us?" Maybe we're about to find out.
MORE FROM TWINS DAILY
— Order the Offseason Handbook
— Latest Twins coverage from our writers
— Recent Twins discussion in our forums
— Follow Twins Daily via Twitter, Facebook or email