Image courtesy of Brad Rempel-USA TODAY Sports, Dick Bremer, and David Youngs
Head northwest on I-94 from Minneapolis for three hours and take a slight southwest angle onto state highway 27 and you'll be embedded in the heart of Minnesota Lakes Country. Keep going until you hit highway 15, where lakes and ponds evolve into cornfields and prairie. Before hitting Lake Traverse you'll stumble upon Dumont, Minnesota, population 100.
When the Southland Railroad paved its way through the Midwest in the late 1800's the cozy community came to fruition. Blink, and you might miss the trucking company, local bar, and Lutheran church that make up the bulk of the town.
Yet it's a patch of dirt and worn-down grass that perhaps serves as the most notable landmark in Dumont. Ralph-Leslie Field, home of the Dumont Saints…and the birthplace of Dick Bremer's love of baseball.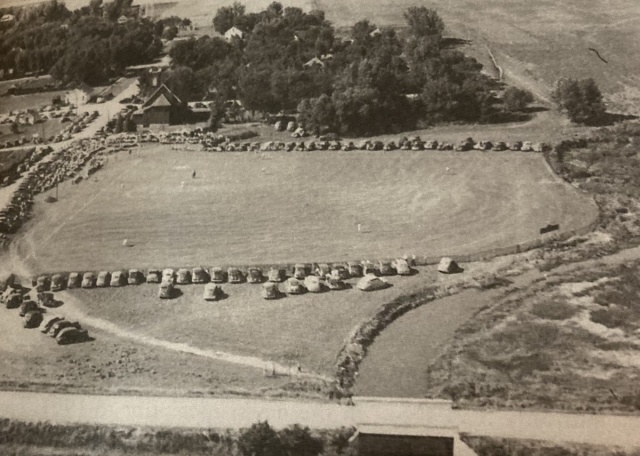 An aerial view of Ralph-Leslie Field. Photo courtesy of Dick Bremer
Coming off year 37 as the voice of the Minnesota Twins, Dick Bremer has seen it all. From sitting in the booth with legends like Harmon Killebrew and Bert Blyleven to humble beginnings in the St. Cloud State press box, Bremer's love of sports has placed him in the most unique of circumstances in unique times.
As the 64-year-old reflects, there's one constant that has flourished since Bremer's upbringing in Dumont: a rich love of baseball in the state of Minnesota.
Humble Roots
A child of the '60s, Dick Bremer grew up alongside the Minnesota Twins, with names like Bob Allison, Harmon Killebrew, and Jim Kaat paving the foundation for the state's new major league baseball team. Those names entered his life at the meager age of five, the inaugural year that Calvin Griffith brought the organization to the Land of 10,000 lakes.
Yet it wasn't the organization that Bremer would one day work for that exposed him to the national pastime, it was the local amateur team.
"I was introduced to the game through the Dumont Saints, the local town team," Bremer said. "They literally played in my backyard."
A community rooted in baseball history, Bremer and Dumont's love of baseball grew when the Twins came to Minnesota in 1961.
"The Killebrew's, Allison's, and Kaat's that people had only heard of, now they were playing for this regional franchise," Bremer recalled. "(The Twins) are considered a major market franchise, but I saw firsthand how the move to Minnesota was just as impactful for small communities across the Midwest as it was for Minneapolis-St. Paul."
The Twins remained a constant for Bremer even as his dad's pastoral calling took the Bremer family from Dumont to Missouri, back to Minnesota throughout Dick's childhood. Dick graduated from Staples High School in 1974 as a tall, lanky right-handed pitcher.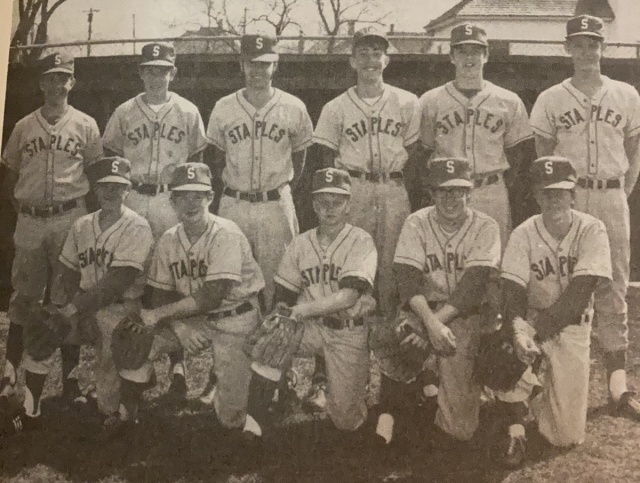 Bremer's high school team at Staples High School. Photo courtesy of Dick Bremer
His hopes to continue the game on the mound fell short when he was cut from the St. Cloud State baseball team the next year. Still determined, Bremer found other ways to get involved with the game he loved.
"I had to find another way to get into the games for free after getting cut from the baseball team," Bremer said. "My right arm was not going to make a living for me, maybe my voice could."
He couldn't have been more right.
Not knowing that his voice would one day be amongst names like Herb Carneal and Halsey Hall, Bremer began broadcasting St. Cloud State football games after bouts at the campus radio station and a local classic rock station where he went by the alibi "Duke after Dark."
From there, Bremer's voice took him to a myriad of press boxes and radio booths of different sports at different levels before making his Twins debut in 1983.
Uniquely, Bremer made the jump 'straight to the majors' without any prior baseball play by play experience.
"My first ever baseball game was opening day for the Twins in 1983," Bremer said. "I hadn't done a minor league game, college, or high school game."
Know Your Audience
From his inaugural year at the air-conditioning deprived Metrodome to watching sunsets at beautiful Target Field, Bremer has broadcasted pennant-winning teams that filled seats as well as losing teams that struggled to sell tickets.
Through thick and thin, Bremer has focused on finding ways to keep his audience engaged. When the Twins aren't winning that can be easier said than done. Thankfully, Dick and his partners' have found creative ways to keep viewers glued to the screen. In his recent memoir "Game Used: My Life in Stitches with the Minnesota Twins," Bremer recalls classic moments from the Fox Sports North booth, including Bert Blyleven eating a live worm and a heartful story of ugly ties that turned into a charitable cause.
In his nearly four decades in the booth, Bremer has been thankful for the freedom that Calvin Griffith and the Pohlad's have given him over the years.
"No one in the Griffith or Pohlad era has ever told me what to say (on air)," Bremer said. "I've been really appreciative of that."
However, a piece of advice that Calvin Griffith gave to a young Bremer before the 1983 season has been embedded in Bremer's work to this day.
"Before I did my first season in 1983, Calvin Griffith gave me some advice that I really took to heart," Bremer recalled. "You need to remember that 99% of your viewers want the Twins to win that game." That percentage may be down a bit now with satellite television but I think it's wise for any broadcaster to recognize who his or her audience is, and conduct yourself accordingly."
Those words have propelled Bremer to give accurate yet resonating broadcasts, drawing new Twins fans to the baseball community each year.
"It's a Blessing"
"For it's one, two, three strikes you're out at the old ball game!" a raspy, yet beautiful voice resounds from the press box.
Not at Target Field, but Wrigley. Harry Caray.
As a result of spending part of his childhood in Missouri, Bremer became familiar with the voice of the legendary Caray, who passed away in 1998. Bremer would get to meet Caray when interleague play was introduced and the Twins came to Wrigleyville to take on the Cubs in 1997. The moment was nothing short of special for Dick.
"Sitting next to Harry Caray during the seventh-inning inning stretch was one of the most thrilling and chilling moments I've ever had," Bremer said. "The entire ballpark stood up and looked at the booth as Harry sang. To see the adoration for him was really special. I grew up listening to him when I was in Missouri and to be able to meet him and spend a little time with him before he passed was really special."
Memories like this will forever be engrained in Bremer's heart and remind him of the rich opportunity he has each day.
"Every time I walk into a ballpark I am fully cognizant of how lucky I am to do what I do, where I do it," Bremer said.
Few people get the chance to broadcast professional baseball. Even fewer get to do it for the team that provided them joy as a child. Bremer's love of the Minnesota Twins not only makes coming to work enjoyable, it flourishes an environment that fans across Twins Territory can relate to.
"I can be on the air and reflect with reasonable accuracy something that happened to the Twins catcher back in 1962 because I was there," Bremer said. "I watched that game and the Twins were very important to my childhood, never imagining that they would be ever more important in my adulthood."
And while Dick is fully devoted to creating a better viewing experience for fans, the boy from Dumont, Minnesota in him who watched Allison, Killebrew, and Kaat will always exist.
"Hopefully my benchmark with the Minnesota Twins won't begin when I began broadcasting, it will when the team came to Minnesota from Washington DC back in 1961."
Dick Bremer's Memoir Game Used: My Life in Stiches with the Minnesota Twins can be purchased here.
More Minnesota Made Articles