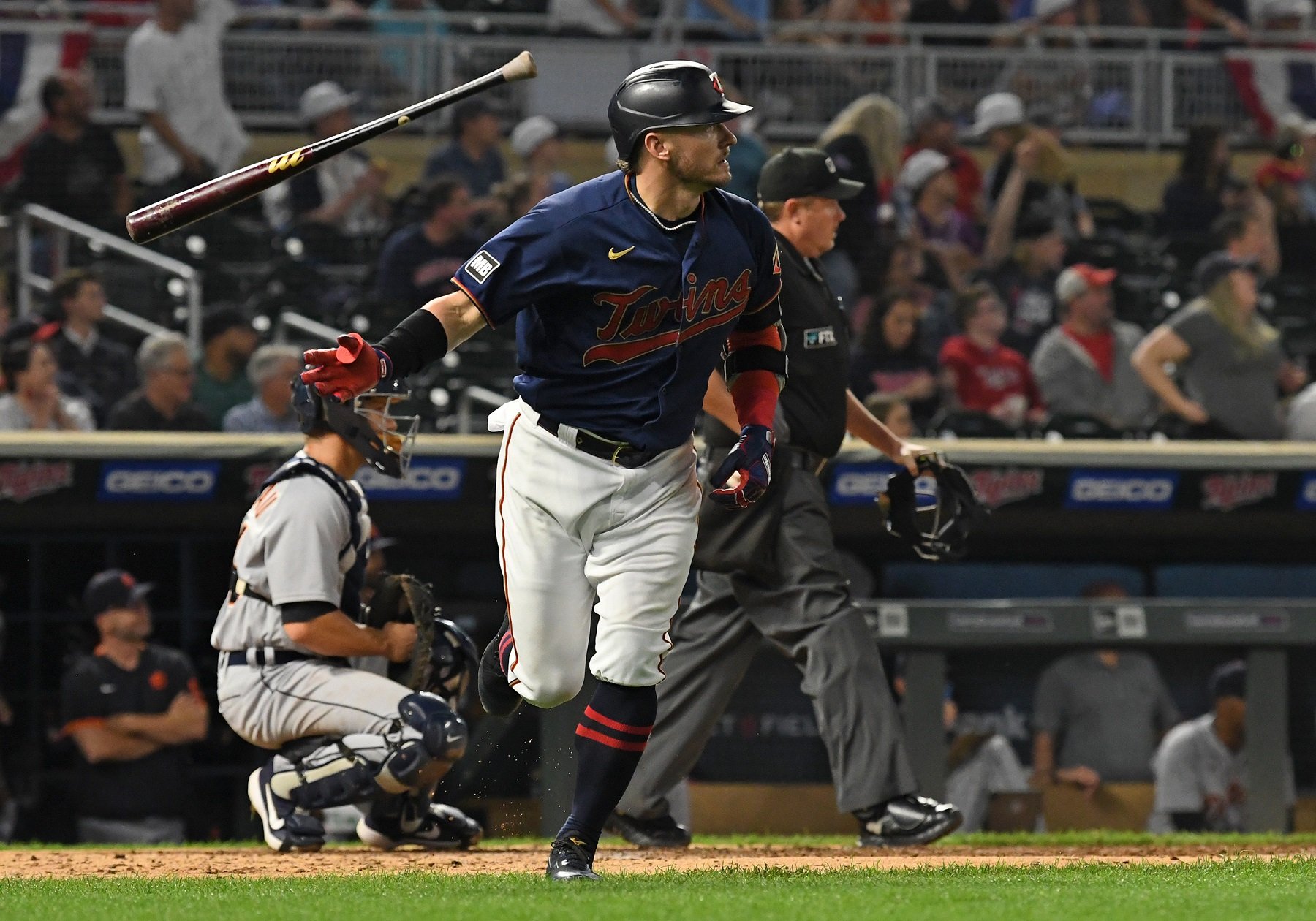 Image courtesy of Nick Wosika-USA TODAY Sports
Though Josh Donaldson's time with the Twins was cut short and was polarizing to some, his time in Minnesota merits some further evaluation to gain the full picture. 
Monumental franchise signing 
The Twins made a big free-agent splash in January 2020 when they signed then-34-year-old Donaldson to a four-year deal worth $92 million guaranteed. Donaldson, the 2015 AL Most Valuable Player Award winner and a three-time All-Star at third base, represented a major commitment on behalf of the Twins organization to bolster its largely-intact and record-setting 2019 "Bomba Squad" lineup. The 2019 Twins set a Major League record with 307 home runs, but their offense sputtered in the postseason and they were swept by the Yankees in the playoffs. The Twins front office hoped the "Bringer of Rain" could bring them some hits and help get them over the hump. Though the Twins primarily signed Donaldson for his bat, the Donaldson signing also gave the Twins a needed defensive boost in the infield, as Donaldson was considered one of the best third basemen in the game at the time. During his 2019 season with the Braves, his glove was worth eight outs above average, per Statcast, ranking him third among all third basemen that year. 
Donaldson's contract was historic both on a franchise and league-level. The contract remains the second-largest in MLB history for a player age 33 or older, behind only Kevin Brown's seven-year, $105 million deal with the Dodgers in 1998. The contract also represented a departure from the Twins' previous hesitation to spend big money on free agents: it greatly surpassed the Twins' previous record free-agent signing, which was 4 years and $55 million to pitcher Ervin Santana before the 2015 season.  For a franchise that had up until that point earned a reputation of not pursuing big-ticket item free agents, the Donaldson signing was a major departure from business as usual at 1 Twins Way.
Hampered by injuries but effective when in the lineup
Josh Donaldson has struggled with recurring calf issues throughout his career and they continued during his tenure with the Twins. In a July 2020 Instagram post, Donaldson acknowledged that he's torn "both of my calves a total of seven times in two years." Calf issues held Donaldson to 28 games in his first season with the Twins in 2020 and forced him to sit out of the Twins playoff series against the Astros that year. During the full 2021 season, Donaldson got in 135 games but was bothered by hamstring issues. However, when Donaldson was in the lineup, he was impactful. During the 2021 season, he hit .247 with 72 RBIs and 26 home runs. He was near the top of the team in almost all hitting categories, including second on the Twins in plate appearances and runs, and third on the Twins for at-bats, RBI, hits, slugging percentage, and home runs. 
Traditionally a third baseman, in 2021 Donaldson found himself playing in the DH role more than ever before following the departure of DH Nelson Cruz to the Tampa Bay Rays and Donaldson's continued dealings with injury. In 135 game appearances, Donaldson had 91 starts at third base and 34 at DH. How exactly he will be used for the Yankees appears to be up in the air, but because they are taking on the entire $50 million remaining on the now-36-year-old Donaldson's Twins contract, they clearly think he has more left in the tank.
Locker room leader and league-wide presence 
After the Twins failed 2019 Bomba Squad campaign, the Twins front office was looking to change up the locker room dynamic and try something different. They decided they were "too nice," according to Sports Illustrated, and wanted to seek out a leader who could help push the team in a different direction. In signing Donaldson, the Twins sought and ultimately found an outspoken leader and voice not only within the locker room, but on a league-wide level. Donaldson is known for having a brash, fiery personality, and is someone who Twins staff, including former Twins pitcher and current Special Assistant to Baseball Operations LaTroy Hawkins, credit as pushing teammates to be better. He is known to some in the league as being a player who teams love having on their team but hate to play against because of his tendency to get under their skin. 
Playing only 28 games in his first season with the Twins did not prevent Donaldson from having some memorable 2020 moments, including when he bought his teammates customized robes that were affectionately deemed "Bomba Robes," or when he was ejected after he had a mid-at bat spat with an umpire, hit a home run on the next pitch, and then dragged and kicked dirt across home plate when he came in to score.
During the 2021 season, Donaldson appeared in national headlines on multiple occasions when he was one of the more outspoken players in the league regarding the MLB's sticky substance saga. Donaldson publicly criticized now-Yankee teammate pitcher Gerrit Cole, insinuating that Cole was among the pitchers benefiting from the use of illegal foreign substances to increase pitch spin rates. A few days later on June 10, all eyes were on the Cole– Donaldson matchup as the Twins traveled to the Bronx to take on the Yankees, where Cole ultimately struck out Donaldson twice. 
Later that month, Donaldson ruffled feathers again by taunting White Sox starting pitcher Lucas Giolito, another player who Donaldson accused of using sticky substances. On June 29, Donaldson rubbed his hands together while crossing home plate after hitting a home run off Giolito and said, "Hand's not sticky anymore!" After the game, Giolito called Donaldson "classless," among other colorful things, and Donaldson said he subsequently confronted Giolito in the parking lot.
Donaldson also had some entertaining, and at times, controversial moments on the internet during his time with the Twins. During the 2021 postseason, Donaldson drew attention for his both insightful and humorous live tweeting of the MLB playoffs and the World Series in which he offered his thoughts and opinions on the games and exchanged both humorous jabs and insults with fans and other players.
Ultimately, though Donaldson's Twins tenure was polarizing to some, he was without a doubt one of the most fiery, passionate, and unique personalities the Twins have had in their clubhouse in years- maybe ever. His passion and antics, even when the Twins were in last place, arguably showed he cared. Usually, a team that keeps a lower profile, he interjected the Twins into the national eye with his outspoken nature and confidence. Donaldson will likely fit in in his new home in the Bronx just fine. So farewell to the Bringer of Rain from Twins Territory, and we will see what the forecast for New York City holds.
What was your impression of Josh Donaldson's tenure as a Twin? Leave a COMMENT and start the discussion.