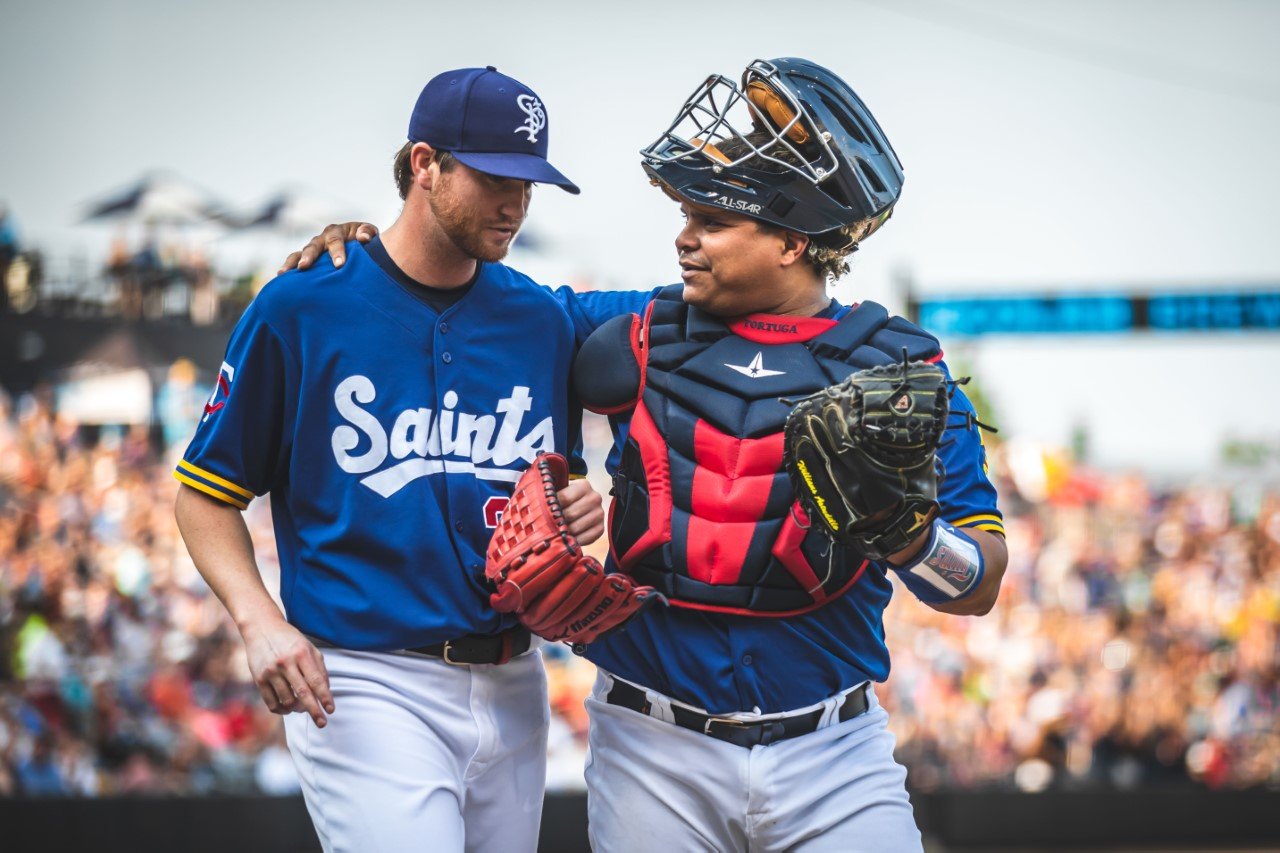 Image courtesy of Rob Thompson, St. Paul Saints
In the fourth round of the 2017 MLB Draft, the Minnesota Twins selected left-handed pitcher Charlie Barnes out of Clemson University. 
Before that, he was a three-time letter winner in baseball at Sumter (SC) High School. He was twice All-State. As a senior, he was named pitcher of the year in the state. 
Going to Clemson was an easy decision for him. It was something he had always wanted to do. He went to a lot of Tigers football games as a child. His brother spent a season as a quarterback at Clemson. 
Barnes worked primarily out of the bullpen as a freshman. As a sophomore, he became a weekend starter and went 6-4 with a 4.66 ERA. In his junior season, the southpaw became the team's Friday night starter. He went 5-5 with a 3.20 ERA. That year, in 101 1/3 innings, he struck out 113 batters and issued just 22 walks. 
He was drafted in 2017, but it is important and impressive to note that Barnes also graduated from college in just three years. He majored in Management with an emphasis on sports management. 
Season Stats 
2017 Elizabethton - 6 G, 22.2 IP, 2-1, 1.19 ERA. 10 walks, 23 strikeouts
2017 Cedar Rapids - 6 G, 25.2 IP, 2-1, 3.86 ERA, 8 walks, 23 strikeouts
2018 Ft. Myers - 23 G, 118.1 IP, 6-6, 2.81 ERA, 44 walks, 84 strikeouts 
2019 Ft. Myers - 8 G, 37.1 IP, 3-2, 6.51 ERA, 20 walks, 35 strikeouts
2019 Pensacola - 14 G, 13 GS, 75.0 IP, 3-4, 3.60 ERA, 24 walks, 73 strikeouts 
2019 Rochester - 4 G, 18.2 IP, 1-2, 6.75 ERA, 11 walks, 16 strikeouts. 
Following the season, Barnes was invited to Twins' big-league spring training in 2020. He wasn't initially at the team's alternate site, though he did join the group in St. Paul later in the summer. 
This spring, he was again a non-roster invite to spring training and showed some good improvement. 
He began the 2021 season at Triple-A St. Paul. In 11 starts so far, he is 5-2 with a 3.88 ERA. In 58 innings, he has walked 19 and struck out 50 batters.  
As you would expect, it hasn't been all smooth throughout the season. In his first six starts, Barnes went 2-0 with a 2.20 ERA. On June 13th, in his third start against the Omaha Storm Chasers, Barnes gave up six earned runs in three innings. Six days later, in his third start against the Iowa Cubs, he tossed five no-hit innings and struck out seven. In his next start, he allowed six earned runs over five innings. In his two most recent starts, he has worked a combined 12 1/3 innings and is 2-0 with a 3.65 ERA. 
The scouting report on Charlie Barnes reads like that of a typical Twins starter. First, he is left-handed. Second, he relies on mixing his pitches and his pitch velocities to be successful. Of course, that is true of any pitcher, but when he generally sits 88 to 91 mph, it is essential. 
Barnes throws a lot of sinkers and changeups. The sinker tops out about 91. He was touted as having the best changeup in that 2017 draft, and it continues to be an important pitch for him. He also throws a four-seam fastball up in the zone with a lot of carry, making it a good pitch for him. He also throws both a slider and a curveball. 
Again, with a fastball around 90, he can't rely on it all the time. Mixing the velocity and the eye level for hitters is crucial. When he uses his slider and his changeup and is able to spot pitches, he can be successful. 
He will have his first opportunity to show that on Friday night in Detroit.