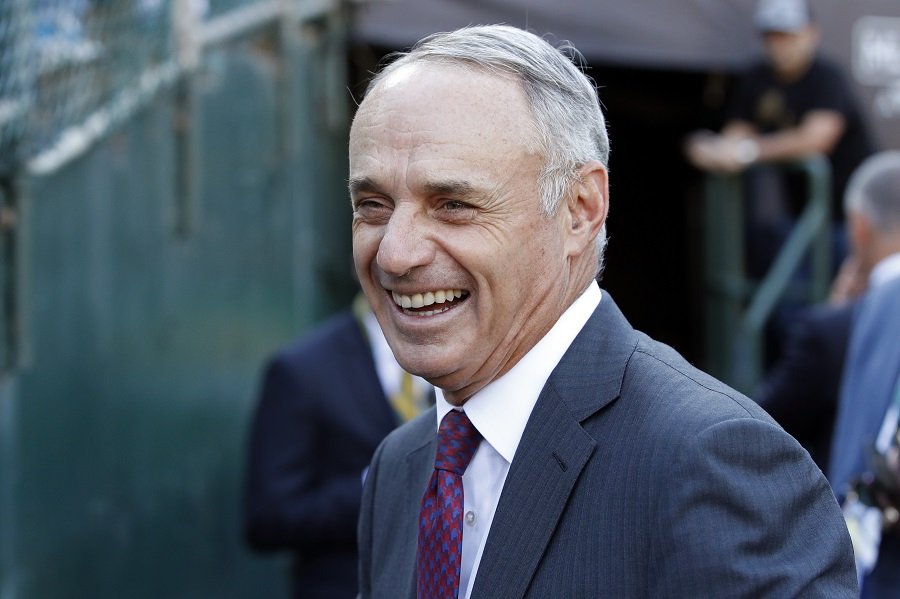 Image courtesy of © Darren Yama****a-USA TODAY Sports
As we've discussed for weeks, the basic premise is that all Major League Baseball functions relating to teams and players at the highest level have ceased. Ownership and Rob Manfred are an entity, while the players and their union are the other. Everything else hangs in the balance. Despite the free-agent frenzy we've had the past week, or so, team sites are desolate wastelands giving nods only to Manfred's statement and players of yesteryear. Rosters are all but wiped out, and it's as if the players do not exist (unless, of course, MLB can profit off of their likenesses through the official shop).
There's plenty of talking points to go over from the last week, and while free agency took most of the headlines, each of these subjects should be touched on. In no particular order, let's get into it.
The Ball Problem
All year long, Major League Baseball was working through issues with the chief instrument in play during a game, the ball. First looking to rid the use of sticky substances and then going through in-game checks to verify compliance, new instructions had been introduced to the playing field. The only problem was that the league itself was playing unfairly.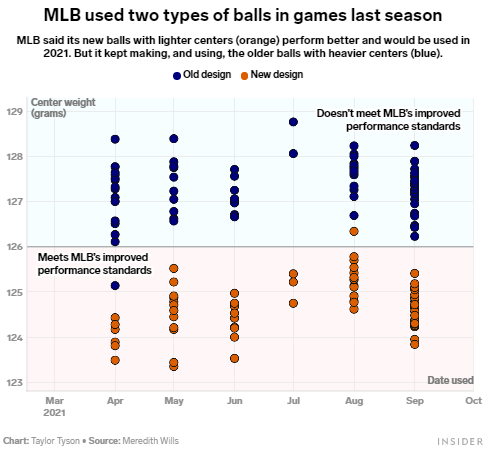 Thanks to research from astrophysicist Meredith Wills, a story broke regarding baseball using two different balls during the 2021 season. We had no-hitters popping off like crazy, and then all of a sudden, they were gone. In Bradford William Davis' piece for Insider, he talks about the distrust the implications surrounding the ball have brought for players. MLB could be incentivized to create more offense in high-profile games. The league has many gambling partnerships, and changing the chief implement could also work to their benefit. With a lockout looming, cheating players out of a level of consistency when their entire earning power comes from statistical performance seems disingenuous at best. Everyone should be operating on a level playing field, but the league itself decided to tamper with the main component.
CBA Adjustments
In a piece filed to ESPN by Jesse Rogers, we are given a general idea of the negotiations regarding a new CBA center around. Major League Baseball has proposed expanded playoffs, going to 14 teams, which would benefit ownership with increased opportunities for revenue. The expanded playoffs would allow for division winners to pick their Wild Card opponents.
With 14 teams making the Postseason, players are worried about a lack of competitive drive for organizations. Half of the league making the final tournament could depress a reason to spend in the offseason and further stifle wages for players.
Another proposal from the league is to add a lottery system, giving each non-playoff organization a shot at the number one pick. The top three selections would become a part of this lottery with the hopes of removing a desire to tank and generate a beneficial draft standing.
Evan Drellich's piece at The Athletic talks about the issues creating the most discourse between the two sides. For the players, things are focused on the years it takes to reach free agency and revenue sharing implications. The owners are concerned about the luxury tax and raising the minimum salary thresholds. Proposals are often presented in a give-and-take scenario. The players will need to get creative regarding free agency and compensation as ownership has dug in on their stance regarding those topics.
Understanding the Lockout
With baseball currently shelved, there are some principles to understand as we move forward. The Athletic's Evan Drellich put together an excellent primer earlier this week. By definition, a lockout is the work of ownership or the league. Those in charge have effectively told players, or their workers, that they are unwilling to work together unless the players accept their deal. On the flip side, a strike would be the players suggesting their services are no longer available until an agreement favors their position. Up until games are missed, a strike is not on the table.
Because of the lockout, we will not see traditional offseason events take place. The Winter Meetings have been canceled, and that at least temporarily includes a postponement of the Rule 5 draft. Pitchers and catchers are set to report for Spring Training beginning on February 14, 2022. If we are still in this holding pattern come mid-to-late January, that's when worry will start to feel real.
This lockout is the first work stoppage in 26 years, going back to the 1994-95 strike. Lockouts, rather than strikes, are more capable of being overcome. To the average fan, anything missed in the offseason generally flies under the radar. Bud Selig needed Cal Ripken Jr.'s Iron Man streak and the Home Run chase between Mark McGwire and Sammy Sosa to save his sport last time. Rob Manfred would need something similar to draw fans' interest back in should a strike commence, and it would be in the best interest of both parties to avoid that outcome.
While locked out, the intention of collective bargaining must be to negotiate in good faith. This will be interesting as Major League Baseball is coming off a Covid-shortened season in which both sides put many of their concerns and qualms out in public. It was evident that there was a wide gap and plenty of distrust between the two parties during Spring 2020, and that was before the CBA had expired.
What About the FA Frenzy
As the lockout loomed, Major League Baseball and the MLBPA decided to move the non-tender deadline to November 30. With the December 1 deadline for a work stoppage effectively implemented, we saw free agents signing at a blistering pace. This is something baseball has often lagged behind the NBA and NFL. With free agency becoming an event this season, The Athletic's Britt Ghiroli wondered if a transaction deadline isn't necessary.
Yankees general manager Brian Cashman told her, "When you have an ending, it forces decisions, like the trade deadline. Nothing ever gets done until that last week, and then it's a flurry of deals the last two days because people know it's game over, so they are forced to make a decision. I like that, it makes people just finally get in the game and pick a spot. Pick a lane to drive in. You are either in it or not in it, you are either in for a penny or a pound or whatever it is. I like that aspect of it."
Players have previously shot down the idea that a deadline would be a good thing as it would force them into decisions when time is the only thing on their side. One key difference between baseball and other sports is that MLB doesn't have a salary cap. The piece highlighted agents and executives' stances, providing many different ways to think about a deadline. At its core, though, we are left with this parting thought, "It gets talked about a lot, but it's never been something that seemingly has momentum," (Ross) Atkins said. "So, what is the reason for that?"
What's On the Other Side?
We've seen a busy couple of weeks with the lockout looming, but it could very well pale in comparison to what happens following the resumption of work. Travis Sawchik went back in time to look at what took place following the 1994 work stoppage.
Although we've had a glut of free-agent signings in recent days, the reality is that there's still so much yet to do. Arbitration figures must be exchanged, and hundreds of players are still looking for new homes in 2022. All of that must be completed, and we have no idea how long this lockout process will take.
The calendar should be what we look to when trying to understand what's to come. January is a crucial month, and where the divide lies then will likely determine future action for the sport. Spring Training games are the most reasonable to miss, and players would probably welcome that situation. Should business not commence until February, though, fans will likely experience one of the busiest months in history should the league look to start on time. Teams that have shopping yet to do, or transactions needing to be made, could be in for complete chaos with hopes of getting everything accomplished. As Twins fans, that's potentially exciting with a payroll sitting at just $91 million and a roster yet to be filled out.
We're just getting started in this process, and so much more will be publicly available through the coming weeks and months. It will be challenging to determine what's tactic and what has merit, but make no mistake that the league is set to use its platform as their megaphone. With MLB Network becoming an ownership talk show, MLB.com removing the workers, and teams disassociating from their talent, the players union will need to sway public perception with a much smaller outlet.
MORE FROM TWINS DAILY
— Latest Twins coverage from our writers
— Recent Twins discussion in our forums
— Follow Twins Daily via Twitter, Facebook, or email