The Minnesota Twins will play today! (I think, anyways....)Although the weather is ghastly today, the precipitation will come down as snow, and not rain. Will Nelson Cruz slide into second on a homerun today like fellow slugger Miguel Cabrera did on Opening Day? (Edit: Nelson Cruz was a late scratch due to an illness, so he will not)
https://twitter.com/...675605932699648
It amazes me that guys like Cruz and Miggy can still go out there almost every day and still be insanely productive at the plate. I'm just over half their age, and seem to get more injuries just living normally, and not having to deal with sprinting, getting hit by a 99 MPH fastball, stretching out at first.... What they do to get ready for baseball season is incredible. However, like all of us, Nelson Cruz will eventually lose that little bit of strength or a millisecond of awareness that is needed to play at the highest level. And that's OK!
On the family farm, I, my father, my grandfather, and my great-grandfather have all used the same 60 year-old Craftsman tap and die set.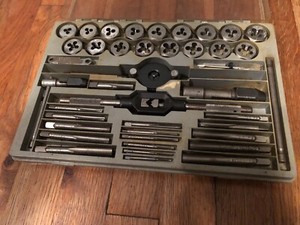 For 60 or so years, this old set has cleaned off thousands of bolts and holes of rust and grime, saving us thousands of dollars in parts. Last weekend, my father and I were cleaning bolt holes on a tire hub that must have been buried. We both struggled to get a new half turn of the tap into the hole at a time before spraying more oil and lubricant into the hole. These hubs happened to be in metric, and not standard, so I reluctantly used the brand new metric set we had. After about an hour of work, the tap holder broke into pieces, not from abusing it, but from a lack of quality and pride. Welp, gotta go to the ol' reliable Craftman set. That will work, right? About 3 hours later, it broke too. Not from pushing it too hard, just from so much off and on stress exerted by 4 generations at the same shop.
Just like that Craftsman tap holder, eventually Cruz will lose that extra step..... right? It's incredible that he has been able to be the slugger he has during his career. No tap and die set will ever be made as well as that Craftsman set was 60 years ago, the human element of perfection is simply not there, and greediness of companies has made hand tools of all sorts less effective and enduring than in previous years. The Twins will probably never see a hitter like Cruz ever again. It's been a joy to watch for the past 2+ years, and I hope he can get a title. He shouldn't be remembered for a miscue out in RF over a decade ago, especially since his bat carried them throughout the postseason.
Lineups:
Boston Red Sox (6-3)
1. Kike Hernandez CF
2. Alex Verdugo LF
3. JD Martinez DH
4. Xander Bogaerts SS
5. Rafael Devers 3B
6. Christian Vázquez C
7. Hunter Renfroe RF
8. Christian Arroyo 2B
9. Bobby Dalbec 1B
SP. Martin Perez
Minnesota Twins (5-4)
1. Byron Buxton CF
2. Kyle Garlick LF
3. Mitch Garver C
4. Jorge Polanco 2B
5. Miguel Sano DH
6. Luis Arraez 3B
7. Willians Astudillo 1B
8. Andrelton Simmons SS
9. Jake Cave RF
SP: J.A. Happ
I think this will be a battle of the bats. Martin Perez and J.A. Happ have had solid enough careers, but I don't think they can hold these lineups down. I predict a Twins Win, but it's going to be ugly.
Let's Play Ball!