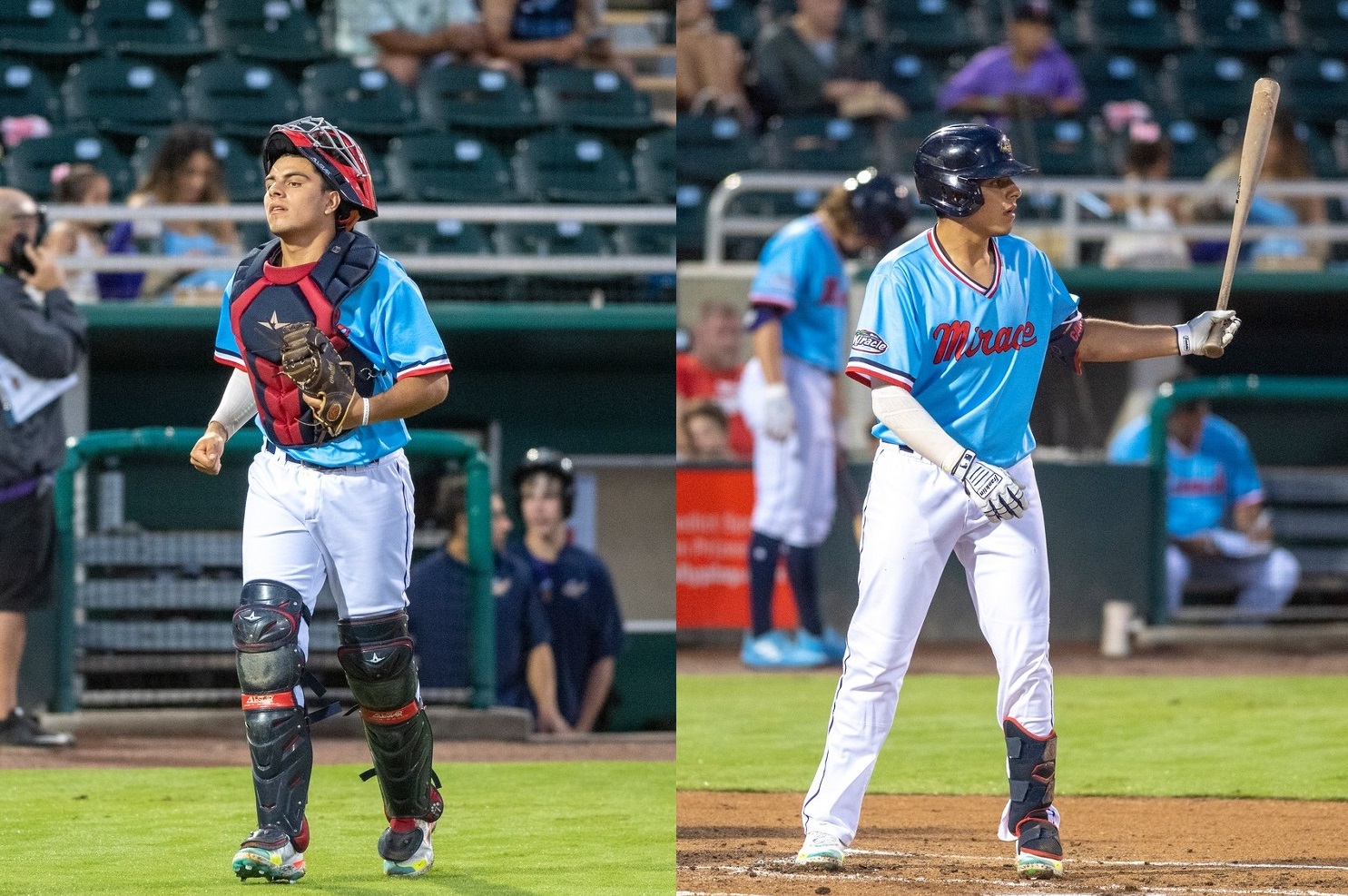 Image courtesy of William Parmeter / Mighty Mussels
Noah Cardenas was born and grew up in Southern California. He's a Twins fan now, but it is understandable that he grew up a Dodgers fan and went to several games at the stadium. He enjoyed watching Yasiel Puig play the game. 
While he played some football until junior high, some basketball, and even some soccer. It was on the baseball field that he excelled. He attended Bishop Alemany High School in Mission Hills in one of the best prep baseball leagues in the country. In the Mission League, they played against teams like Chaminade and Harvard-Westlake (where Lucas Giolito, Max Fried, and Jack Flaherty played). Notre Dame had Hunter Greene pitching and playing shortstop. There are first-round talents in the conference nearly every year. 
While there, he was a four-year letter winner. As a junior, he was an honorable-mention All-American. In the summers, he was playing in various national and regional events, such as Perfect Game and the Area Code Games. He was one of the top prospects in his class in California. As a senior, he hit .444/.577/.694 with 15 extra-base hits. 
He committed to UCLA and was very excited to go there. Cardenas said, "I love UCLA. I think it's an amazing university. Obviously a diehard Bruin fan now. I grew up a USC fan during the Reggie Bush Era. My brother poisoned me into that thing. I grew up a USC fan, but I was lucky enough for UCLA to recruit me." 
In the summer before his freshman year, he played for Portland in the West Coast League and hit .287 with six extra-base hits in 30 games. 
Cardenas had an incredible freshman season. In 58 games, he hit .375/.476/.500 (.976) with six doubles, a triple, and three homers. He had 17 walks (and was hit 10 times) to go with just 14 strikeouts. He was also an Honorable Mention All-Defensive Team in the Pac-12 that year too. 
That summer he was scheduled to go play for the Mankato Moondogs of the Northwoods League. Last minute, his coach let him know that he was heading to the Cape Cod League. 
As a sophomore, he played in just 11 games before Covid hit and ended that season. He did play some summer ball. 
He has a brother that is a trainer in the Texas Rangers organization, and he helped him out during that lost season. They developed a training schedule for him that included all aspects of the game. 
In his junior season (2021), he played in 57 games and hit .268/.371/.404 (.774) with 12 doubles, a triple, and five home runs. Behind the plate, he threw out 38% of would-be base stealers. He was named to the Pac-12 All-Conference Team. 
With that success, he became the Twins eighth-round pick in the 2021 draft. 
Cardenas noted, "You just sit there and wait. It was an awesome time. I really enjoyed it, but that time just sitting on your couch, I just want to go already. I just want to get picked. Finally, that time came, and it was the right time, and I was lucky enough to get drafted by the Twins." 
Seven rounds later, the Twins also selected his UCLA teammate Mikey Perez. "Going to UCLA, we always stayed together in the same apartment. He's been trying to get away from me for years now, and it's funny that we were drafted by the same team." He continued, "Mikey's just been a great friend to have, and the transition to pro ball has been awesome." 
After signing, Cardenas got into 13 games late in the year in the FCL. He hit .300/.400/.500 (.900) with a double and a homer in his 25 plate appearances. 
He got an offseason to work, and he came into the 2022 season ready to go. He remained in Ft. Myers and spent the season with the Mighty Mussels. In 99 games, he hit .261/.421/.413 (.834) with 18 doubles and nine home runs. He even stole 11 bases. You also can't help but notice his Isolated Discipline (OBP - BA) of .160. He had 73 walks on the season with just 70 strikeouts. He credits Ft. Myers hitting coach Rayden Sierra with helping him focus on knowing the strike zone, but also knowing which pitches he can do damage in the zone. 
He came in fourth place in voting for the Twins Daily Minor League Hitter of the Year Award behind only Matt Wallner, Edouard Julien, and Chris Williams. 
He played 25 games at first base, but he made 56 starts behind the plate. He threw out 29% of potential base stealers. 
All that, and he earned the Mighty Mussels' Harmon Killebrew Award for Community Service for all of the work he did away from the field, time with kids, and visiting hospitals and more. 
Hear more about: 
Learning how the Twins used technology and analytics, and how it can help him. 

Both of his parents speak Spanish, but he acknowledges that he "can't speak a lick of it." So, adjusting to conversations with Spanish-speaking pitchers and teammates.

What he enjoys about catching and what he has done to learn more behind the plate. "I was really excited to get a guy like Tucker Frawley who is the catching guy… I felt what he was teaching us was really good stuff." 

His thoughts on the electronic strike zone, and the review process that was used at times in the Florida State League. 

Working with rehabbing big leaguers such as Sonny Gray in Ft. Myers.
For more Twins Daily content on Noah Cardenas, click here.