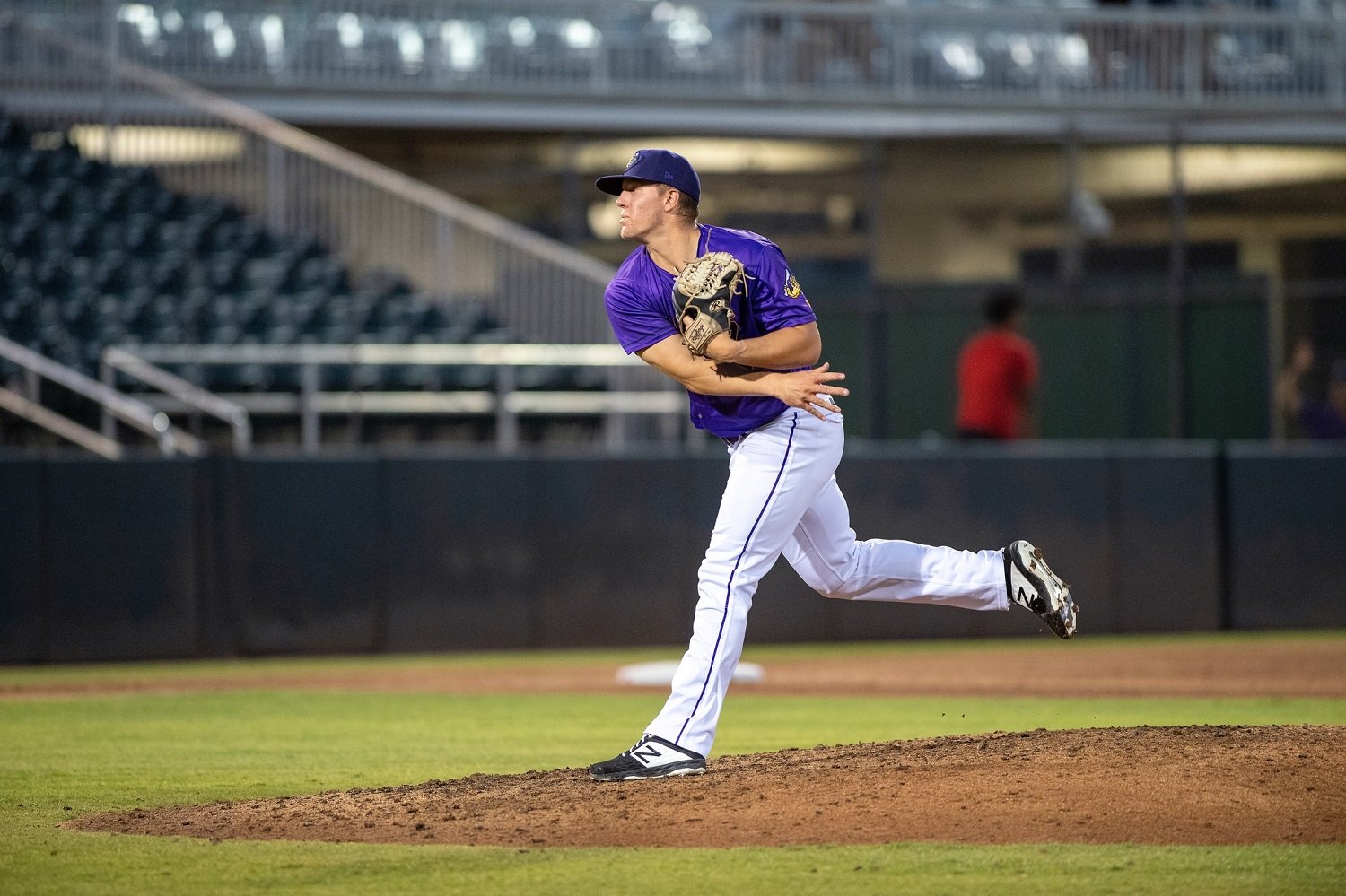 Image courtesy of William Parmeter (photo of Zebby Matthews)
TRANSACTIONS
None
Saints Sentinel
St. Paul 14, Omaha 1
Box Score
Randy Dobnak: 5 IP, 4 H, 1 ER, 4 BB, 5 K
HR: Andrew Stevenson (3), Royce Lewis (4)
Multi-hit games: Andrew Stevenson (2-for-6, HR, 3 R, 2 RBI), Royce Lewis (2-for-5, HR, 2 R, 2 RBI, BB), Mark Contreras (3-for-5, 2B, 2 R, 3 RBI), Andrew Bechtold (2-for-4, 2B, 2 R, RBI, BB), Hernán Pérez (3-for-5, 3B, R, 5 RBI), Jair Camargo (3-for-5, 2 R, RBI)
It was destruction.
Two-thirds of the lineup earning multi-hit honors says more than anything creative this writer could conjure. The Saints scored for breakfast, scored during lunch, and scored while consuming dinner, bludgeoning Omaha's poor pitchers for 14 runs off 16 hits. It's almost cruel.
It's almost impossible to pick a leader from the bunch, but Hernán Pérez and his five RBIs sticks out amongst the melee; any other selection would be just fine, though. 
The pitchers did their job as well. The walk monster crept up and swallowed Randy Dobnak whole again, coaxing four free passes from the righty, but he halted the damage, only allowing one earned run over his five innings of work.
From there it was a combo bullpen effort, with Ronny Henriquez, Cody Laweryson, and Jose Bravo holding the Storm Chasers scoreless to end the game. 
Royce Lewis tormented a minor-league pitcher again, smacking the fourth homer of his rehab assignment with St. Paul.
Mark Contreras added twin stolen bases to go with his three knocks on Saturday.
Tyler Gentry was the Royals' best prospect to have a close look at the chaos; he walked and took a hit by pitch. 
Wind Surge Wisdom
Wichita 6, Springfield 3 (10 Innings)
Box Score
Travis Adams: 6 IP, 6 H, 1 ER, 0 BB, 3 K
HR: None
Multi-hit games: Brooks Lee (2-for-6, 2B, R), DaShawn Keirsey Jr. (3-for-5, 2 2B, R), Yunior Severino (2-for-5, R, RBI)
An explosive 10th inning gave Wichita the victory on Saturday.
It would probably be hard to find a player more relieved than Travis Adams. The 23-year-old suffered earned runs and a hurt ego to start the season, entering the game with an ERA north of 7.00 on the young season. He cut a full run off of it. Staring down a tough Springfield offense—one second in the Texas League in OPS—Adams held mayhem down, allowing a lone earned run over six impressive innings. 
The offense was there, too, but it took a little longer for this truth to become self-evident. Wichita struck for two runs in the 3rd, giving themselves a slim lead before nestling into a hibernation. Outs came easy; bats were chilled. It wasn't until the bonus inning before the team made their second attack.
But what an attack it was: four runners crossed home plate as Yoyner Fajardo and Will Holland both earned two-RBI knocks—Holland's of the rare triple variety. Springfield plated their Manfred Man(n), but Hunter McMahon ensured the game ended there, striking out the final batter of the game. 
DaShawn Keirsey Jr. earned three hits in a game for the second time this month.
Brooks Lee's 14 doubles are good for first in the Texas League, tying him with Ryan Bliss for the honors.
Wichita turned a season-high three double plays; they also committed a season-high three errors.
In an atypical turn, the usually-stacked Cardinals could only offer their 22nd-ranked prospect—Mike Antico—as their finest selection for their AA squad; he singled twice and walked.
Kernels Nuggets
Cedar Rapids 7, Wisconsin 1
Box Score
Alejandro Hidalgo: 4 IP, 4 H, 0 ER, 2 BB, 4 K
HR: Ben Ross (4)
Multi-hit games: Ben Ross (2-for-4, HR, 2 R, 2 RBI), Kala'i Rosario (2-for-4, 2 R, RBI), Noah Miller (2-for-4, 3B, 2B, 3 RBI)
The Kernels smoked their opponents on Saturday.
Alejandro Hidalgo—wild; often unable to command himself—found great success on the mound. While not perfectly efficient, the righty battled well, utilizing his dazzling changeup to great effect across four empty frames of work. He struck out four and walked two. In a season of extremes with walks, this was a positive step for the youngster. 
And the Kernels had his back early. A 1st-inning ambush established a pair of quick runs and subsequent scores in the 6th and 8th made the game a laugher. The twin poles of offensive stimulants came from Ben Ross and Noah Miller: the two batters earned five bases each, turning in clutch extra-base hits precisely when their team needed it. Miller's effort was especially quenching, as he had not had a multi-extra-base-hit game all season.
That essentially ended the game. Mike Paredes and John Stankiewicz protected the lead, carrying the team to the finish line with only a small one-run scratch marking the immense achievement for Cedar Rapids' pitching staff.
Wisconsin's lead-off hitter, Eric Brown Jr., is the best prospect the team has to offer, and the second baseman was held hitless in five trips to the plate.
Mussel Matters
Fort Myers 2, Dunedin 7
Box Score
Zebby Matthews: 5 IP, 2 H, 0 ER, 0 BB, 6 K
HR: Rafael Cruz (2)
Multi-hit games: None
Fort Myers' bullpen soiled an opportunity to win on Saturday.
Zebby Matthews was as expected. The Western Carolina product continued his tremendous dominance over Low-A hitters, out-witting Dunedin with each of his many offerings over five shutout innings before mercifully ending his reign on the mound. He touched 95.4 MPH and elicited 10 swings and misses. It's been clear for nearly two months that Matthews is simply too good for his current level.
Like their father team, Mighty Mussels' relievers could not induce quiet outs against Blue Jays bats. Perhaps inspired by Matthews no longer eating them alive, Dunedin ran the kind of assembly line that would make Henry Ford proud—only their product was runs, not cars. The carnage ended with seven painful runs searing and ruining the ERAs of Johnathan Lavallee and A.J. Labas. 
Fort Myers' tepid offense could offer no response. Outside of Rafael Cruz's solo shot—a smoked 109.3 MPH missile—the Mighty Mussels could only muster an RBI walk in the 1st, totaling four hits over the 9-inning battle.
DH Tucker Toman represented the best prospect on Dunedin's squad; he singled and walked in four plate appearances.  
TWINS DAILY PLAYERS OF THE DAY
Twins Daily Minor League Pitcher of the Day – Zebby Matthews
Twins Daily Minor League Hitter of the Day – Hernán Pérez (ft. Noah Miller and Ben Ross)
PROSPECT SUMMARY
Here's a look at how the Twins Daily Top 20 Twins Prospects performed:
#1 - Brooks Lee (Wichita) - 2-for-6, 2B, R
#2 - Royce Lewis (St. Paul) - 2-for-5, HR, 2 R, 2 RBI, BB
#3 - Emmanuel Rodriguez (Cedar Rapids) - 0-2, 2R, 2 BB, K
#4 - Edouard Julien (Minnesota) - 3-for-5, HR, 2 2B, 2 R, 2 RBI, K
#9 - Matt Wallner (Minnesota) - 4-for-4, HR, R, 3 RBI
#13 - Noah Miller (Cedar Rapids) - 2-for-4, 3B, 2B, 3 RBI
#19 - Yunior Severino (Wichita) - 2-for-5, R, RBI
SUNDAY'S PROBABLE STARTERS
Omaha @ St. Paul (5:07 PM) - RHP Simeon Woods Richardson (0-5, 7.12 ERA)
Wichita @ Springfield (6:05 PM) - RHP Chad Donato (1-3, 9.90 ERA)
Wisconsin @ Cedar Rapids (1:05 PM) - TBD
Fort Myers @ Dunedin (11:00 AM) - TBD
Fort Myers @ Dunedin (30 Minutes Later) - TBD