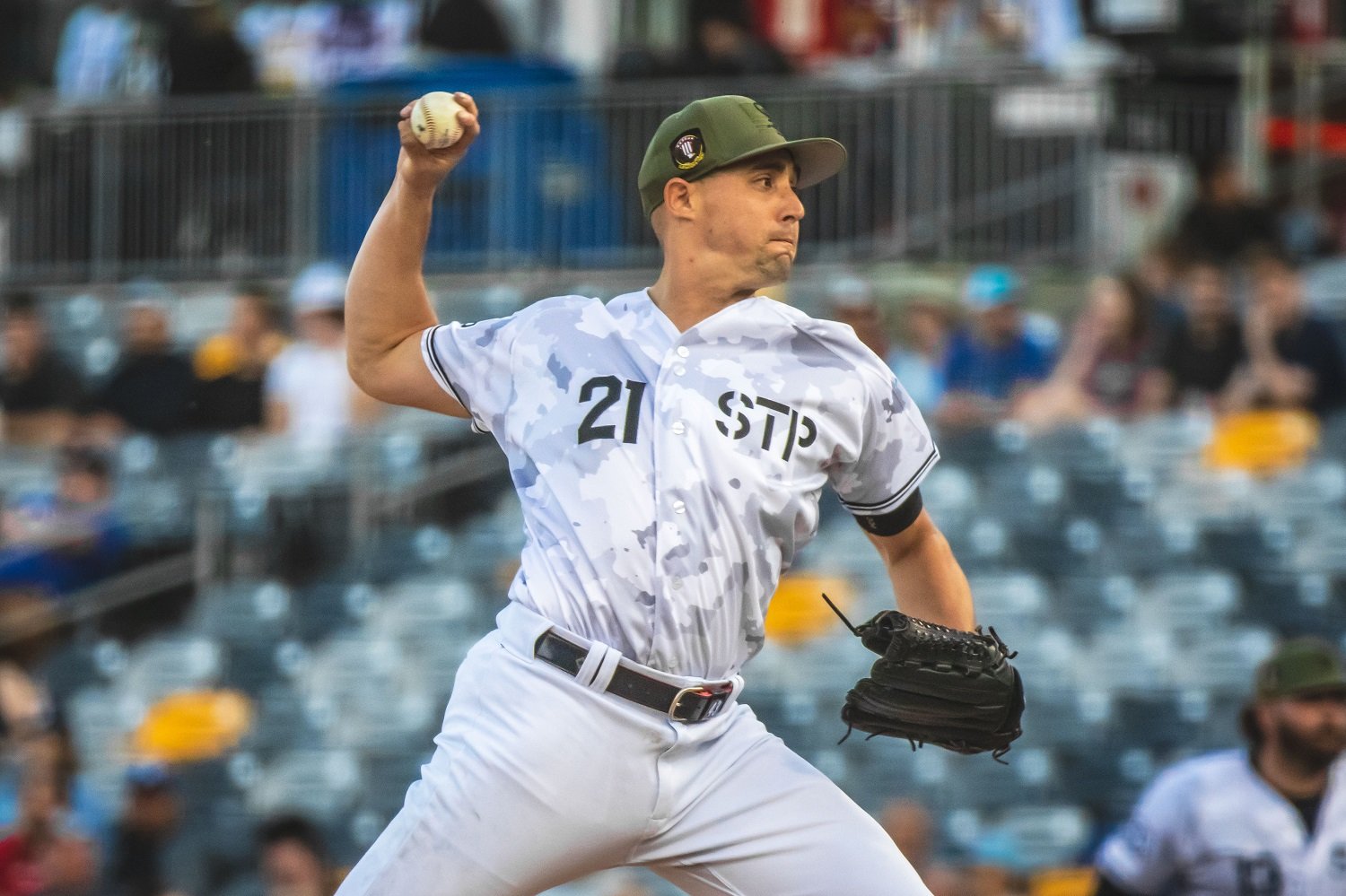 Image courtesy of Rob Thompson - St. Paul Saints
SAINTS SENTINEL 
St. Paul 8, Omaha 6
Box Score
A veteran on the bump for St. Paul, Aaron Sanchez took the pill and was lights out. He worked six innings of scoreless baseball. Sanchez did give up five hits and a walk, but he struck out two and never allowed damage. Dropping his ERA to 4.17 in the process, he's again looking like an option for Minnesota should they need him.
Royce Lewis was given the night off after back-to-back work, but the Saints went to battle without him. Attacking right away in the first inning, Chris Williams singled to center and drove in Andrew Stevenson in the process.
Looking for some separation, breathing room came in the fifth inning. An error allowed Mark Contreras to not only reach base, but Stevenson to score for a second time. Williams then singled again and drove in Contreras, pushing the lead to 3-0.
St. Paul got a bit more cushion in the sixth inning when Andrew Bechtold lifted off for his fourth homer of the year. It was just a solo shot, but the game was now 4-0. Tucker Bradley quickly responded with a seventh inning double to put Omaha on the board, but the 4-1 lead still seemed safe.
Quickly evaporating, Cody Laweryson's runners all scored after he allowed a three-run blast to Nick Loftin. What was once a lead was now a new game in the seventh inning.
From there, things went crazy. First, the Storm Chasers put up a pair on a Samad Taylor single in the eighth inning. Seemingly in the driver's seat, they would be unbuckled when Stevenson ripped his second triple of the year. In the bottom of the eighth, the Saints outfielder cleared the bases and scored himself on a throwing error. Hernan Perez, Ryan LaMarre, and Tyler White all came home. The four runs put St. Paul back up 8-6 and that's where this one ended.
Stevenson recorded a pair of hits on the evening as did Williams, White, and Perez. Jose Miranda continues to struggle and went 0-for-4 with a walk. Despite giving up two runs and again struggling in relief, Ronny Henriquez got the win.
WIND SURGE WISDOM
Springfield 5, Wichita 4
Box Score
Twins prospect David Festa needed a bounce back start tonight and he got one. Despite it being short,  just three innings, he allowed only a single unearned run on one hit. Festa walked three on his 68 pitches, but picked up five strikeouts in the process.
Springfield got on the board first with a second-inning run, but the Wind Surge answered in a big way during the fourth inning. Alex Isola blasted his sixth dinger of the year, a three-run shot scoring Brooks Lee and Jake Rucker, to put Wichita up 3-1.
Springfield made it interesting with a sixth inning run closing the deficit to one, but a seventh inning Will Holland run scored on a wild pitch and pushed things back to two.
The Cardinals again answered in their half of the seventh inning, and the run tightened things up just just a one-run contest. Scoring again in the eighth inning, Springfield evened things at four. Wichita couldn't answer in the ninth inning and Noah Medlinger's single walked off the Wind Surge.
Brooks Lee and Jake Rucker both had a pair of hits on the evening, but it wasn't enough to wind up on top.
KERNELS NUGGETS
Wisconsin 8, Cedar Rapids 4
Box Score
Kyle Jones went tonight for Cedar Rapids and despite coming in with solid numbers, it just wasn't his night. Making it through only one inning, Jones allowed six runs on six hits. He walked just one and struck out two. His 3.62 ERA ballooned to 5.13 on the season.
Early on, things looked ok for the Kernels. Despite getting down 2-0 in the first inning, Kala'i Rosario continued his strong season and blasted his fifth home run, a two-run shot also driving in Emmanuel Rodriguez. That's where the good news ended though.
Two runs scored in the second inning without an out recorded, and both inherited runners for Orlando Rodriguez crossed the plate as well. Down 6-2 by the end of the frame, things didn't look pretty.
Before the Kernels could answer, Wisconsin drove in another pair during the sixth inning and the 8-2 rout was on.
Cedar Rapids needed to make things interesting, so Keoni Cavaco blasted his second dinger of the season. Recently back from the injured list, his two-run shot scored Andrew Cossetti and had the Kernels back within a grand slam. Cossetti's single was his first hit at High-A after recently being promoted.
Unfortunately, that's where this one ended, and Tanner Schobel was the only Kernels player to record a multi-hit effort.
MUSSEL MATTERS
Fort Myers 2, Dunedin 1 (Susp 3)
Box Score
It was C.J. Culpepper's night for the Mighty Mussels, but Mother Nature decided to intervene before he could really get going. Working two innings of one-run ball while striking out two, the weather came and caused a third inning suspension.
Dunedin plated a run in the second inning, but Fort Myers answered in the third inning. A Jorel Ortega groundout allowed Alec Sayre to score and knot things up. Danny De Andrade then singled to drive in Dillon Tatum and put the good guys on top.
What started with lightning also brought rain and the game was called. Stopped with De Andrade on first base in the third inning and just the one out, both sides will pick this up tomorrow.
TWINS DAILY MINOR LEAGUE PLAYERS OF THE DAY
Pitcher of the Day – Aaron Sanchez (St. Paul) - 6.0 IP, 5 H, 0 R, 0 ER, 1 BB, 2 K
Hitter of the Day – Andrew Stevenson (St. Paul) - 2-4, 3 R, 3 RBI, BB, 2B(6), 3B(2)
PROSPECT SUMMARY
We will again keep tabs on the Twins top prospects. You'll probably read about them in the team sections, but if they aren't there, you'll see how they did here. Here's a look at how the current Twins Daily Top 20 performed:

#1 - Brooks Lee (Wichita) - 2-4, R
#2 - Royce Lewis (St. Paul) - Day off
#3 - Emmanuel Rodriguez (Cedar Rapids) - 0-4, R, K
#8 - David Festa (Wichita) - 3.0 IP, 1 H, 1 R, 0 ER, 3 BB, 5 K
#12 - Jose Salas (Cedar Rapids) - 1-3, BB, K
#13 - Noah Miller (Cedar Rapids) - 0-4, 2 K
#19 - Yunior Severino (Wichita) - 0-4, 2 K
FRIDAY'S PROBABLE STARTERS
Omaha @ St. Paul (7:07PM CST) - TBD
Wichita @ Springfield (7:05PM CST) - RHP Aaron Rozek
Wisconsin @ Cedar Rapids (6:35PM CST) - RHP Marco Raya
Fort Myers @ Dunedin (4:00PM CST) - RHP Cory Lewis
Please feel free to ask questions and discuss Thursday's games!