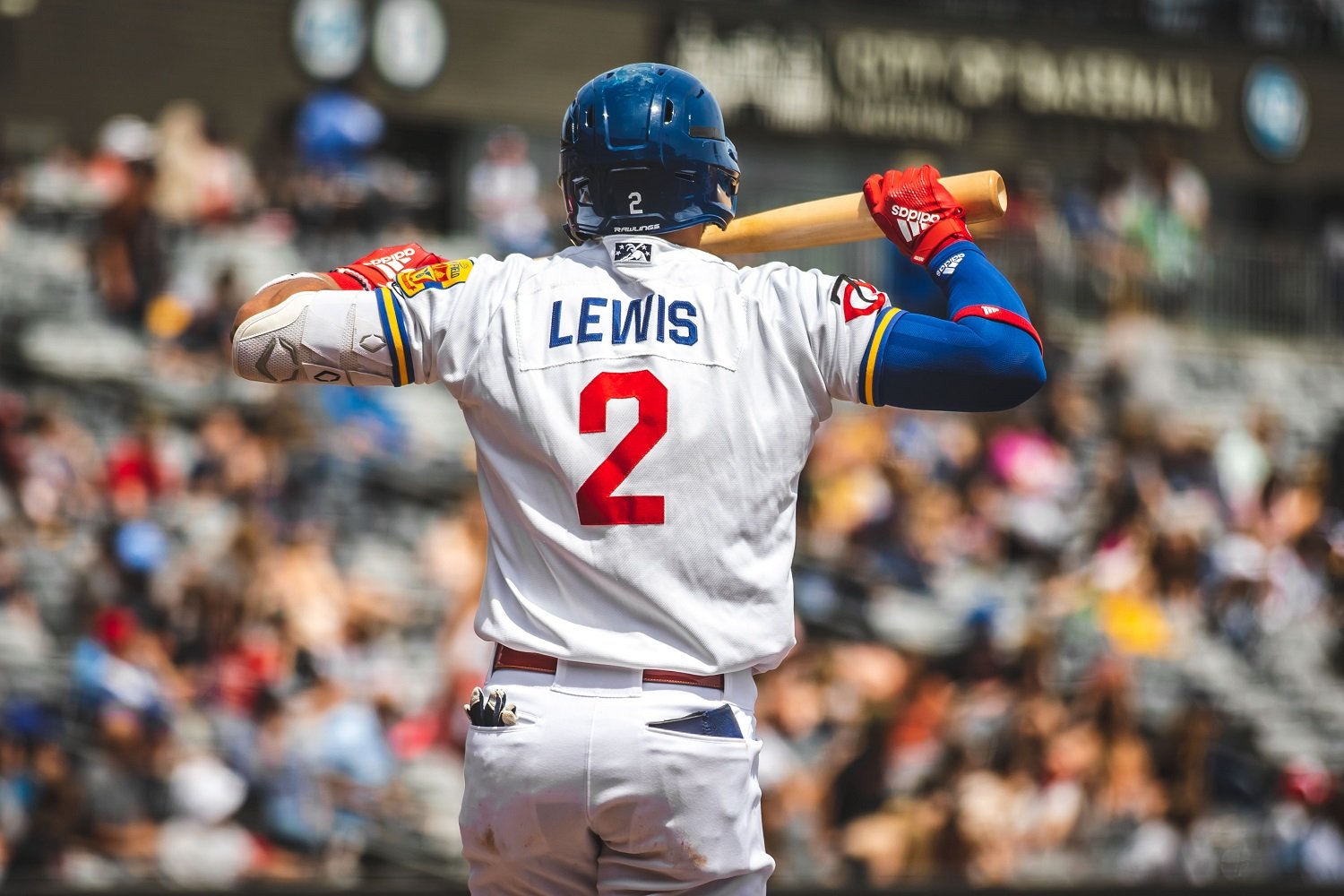 Image courtesy of Rob Thompson, St. Paul Saints (photo of Royce Lewis)
TRANSACTIONS
SAINTS SENTINEL
St. Paul 6, Columbus 5 (10 innings)
Box Score
It didn't take long for Royce Lewis to make an impact in his first game back with the St. Paul Saints since tearing his ACL for the second time. He was slotted number three in the batting order by manager Toby Gardenhire, and he shot the fifth pitch he saw through the left side of the infield for a single in his first at-bat. The Saints loaded the bases in the first but weren't able to push a run across.
They got two in the second, and you'd be right if you thought Lewis played a part in that. After a Tony Wolters double put runners on second and third, Jose Miranda brought in the first run with a sac fly, and Lewis followed an Edouard Julien walk with and RBI single the opposite way to make it 2-0 St. Paul.
With scheduled starter Jose De Leon being called up by the Minnesota Twins on Tuesday, it was right-hander Randy Dobnak who took the mound in his stead for the Saints. He allowed three runs (zero earned) on four hits and a walk in his three innings, striking out three Clippers. All three runs scored in the bottom of the second, after the first batter reached on an error by center fielder Andrew Stevenson. It could have been worse, but Matt Wallner cut down a runner at home to end the inning with a perfect and strong throw from right field for the assist.
Cody Laweryson came on in the fourth and delivered three strong innings. He allowed no hits, walked two, and struck out four. 
With the score 3-2 Clippers in the top of the seventh, the top of the Saints lineup again got things cooking. Miranda led off with a single and Julien drew his third walk of the game to tee it up for Lewis, who drove it over the wall in center for a three-run homer and a 5-3 lead for the Saints.
That lead didn't last long, however, as Kody Funderburk had trouble in the bottom half of the inning. He surrendered two singles and two doubles that led to a pair of runs and tied the game at five before getting out of the inning. He did strike out two in his lone inning but the Saints still had work to do. Patrick Murphy then delivered two scoreless innings to get them into extra innings.
In the top of the tenth with Mark Contreras starting on second base, Kyle Garlick led off the inning with a single to move him to third base, and Andrew Stevenson atoned for his error earlier in the game (I might have ruled it a hit, anyway…) with an RBI single and a 6-5 lead.
Oliver Ortega then slammed the door on another comeback, getting a pair of flyouts to Stevenson in center field that weren't deep enough to move the runner over, and first baseman Tyler White nabbed a liner to end the game.
WIND SURGE WISDOM
Arkansas 4, Wichita 6
Box Score
Wichita got a big night from their top prospect, opening their series by surging past the Arkansas Travelers at home in Riverfront Stadium.
Starting pitcher Travis Adams allowed a two-run homer in the top of the first, but after that stifled the Travelers for 3 2/3 total innings. He allowed three hits, walked three, and struck out one. In the fourth inning, he was replaced by Osiris German after his second walk of the inning, and German got the final out with a grounder to third base.
The Wind Surge had taken the lead at that point thanks to an RBI single from Alerick Soularie in the second that followed a David Banuelos triple, and a two-run homer from Alex Isola in the third, his fourth of the season.
Although Wichita fell behind 4-3 after the top of the fifth, Brooks Lee wasn't about to let them stay there. Will Holland led off the frame with a single, and Lee cashed them both in with his third home run of the season, putting the home team back in front for good 5-4.
Chad Donato came out of the bullpen to start the fifth inning and allowed two runs on four hits and a pair of walks over 3 1/3 innings pitched. He struck out three. Jordan Brink closed out the game with 1 2/3 perfect innings, striking out one.
The offense tacked on an insurance run in the eighth when Lee led off with a single and was driven in by a Jake Rucker double a few batters later.
Lee finished the night 3-for-4 with a pair of runs scored in addition to the homer. DaShawn Keirsey Jr. joined him with multiple hits in the game (2-for-4) and stole two bases, giving him 16 stolen bases on the year, which ranks second in the Texas League. Will Holland was 1-for-1 with a pair of walks and scored two runs.
KERNELS NUGGETS
Peoria 5, Cedar Rapids 6
Box Score
The Kernels rode a four-run seventh inning to victory on Tuesday at home in Cedar Rapids, holding off the Chief's late rallies.
Orlando Rodriguez made the start for the home team and scattered five hits and two walks over five innings. Although he did not strike out a single batter, he did allow only one run, and the Kernels held a 2-1 lead when he left the game. 
The lineup pounced in the bottom of the first inning with two outs, as a hit-batter preceded a two-run home run from Kala'i Rosario, his second of the season.
Reliever Mike Paredes held it down for the next two innings after Rodriguez's exit, delivering two scoreless. He allowed two hits, walked none, and also struck out none. 
Noah Miller led off the bottom of the seventh with his second home run of the year, kickstarting the four-run inning. Misael Urbina followed with a triple and was driven in by a sac fly from Jose Salas. Willie Joe Garry Jr. then had an interesting trip around the bases, reaching on an error, and advancing all the way home on two wild pitches that followed. A couple of walks then led to an RBI single from Rosario to cap the Kernels scoring.
Peoria did their best to make a comeback, getting a pair of runs off both Regi Grace in the eighth and John Wilson in the ninth. Grace allowed those runs on three hits and got the only strikeout of the game for the pitching staff. Wilson's runs also came on three hits.
Rosario finished the game 2-for-3 with three RBI. Urbina was the only other hitter with multiple knocks, going 2-for-4. Emmanuel Rodriguez drew two walks and scored a run.
MUSSEL MATTERS
Fort Myers 6, Lakeland 5
Box Score
Mighty Mussels starter Christian MacLeod was making just his second start after returning from Tommy John surgery and was fantastic in this one over four innings. He allowed just one run on one hit and two walks, while punching out seven Flying Tigers. He threw 62 pitches, with 38 going for strikes (61%), including ten swinging. He didn't allow a hit until his final inning, but it came after a walk and a wild pitch, leading to his earned run allowed.
Fort Myers took a 3-0 lead in the top of the third when a bases-loaded wild pitch was followed by a two-RBI triple from Jorel Ortega. The lineup added single runs in the fourth, fifth, and seventh innings, accounting for their six runs. In the fourth, it was an RBI triple from Dylan Neuse, a sac fly off the bat of Ricardo Olivar in the fifth, and an Andrew Cossetti RBI double in the seventh.
Right-hander Jose Olivares came on for MacLeod to start the fifth and contributed four solid innings of his own. He allowed two earned runs on four hits and one walk, while striking out four. His two runs allowed came on solo home runs, but the score was 6-3 when his game was done.
Fort Myers called upon Johnathan Lavallee to close out the game, and I'm sure he was thankful his team had added some insurance runs for him. A single, consecutive doubles, and a wild pitch left the tying runner on third with just one out before he buckled down. He picked up a strikeout and got a lineout to end the game, picking up his second save of the season in the process.
The lineup got multiple hits in the game from Ortega (2-for-5, R, 3B, 2 RBI, K), Alec Sayre (2-for-4, 2 R, 3B), and Neuse (3-for-4, R, 3B, RBI). 
TWINS DAILY MINOR LEAGUE PLAYERS OF THE DAY
Pitcher of the Day - Christian MacLeod, Fort Myers Mighty Mussels (4 IP, H, ER, 2 BB, 7 K)
Hitter of the Day - Royce Lewis, St. Paul Saints (3-for-5, R, HR, 4 RBI, SB)
PROSPECT SUMMARY
With about a month and a half of the season in the books, Twins Daily has your first Top 20 Prospect List update of the year.
#1 - Brooks Lee (Wichita) - 3-for-4, 2 R, HR, 2 RBI
#2 - Royce Lewis (Rehab-St. Paul) - 3-for-5, R, HR, 4 RBI, SB
#3 - Emmanuel Rodriguez (Cedar Rapids) - 0-for-2, R, 2 BB
#4 - Edouard Julien (St. Paul) - 1-for-2, R, 3 BB, K
#5 - Connor Prielipp (Cedar Rapids) - Injured List
#6 - Marco Raya (Cedar Rapids) - Did not pitch
#7 - Simeon Woods Richardson (St. Paul) - Did not pitch
#8 - David Festa (Wichita) - Did not pitch
#9 - Matt Wallner (St. Paul) - 1-for-4, BB, 3 K
#10 - Yasser Mercedes (FCL) 
#11 - Austin Martin (St. Paul) - Injured List
#12 - Jose Salas (Cedar Rapids) - 0-for-3, RBI, K
#13 - Noah Miller (Cedar Rapids) - 1-for-3, R, HR, RBI, BB
#14 - Jordan Balazovic (St. Paul) - Did not pitch
#15 - Brent Headrick (St. Paul) - Did not pitch
#16 - Matt Canterino (Wichita) - Injured List
#17 - Blayne Enlow (Wichita) - Did not pitch
#18 - Jose Rodriguez (FCL) 
#19 - Yunior Severino (Wichita) - 0-for-4, 3 K
#20 - Michael Helman (St. Paul) - Injured List
WEDNESDAY'S PROBABLE STARTERS
St. Paul @ Columbus (11:05 AM CDT) - RHP Simeon Woods Richardson (0-3, 7.17 ERA)
Arkansas @ Wichita (7:05 PM CDT) - RHP Carlos Luna (0-1, 5.64 ERA)
Peoria @ Cedar Rapids (12:05 PM CDT) - RHP Pierson Ohl (2-2, 2.77 ERA)
Tampa @ Fort Myers (6:00 PM CDT) - LHP Develson Aria (1-0, 3.38 ERA)
Please feel free to ask questions and discuss Tuesday's games!