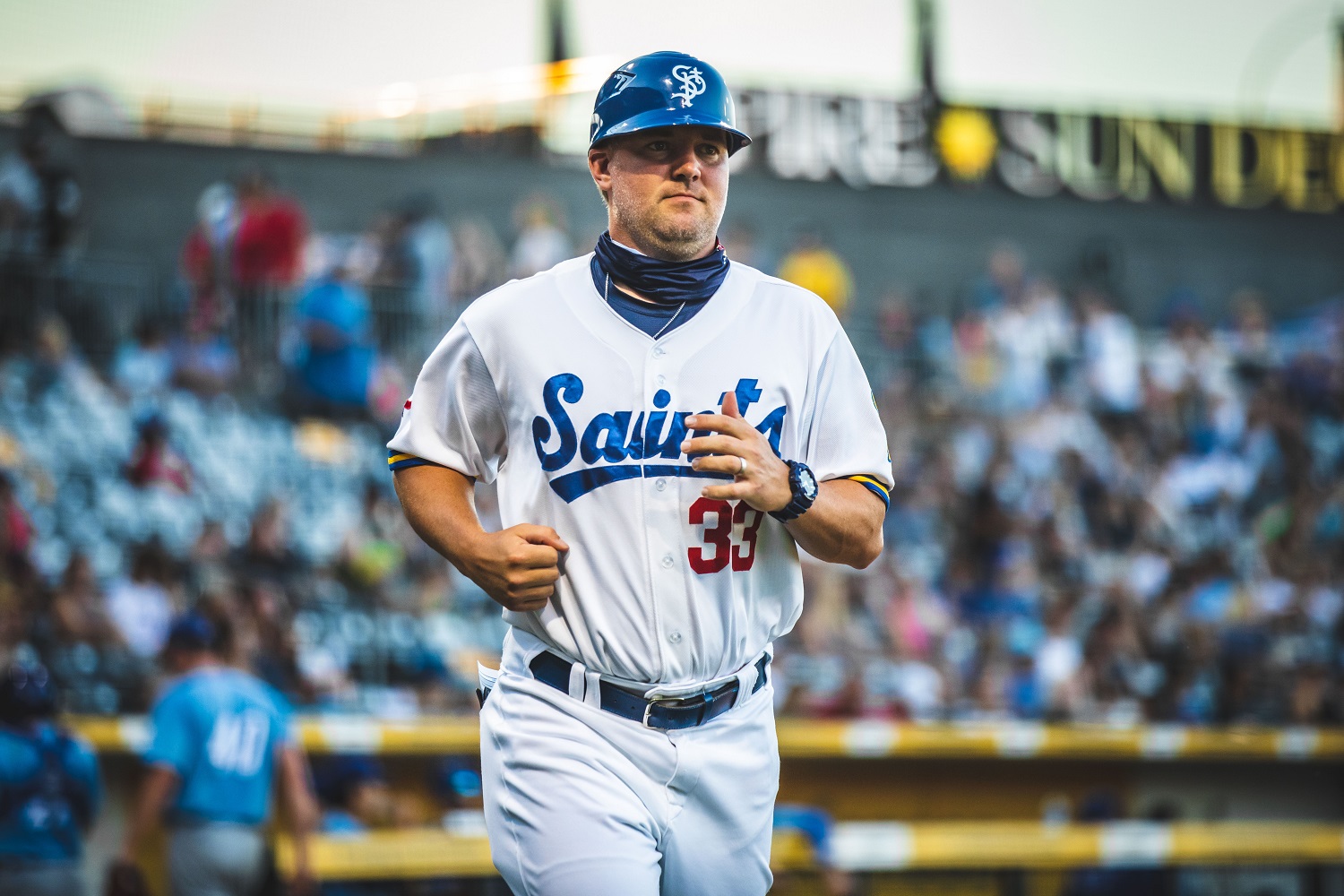 Image courtesy of Rob Thompson, St. Paul Saints
The St. Paul Saints are beginning their third season as an affiliate of the Minnesota Twins. However, it is their first season under new ownership. While the team starts the season with a weekend series in Toledo, their home opener will be on Tuesday against the Iowa Cubs. 
Tickets are still available on the Saints website for all six games. It should be a fun season with the Saints as they are loaded with prospects. 
Let's take a look at the Saints Opening Day roster. That way, you can go through your baseball card collection and find these players, then go to CHS Field and get them signed. Oh, and watch some really good baseball too! 
Coaching Staff 
Toby Gardenhire is back for his third season as the Saints manager. His hitting coach is recently-retired Nate Spears. Tyler Smarslok is the team's Defensive Coach and usually the first base coach as well. As all Twins affiliates do, the Saints have two pitching coaches. Cibney Bello is there for the third straight season. Peter Larson joins the Saints staff this year. He has quickly moved up the Twins organizational ladder. 
Pitchers
Pitching wins, right? So that's where we'll start. 
Starting Pitchers: Jordan Balazovic, Randy Dobnak, Brent Headrick, Bailey Ober, Aaron Sanchez, Louie Varland, Simeon Woods Richardson. 
When we talk about the Twins starting pitching depth, this is where it is. If Bailey Ober is your #6 starter, your staff is pretty deep. However, Varland and Woods Richardson both made their major-league debuts late last year and they're likely Options #7 and #8. Aaron Sanchez made a few starts and long-relief appearances for the Twins last year. He is probably Option #9 at this point. He's obviously had some strong seasons in his long big-league career. Randy Dobnak appears to be healthy. It will be great for him to get some innings, find that control and command of his sinker again. He maybe starts out the season as the #10 option, but he could move up that list quickly. And Headrick made a really strong impression in his first spring training. He ended last year with starts at Double-A, so he just needs some time. 
While they certainly want Ober, Varland and Woods Richardson to start, the rest of the list could team with Cole Sands, Ronny Henriquez, Josh Winder and several from the below reliever list as the long-man out of the bullpen. That is the group that is really happy that St. Paul and Minneapolis are just miles apart. 

Weekend Rotation 
FRIDAY: Bailey Ober
SATURDAY: Aaron Sanchez
SUNDAY: Simeon Woods Richardson 
Relief Pitchers: Jose De Leon, Cody Laweryson, Trevor Megill, Oliver Ortega, Dereck Rodriguez, Connor Sadzeck, Austin Schulfer, Brock Stewart, Patrick Murphy (Development List) 
This is also an intriguing group of relievers. As you look at the list, who is the closer? However, there are a lot of guys who can pitch multiple innings, have experience as a starter and as a reliever, and could fit a role in the big leagues... where they have a pretty strong backend of their bullpen already. 
The most intriguing names on this list, at least for me, are Cody Laweryson and Austin Schulfer. They are both home-grown talents who have had a lot of success in their minor-league careers, as starters and as relievers. Schulfer's stuff impressed me. He's throwing a running fastball that sits 95-97 and a slider from the same release point that darts away from a right-hander at 90. He also has a pretty good changeup that he can bring out at any time. Laweryson doesn't throw as hard. He probably tops out at about 92, but he's got a funky delivery and deception. He's got really good command and still is able to miss bats. 
Trevor Megill is the only pitcher in this group on the 40-man roster. We've seen what he can do, the good and the not-so-good, but this is just his second option, so it makes sense to just keep working with him. 
And then you've got several veterans with upside. Dereck Rodriguez started out as an outfielder in the Twins organization and transitioned to the bullpen. He eventually debuted with the Giants and had a nice rookie season. Since then, he's been on a few teams, and gets some opportunities. Last year, he had a couple of really good, long-relief appearances with the Twins. Then we've got the Dream Brian Dozier Package, aka Jose De Leon and Brock Stewart. Both 30-year-olds were top pitching prospects with the Dodgers seven or eight years ago, and their names were both said to be requested by the Twins in deals involving Dozier. Well, both have had injuries over the last half-dozen years, their prospect stars have burned out, but they both still have the kind of talent that make them intriguing as potential bullpen options or long relievers. And Oliver Ortega throws hard.  
Catchers: Jair Camargo, Chris Williams, Tony Wolters, David Banuelos (Development List)
We might as well follow the pitchers with the guys who will catch them. Tony Wolters is the presumed Twins #3 starter and would be the guy called up should Christian Vazquez or Ryan Jeffers get injured. Jair Camargo quietly came to the Twins in the Maeda/Graterol deal. He became a free agent this offseason but quickly signed to return to the organization. Chris Williams is listed as a catcher. He may get some time behind the plate, but he will likely play a lot at first base and DH. David Banuelos is fantastic behind the plate and pitchers really like throwing to him. He'll get plenty of opportunities with the Saints. In addition, Andrew Bechtold could get some games where he dons the tools of ignorance as well. 
Infielders: Andrew Bechtold, Edouard Julien, Hernan Perez, Elliot Soto, Tyler White, Austin Martin (Injured List)
Julien may have had to wait nearly two seasons after signing with the Twins to make his pro debut, but since the beginning of that 2021 season, he has done it all with the bat. He gets on base. He has some power. He's got goods speed. He uses the whole field. He strikes out, but those walks make up for it. He has done it at three minor-league levels. He has done it in spring training, and he has done it for Team Canada in the WBC. The final stop on the way to the Twins is some time with the Saints. But get to CHS Field quickly. He may not be there real long. 
Bechtold has one of the strongest arms in baseball, certainly in the organization. He ended the last season with the Saints and returns, likely to play primarily at third base. 
Tyler White got a lot of run in spring training at first base. Elliot Soto is back. And, when Austin Martin was diagnosed with a UCL sprain, the Twins signed veteran Hernan Perez to a minor-league deal. The 32-year-old has a lot of big league time, generally in a utility role, but he is a really good shortstop, so it makes sense to bring him in. At least until Brooks Lee is ready to move up. 
Outfielders: Mark Contreras, Kyle Garlick, Ryan LaMarre, Andrew Stevenson, Matt Wallner, Michael Helman (Injured List)
Matt Wallner is the big prospect of this group. He was the Twins 2022 minor-league hitter of the year and ended the season in the big leagues. He will likely get some significant time in the big leagues in 2023 as well. 
Mark Contreras has had a couple of strong seasons the past two years, most of that time with the Saints. Good speed and power combo, along with terrific defense. As we know, Kyle Garlick provides outfield depth and a guy who absolutely mashes right-handers. Stevenson was added to the organization midway through spring training. He has spent parts of the past three seasons with the Washington Nationals. 
Michael Helman had a big breakout in 2022, half of the season with the Saints. He has really good speed and extra base pop, and he can play seven positions very well. He was invited to big-league spring training. Unfortunately, a hamstring injury meant that he didn't play and will start the season on the IL. 
TWINS DAILY TOP 20 PROSPECTS
#5 - Edouard Julien
#6 - Simeon Woods Richardson 
#9 - Louie Varland 
#10 - Austin Martin 
#11 - Matt Wallner 
#16 - Jordan Balazovic