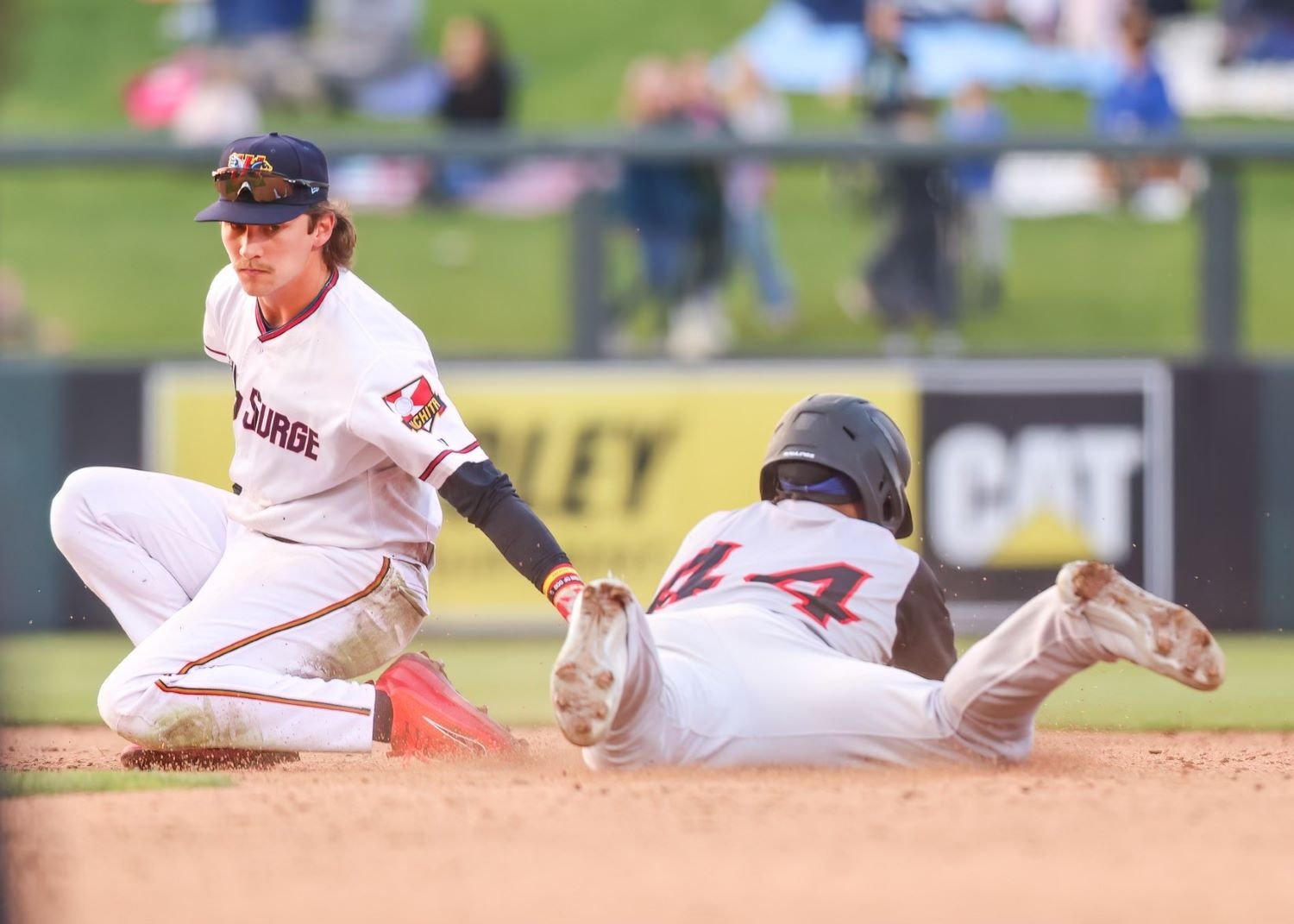 Image courtesy of Tim Grubbs
TRANSACTIONS
RHP Austin Brice signed to a Minor League contract and assigned to St. Paul
INF Edouard Julien recalled by Twins
Saints Sentinel
St. Paul 3, Columbus 5
Box Score
Connor Sadzeck: 1 IP, 0 H, 0 ER, 0 BB, 3 K
HR: None
Multi-hit games: Andrew Stevenson (2-for-5, 2B), Mark Contreras (2-for-5, R)
The Saints suffered a close loss on Saturday.
Used intermittently since the 2018 season, the Twins brought back the opener, just for one day, sending reliever Connor Sedzeck out first ahead of Jordan Balazovic. Sadzeck was perfect, striking out the side in order, but Balazovic wasn't as decisive, allowing a duo of runs to score over four frames of work. Still, his command—typically unavailable or as missing as the Vikings' Ed Thorp trophy—was solid; he didn't allow a walk for the first time since April 25th.
St. Paul's bats couldn't find similar fortune, though. Facing rehabbing big leaguer Triston McKenzie, the Saints spun themselves into knots, never cracking his code for the three innings he was on the mound.
But there were 18 more outs to avoid once he left. Could they attack the Clippers' bullpen with enough ferocity to win?
No, but they did try. The effort reached its apex in the 6th when a sudden attack plated a trio of runs, leading to a one-run lead with three frames remaining. It appeared that favor had moved to their advantage.
And yet it disappeared just as quickly. Josh Winder's opening four-pitch walk prophesied the rest of the inning—a grueling, tragic showing emblematic of the fleeting nature of luck in baseball. Or, in less flowery language, the Clippers scored twice. That sealed the match. Columbus scored a final unnecessary run as the Saints attempted to claw their way from the depths without success. 
Jose Miranda walked three times on Saturday; he has never walked more than twice in a game in his professional career.
Brayan Rocchio was the Clippers' best prospect on Saturday, and he singled and walked in four plate appearances. 
Wind Surge Wisdom
Wichita 2, Arkansas 8
Box Score
Aaron Rozek: 5 ⅔ IP, 2 H, 1 ER, 2 BB, 8 K
HR: None
Multi-hit games: Yoyner Fajardo (4-for-5, 2 2B, 2 R), Jake Rucker (2-for-4, 2 RBI, BB), Alex Isola (2-for-4)
An explosive 10th inning sank Wichita's chances of winning on Saturday. 
Once a pitcher's duel, eventually a blowout, the Wind Surge started with almost six brilliant innings of pitching from Aaron Rozek before a deeply unusual 10th inning ended any potential they had to escape with a victory.
But first, the great success: Rozek. The 27-year-old Burnsville native entered the game with ghastly numbers—truly scary amounts of earned runs—but shook off any pressure one could feel from such negativity. He was brilliant. His eight strikeouts were the most he achieved in an outing since May 12th of last season. His two hits allowed were the lowest of all his starts in 2023. 
Arkansas brought pitching to the ballpark as well, though. An early Wichita run did not phase the Travelers, and the following innings of ball slowly melted the game to an equilibrium stalemate. 
It all fell apart in the 10th. Reliever Curtis Taylor hit two, walked another, allowed a batter to reach on a fielder's choice, struck out a batter, and waved goodbye to the match with unusual flair: Denny Bentley then allowed four runs to score, giving Taylor the rare zero hits/four earned runs stat line.
The top of the Wind Surge lineup did their job marvelously, earning eight of Wichita's 10 hits; Yoyner Fajardo alone collected four. The issue: no one south of Anthony Prato could earn a knock, forcing the Wind Surge to end rallies before they could become runs.
The Travelers' best prospect in the game was outfielder Jonatan Clase, who tripled in five plate appearances. 
Kernels Nuggets
Cedar Rapids 1, Peoria 5
Box Score
Jordan Carr: 4 ⅓ IP, 6 H, 3 ER, 1 BB, 3 K
HR: None
Multi-hit games: Jefferson Morales (2-for-3, R)
Ineffective bats burned the Kernels on Saturday.
Three hits were all Cedar Rapids could offer to support their pitching staff. Two came from Jeferson Morales. They did add three walks—silver linings especially dull—but this was a shockingly weak effort from a team with the third-worst OPS in the Midwest League.
It didn't matter too much: the Chiefs blitzed starter Jordan Carr for one run in the second and two in the third to hand their pitchers a lead that remained well-sealed and protected. The closest the Kernels got to affecting the lock was in the sixth, following a run-scoring fielder's choice that placed two on with one out. Tanner Schobel then flew out, Kala'i Rosario struck out, and the rally vanquished into nothingness.
Victor Scott II of Peoria stole his 30th ****ing base of the season (I know I can't say that, but good lord, that's insane). 
Catcher and definitely-not-a-thief, Jimmy Crooks, was the best prospect playing for the Chiefs on Saturday; he singled and walked in five trips to the plate.
Mussel Matters
Fort Myers 4, Lakeland 3 (7 Innings)
Box Score
Cory Lewis: 4 IP, 4 H, 1 ER, 2 BB, 8 K
HR: None
Multi-hit games: Andrew Cossetti (3-for-4, 2B, RBI)
The Mighty Mussels exited victorious on Saturday in a weather-shortened match. 
Cory Lewis was tremendous again, effectively dicing through Lakeland's offense with the precision of a hurler well-seasoned and wise. His fastball/slider combo proved confounding, mysterious, leading to 22 total swinging strikes out of just 80 pitches—an absurd 28% swinging strike rate usually only reserved for the Josh Haders of the world. His only mistakes were the common errors of man: two runs scored via two separate throwing blunders from catcher Andrew Cossetti .
Fortunately, Cossetti could translate his defensive miscues into an offensive force. The catcher continued his terror at the plate, knocking around three hits—one nearly 400-foot double—to push his season OPS to 1.036. The Florida State League is supposed to favor pitchers. It's very likely that last month's Twins Daily Minor League Hitter of the Month could repeat the honor.
Unsavory weather paused the game following the top of the 7th, and the umps soon ended the night, handing the Mighty Mussels their 22nd win of the season.
Lakeland is an affiliate of the Detroit Tigers, and their best prospect—shortstop Peyton Graham—collected a pair of hits and scored a run. 
TWINS DAILY PLAYERS OF THE DAY
Twins Daily Minor League Pitcher of the Day – Aaron Rozek
Twins Daily Minor League Hitter of the Day – Yoyner Fajardo
PROSPECT SUMMARY
Here's a look at how the Twins Daily Top 20 Twins Prospects performed:
#1 - Brooks Lee (Wichita) - 0-0, 2 BB
#3 - Emmanuel Rodriguez (Cedar Rapids) - 0-4, 2 K
#9 - Matt Wallner (St. Paul) - 0-5, 3 K
#13 - Noah Miller (Cedar Rapids) - 0-4, 2 K
#14 - Jordan Balazovic (St. Paul) - 4 IP, 4 H, 2 ER, 0 BB, 5 K
#19 - Yunior Severino (Wichita) - 1-5 K 
SUNDAY'S PROBABLE STARTERS
St. Paul @ Columbus (12:05 PM) - RHP Randy Dobnak
Arkansas @ Wichita (1:05 PM) - RHP Travis Adams
Peoria @ Cedar Rapids (1:05 PM) - RHP Alejandro Hidalgo
Fort Myers @ Lakeland (12:00 PM) - TBD\