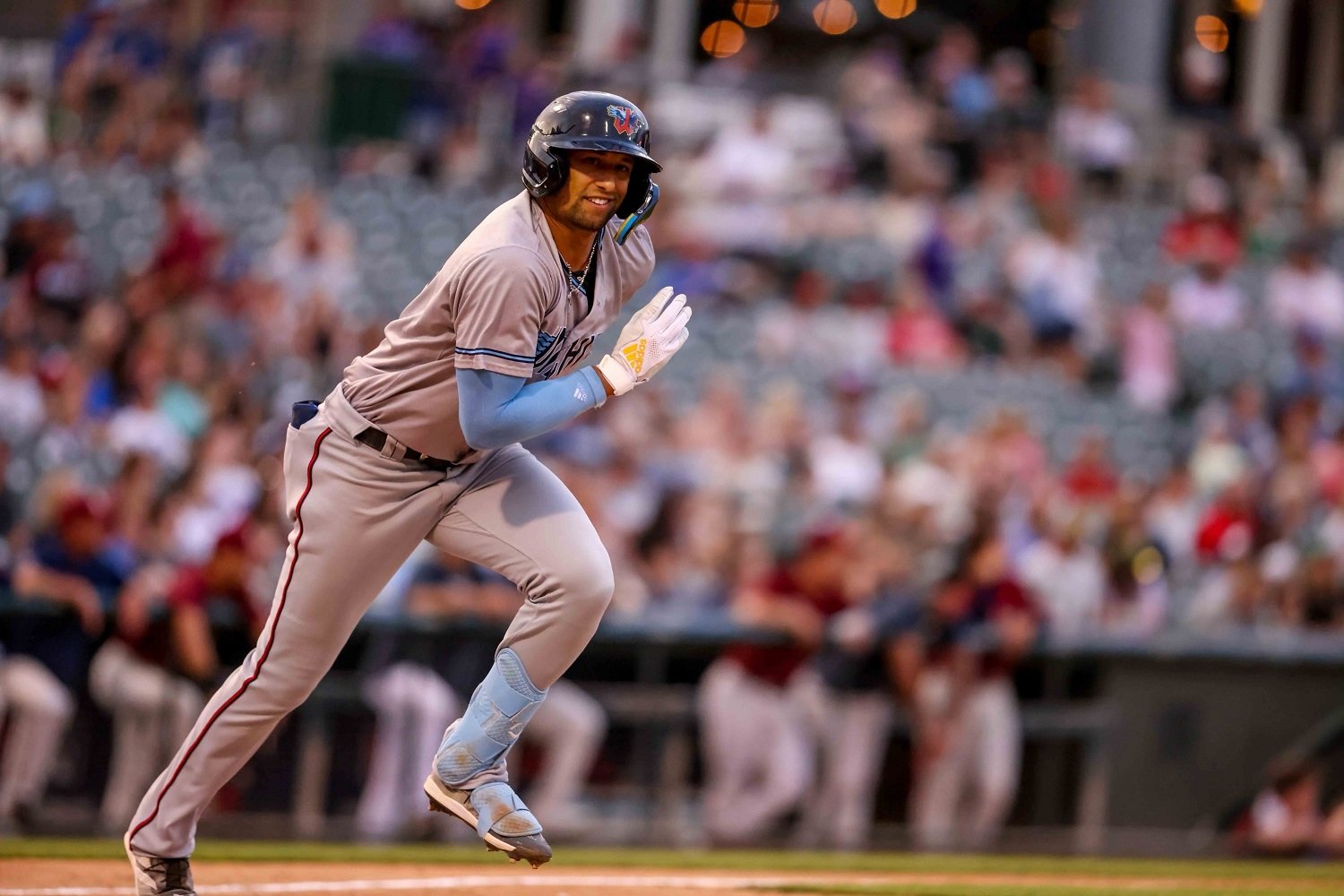 Image courtesy of Katherine Ramirez, Frisco RoughRiders
Let's get to the report. As always, please feel free to discuss and ask questions in the COMMENTS. I plan to check in frequently to answer as many questions as we get.  
TRANSACTIONS
SAINTS SENTINEL 
St. Paul 1, Indianapolis 3
Box Score
In the bottom of the first inning, Matt Wallner hit his third home run for the Saints this season. Unfortunately, that was the only run for the Saints on Saturday afternoon. 
Aaron Sanchez made the start for the Saints. He gave up three runs (2 earned) on seven hits and three walks over 4 1/3 innings. He had two strikeouts. Kody Funderburk came out of the bullpen and recorded six outs, three of them came on strikeouts. He gave up no runs and no hits, though he walked one. Patrick Murphy and Oliver Ortega didn't allow a run or a hit over the final 2 2/3 innings. 
Wallner had a good day at the plate. He went 2-for-3 with a walk, a double, and the home run. Edouard Julien had a single and a walk out of the leadoff spot. Jose Miranda went 1-for-5. Hernan Perez added a triple. 
WIND SURGE WISDOM
Wichita 12, Frisco 3
Box Score 
The Wind Surge offense just continues to, well, surge. After scoring 16 runs on Wednesday and 13 runs on Friday, they scored a dozen runs on Saturday and won their fifth straight game. In the first five games of the series, the Wind Surge have outscored the RoughRiders 54-26. 
In this game, the offense was just very consistent throughout the game. They scored in six of the nine innings. They had 11 hits and 10 walks in the game. 
What you're here for… Brooks Lee was back in the lineup, leading off and playing third base. He went 0-for-4 but walked twice. Royce Lewis played the first seven innings at shortstop and batted second. He went 2-for-3 with a walk and a double. He also added a stolen base. The two combined to score five of the team's runs. 
Yunior Severino remains on fire. After hitting two home runs on Friday night, he went 3-for-4 with a walk and his 10th home run of the season. That is four home runs in five games so far this series. Jake Rucker went 2-for-4 with a double and five RBI. (So yes, the top four hitters in the lineup went a combined 7-for-15 with 10 runs scored and eight driven in.) 
Pat Winkel went 2-for-4 with a walk and did a very nice job behind the plate. Alerick Soularie returned from his wrist injury and went 1-for-3 with two walks. 
David Festa made the start for the Wind Surge and looked really good, frequently hitting 98 mph with his fastball. He was charged with one run on four hits and two walks over five innings. He had four strikeouts. 
Festa told Twins Daily what helped make him successful, "My fastball command was definitely better than previous outings, and (Pat) Winkel did a great job calling the game. We were both on the same page, and the defense was great behind me." 
And Festa also enjoyed the opportunity to face big-league rehabber Corey Seager. In the first inning, Seager grounded out to second base. In the fourth frame, Seager popped up to the catcher. In the fifth inning, Festa walked the $325 million man. 
"Facing Corey Seager was awesome. An elite hitter like him, in a few big situations, was such a cool experience."  
Seth Nordlin came on and gave up two runs on four hits and three walks over two innings. Jose Bravo walked one and struck out four batters over the final two, scoreless, innings. 
KERNELS NUGGETS
Cedar Rapids 4, Quad Cities 2 
Box Score
The Kernels clinched a series win in Davenport on Saturday night with a 4-2 win. 
Kyle Jones went the first four innings and gave up just one run on three hits. He walked two batters and struck out five batters. Niklas Rimmel came on and gave up one run on three walks over 1 2/3 innings. He struck out three batters. Malik Barrington entered the game with the bases loaded and allowed just one of the inherited runners to score. In total, he went 1 2/3 innings and gave up no runs on one hit and one walk. He struck out two batters. Miguel Rodriguez gets the save with 1 2/3 scoreless innings. 
Following the game, Barrington told Twins Daily, "Honestly, I try not to think about the runners when it's a bases-loaded situation. My mentality in that situation is to just attack the hitter because if I give up a hit there, then runners are scoring regardless." He continued, "Anytime I can get out of a jam, especially in that scenario, is a big confidence boost, and it gets the team going as well. So in that scenario, I just think 'never shy away from competition. It's a do-or-die situation, so throw the best I have and trust that I will be successful.'" 
The Kernels took the lead right away in the first inning when a Tanner Schobel double scored Ben Ross. Then Misael Urbina singled in Schobel for the second run. Then in the fourth frame, Ernie Yake hit a triple that scored Kyler Fedko before he was singled in by Ross. 
Cedar Rapids had seven hits by seven different hitters. The two batters that didn't get a hit combined for three walks. They had more opportunities to score but went 2-for-9 with runners in scoring position. 
MUSSEL MATTERS
Fort Myers 5, Tampa 2 
Box Score 
The Mighty Mussels had a four-run fifth inning and held on late to record their fifth straight win against the Yankees affiliate. 
In that fifth frame, Andrew Cossetti "drove in" the first run with a bases-loaded walk. That was followed by a bases-clearing triple off the bat of Carlos Aguiar. Aguiar drove in the other run on a fielder's choice in the seventh inning. 
It may not surprise you that the Mighty Mussels managed just three hits in this game and had 14 strikeouts. However, they had the patience to coax 10 walks. Cossetti hit his ninth double and walked three times. Danny De Andrade, Dalton Shuffield, and Alec Sayre each had two walks. 
The Mighty Mussels had a really good day on the mound. Lefty Wilker Reyes made his first start (fifth appearance) of the season. He gave up two hits and walked three batters, but he threw two scoreless innings with the help of three strikeouts. The 21-year-old topped out at 91.7 mph. 
Sam Perez improved to 3-1 with three innings of one-hit baseball. He had six strikeouts and didn't issue a walk. Perez is an interesting prospect. He has experienced a lot of success in the low levels of the minor leagues. He was the Twins Daily Short-Season Pitcher of the Year in 2021. As you see in this game, he gets swings-and-misses. But the southpaw tops out at 83.3 mph. Statcast calls out 38 of his 48 pitches as change ups. However, the velocity range on the pitch are from 72.5 to 83.3 mph, so my assumption is that his fastball and his changeup are both called changeups. 
Right-hander Jackson Hicks gave up three hits but no runs over two scoreless innings. He had three strikeouts. The 25-year-old threw 32 pitches and 20 of them were 81-84 mph sliders. His fastball topped out at 91.8 mph, but he threw just 10 fastballs. 
Finally, Zach Veen, the third lefty of the day, came in for the final two innings. He pitched a scoreless eighth frame, but a leadoff error led to two unearned runs in the ninth inning. He struck out two batters and dropped his ERA to 1.20 this season. The 2022 draft pick threw 25 breaking balls among his 41 pitches. 
TWINS DAILY MINOR LEAGUE PLAYERS OF THE DAY
Pitcher of the Day – David Festa (Wichita Wind Surge) - 5 IP, 1 R, 0 ER, 4 H, 2 BB, 4 K. 70 pitches, 43 strikes. 
Hitter of the Day – Matt Wallner (St. Paul Saints) -2-for-3, BB, 2B(7), HR(3), R, RBI.
PROSPECT SUMMARY
Check out the Prospect Tracker for much more on the new Twins Top 20 prospects after seeing how they did on Wednesday. 

#1 - Brooks Lee (Wichita) - 0-for-4, 2 BB, 2 R, K, SB
#2 - Royce Lewis (Wichita-on Rehab) - 2-for-3, BB, 2B, R, RBI
#5 - Edouard Julien (St. Paul) - 1-for-4, BB, K, E(2)
#11 - Matt Wallner (St. Paul) - 2-for-3, BB, 2B(7), HR(3), R, RBI.
#13 - David Festa (Wichita) - 5 IP, 4 H, 1 R, 0 ER, 2 BB, 4 K, 70 pitches, 43 strikes.
#14 - Noah Miller (Cedar Rapids) - 1-for-3, BB, K, SB(6).  
#18 - Tanner Schobel (Cedar Rapids) - 1-for-4, BB, 2B(4), R, RBI, 3K. 
#20 - Misael Urbina (Cedar Rapids) - 1-for-5, RBI, 2K. 
SUNDAY'S SCHEDULE AND PITCHING PROBABLES 
Toledo @ St. Paul(2:07 PM CST) - RHP Jordan Balazovic (0-0, 2.45 ERA)  
Wichita @ Frisco (4:05 PM CST) - RHP Travis Adams (1-4, 8.50 ERA)  
Cedar Rapids @ Quad Cities (1:00 PM CST) - LHP Jordan Carr (0-1, 3.00 ERA)
Tampa @ Fort Myers (11:00 AM CST) - RHP Cory Lewis (3-1, 3.00 ERA) 
Please feel free to ask questions and discuss Saturday's games!