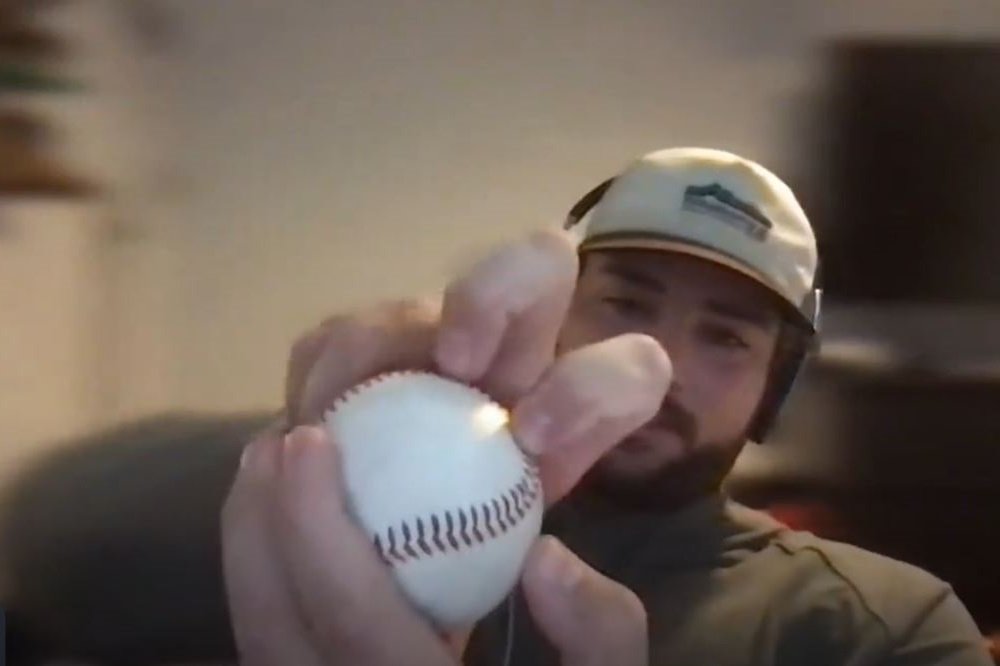 Image courtesy of Twins Spotlight Video of Cory Lewis showing his knuckeball grip.
Cory Lewis grew up in Huntington Beach, California, and went to Marina High School. If Lewis were to make it to the big leagues, he would be the eight player from that school to do so. Maybe you remember first-round picks like Marc Newfield or Daric Barton. Craig Wilson was a second-round pick and spent seven seasons in the big leagues. Recent Brewers acquisition Jake Bauers went to Marina. 
The player from Marina High School with the longest big-league career has some Twins ties. Pat Corning was the Twins shortstop when Ken Griffey Jr.robbed Laura Ingalls Wilder's husband of a home run off of Randy Johnson in a one game playoff. You remember, the Twins manager at that time was Pete Crow-Armstrong's mom's son Billy Heywood. (Let me know if you got all that. Kevin Elster went to Marina High. He spent parts of 13 seasons in the big leagues, his most memorable with the Mets. 
Lewis spent four seasons on the Marina varsity team. Along with pitching, he played a lot of first base as well. He had a strong sophomore season and that summer is when he committed to play at UC-Santa Barbara. He loved the school's location. Not only was it close to the beach, but it was close to home, and his parents were able to make most of his games. In addition, he really appreciated the coaching staff. 
When he got on campus as a freshman in 2019, his eyes were opened. In Fall Ball, he learned that he had a lot of work to do. First and foremost, after going through the conditioning and seeing the other players, he knew he had to get himself into much better shape. The plan was for Lewis to be redshirted in 2020.
Lewis said, "The biggest thing was that I needed to put in a lot more work. When I got there, I was a little out of shape, a little on the heavier side, velo was down. Everything was bad when I got there. Having that time during Covid to reset and get my body in the right shape, I think that really helped me my sophomore and junior year." 
He continued by saying he "was lucky to have a good support system at Santa Barbara. I was able to get on a really good lifting program. I think the biggest thing was watching what I eat, cutting out the soda, taking nutrition a lot more seriously."
He had a strong support system. That is especially true of his parents, his brothers and his girlfriend. His younger of two older brothers, Chad, was the fourth-round pick of the Oakland A's in 2010 out of Marina High School. He was always willing to talk to Cory about things like the draft process, minor-league ball, things to look out for, etc. His oldest brother, Troy, was someone who was a great listener and always there for him. 
He came into his sophomore season in much better shape. Series that year were four-game series, with single games on Friday and Sunday, and a doubleheader on Saturdays. He slotted in as the Sunday starter early in the season. He went 7-4 with a 3.38 ERA. 
As a junior in 2023, he took over as the team's Friday night starter. Michael McGreevy and Rodney Boone were no longer in school after being drafted in 2021. He took it as a challenge, to "be that ace the team needed and set the tone for the weekend." 
He responded by making 16 starts and going 9-1 with a 3.57 ERA.  
He had to wait until Day 2, the ninth round before hearing his name called by the Twins. He quickly signed in Fort Myers but spent the rest of that season working with coaches, training staff and others. They used the technology, video and analytics, to set a baseline for his current pitches. 
He began the 2023 season in Fort Myers. He made nine starts and went 4-3 with a 2.75 ERA and a 1.04 WHIP. In 39 1/3 innings, he walked 15 and struck out 55 batters. He moved up to Cedar Rapids and continued to pitch great. In 13 starts, he went 5-1 with a 2.32 ERA and a 1.07 WHIP. In 62 innings, he had 18 walks and 63 strikeouts. 
I'll do the math for you. Overall, he went 9-4 with a 2.49 ERA and a 1.06 WHIP. He threw 101 1/3 innings and had 118 strikeouts with just 33 walks. Clearly those were the kinds of numbers that made him the easy choice for Twins minor league pitcher of the year. 
Let's talk a little bit about his pitches. Here are some notes on his five-pitch mix. 
Four-Seam Fastball 
In mid-January, Lewis was one of many Twins pitching prospects to head to Fort Myers for a velocity camp. In college, his fastball typically sat between 88 and 92. He said, "Everyone wants to throw harder. My focus was to be in the 92-94 range, and I had several games like that. Now I just need to be consistent." 
As you can see, he actually grips his four-seam fastball on the opposite threads are most pitchers do. However, he is able to get good ride on the pitch.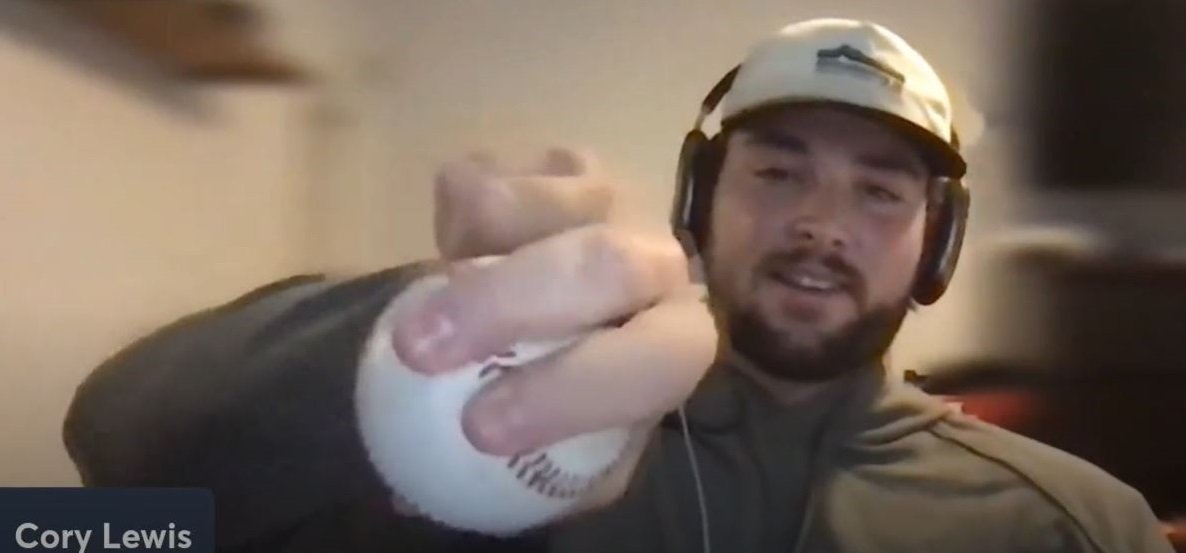 Change Up 
Lewis has a very loose-grip on his changeup. The lone pressure on the ball is from the ring finger which he said "does most of the work." That pitch tends to drop straight down.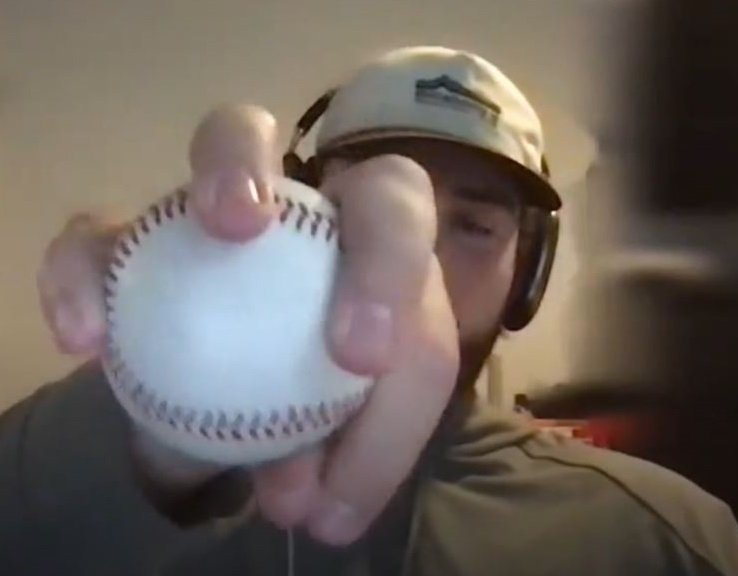 Curveball 
Lewis uses a spike-curveball grip. The pointer finger is bent and its nails almost dig into the ball.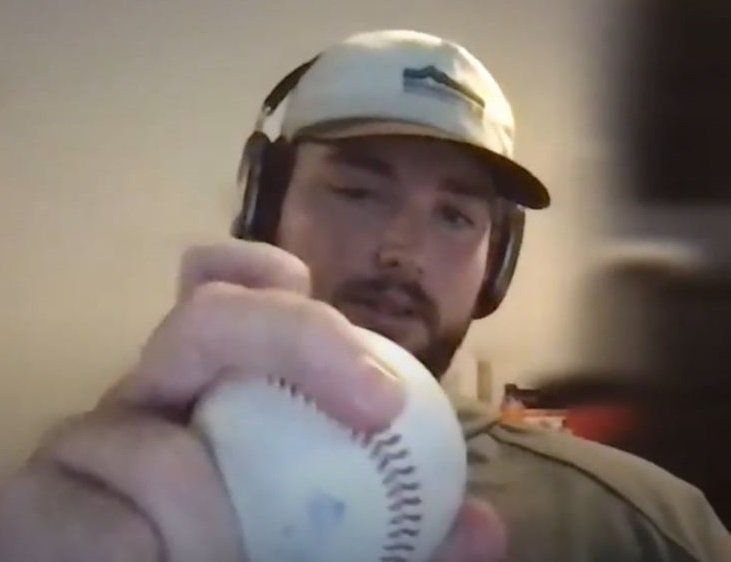 Slider 
The slider is a pitch he added during his junior season. It is similar to a cutter but has more depth.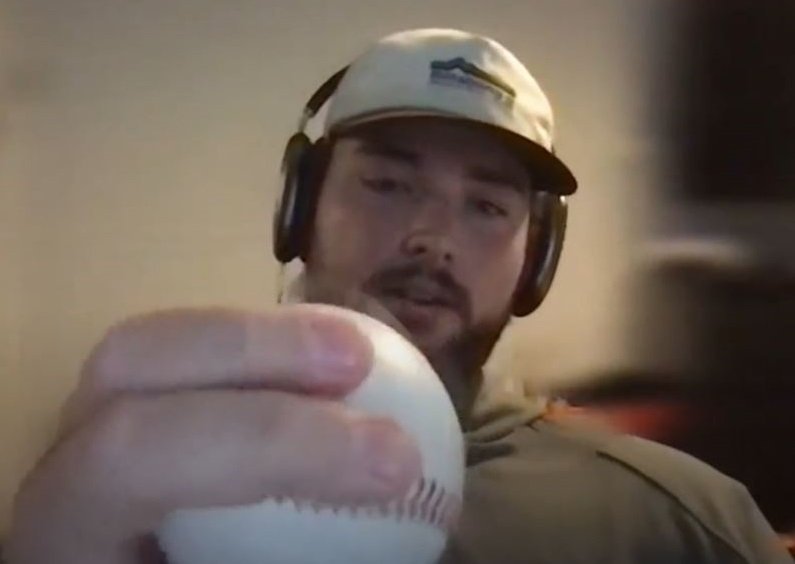 Knuckleball 
When Phil Niekro and Tim Wakefield threw knuckleballs, that is essentially al they threw. Sure, maybe a fastball here and there (at about 72 mph), but not many. Just floating 52 mph knucklers. 
First things first, Cory Lewis throws a knuckleball, but he isn't a typical knuckle ball pitcher. He is a pitcher who throws a knuckleball. For Lewis, his knuckleball is one pitch from his five-pitch repertoire. In fact, most games, he only throws the pitch around 12% of the time. The other thing that makes the Lewis knuckler so intriguing is the fact that he throws it 82-85 mph. That is a very high-velocity knuckleball. Even through it's thrown that hard, he is able to keep the pitch's RPM around 150.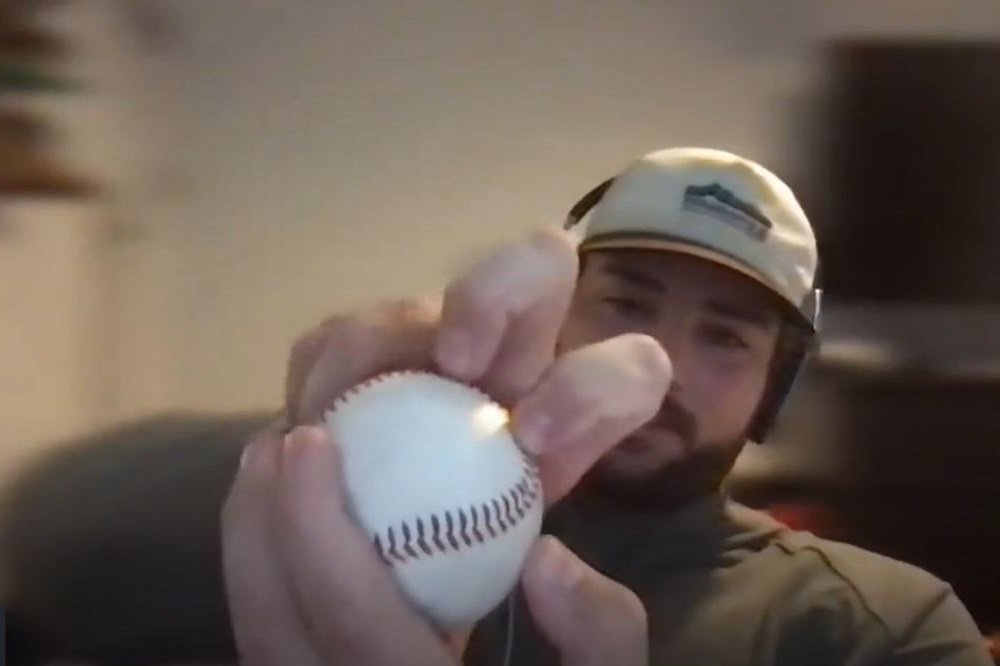 In fact, in his playoff start, he threw on knuckleball at 88 mph. "It's been the same since I started throwing it. Even in college, it was probably 80 to 83 mph. For it to be 88 is kind of crazy." 
He recalled that the hitter swung awkwardly at the pitch which was up in the zone. After missing the pitch, the batter looked out at him with a "What was THAT?" look.  
Who are recent knuckleball pitches in the big leagues. You'd be hard-pressed to name some from the past decade or so? Late in the 2023 season, the San Diego Padres called up right-hander Matt Waldron. He throws a knuckleball about 27.0% of the time at an average of 76.6 mph). Waldrop threw a low-90s fastball about 44% of the time, a 80 mph slider 16% of the time, and a cutter about 13% of the time. 
Similar, yet Cory Lewis remains unique with his pitch mix. please feel free to discuss Lewis, his background, his stuff and project his future in the comments below. Who knows? Maybe he'll even answer some of your questions.