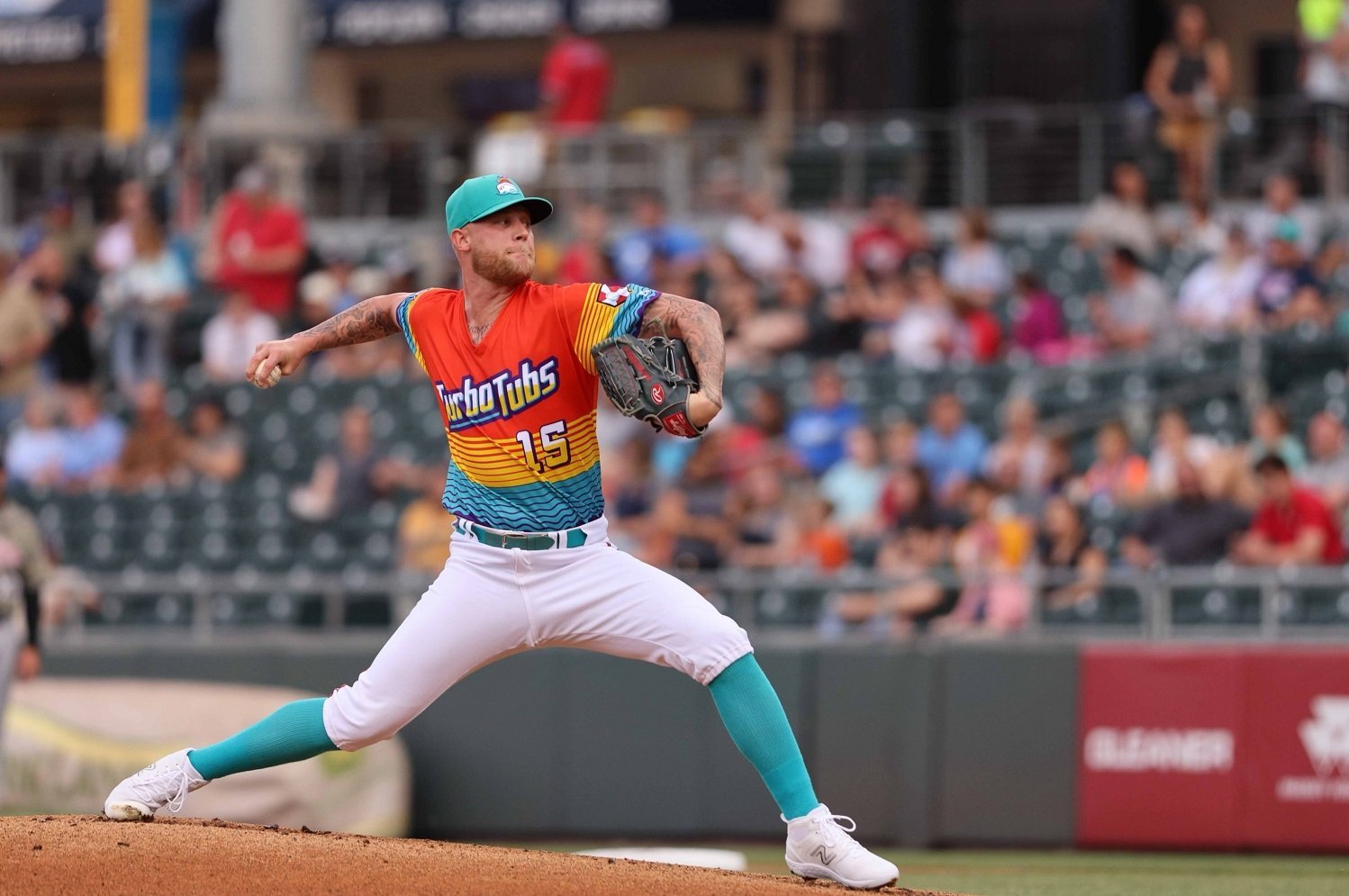 Image courtesy of Ed Bailey, Wichita Wind Surge
The Twins drafted Blayne Enlow in the third round of the 2017 MLB Draft out of high school in Louisiana. Minnesota had to be strategic when working to sign Enlow since he was committed to playing for Louisiana State University. With the number one pick, the Twins took Royce Lewis and signed him to an under-slot deal, so the team could use that money to sign picks in later rounds. To coax him away from LSU, the Twins made Enlow one of two players in the third round to sign for $2,000,000. 
Enlow made his professional debut with the GCL Twins shortly after signing with the organization. In 20 1/3 innings, he allowed three earned runs on ten hits with a 19-to-4 strikeout-to-walk ratio. Minnesota moved him up to Low-A for 2018, where he was nearly three years younger than the average age of the competition. Enlow posted a 3.26 ERA with a 1.37 WHIP with 71 strikeouts in 94 innings. He only faced younger batters in 13 plate appearances, so it was an impressive first full season. 
In 2019, Enlow split time between Low- and High-A while pitching over 110 innings for the first time in his career. His first eight appearances came in Cedar Rapids, and his strikeout rate jumped from 6.8 K/9 in 2018 to 9.6 K/9. Minnesota promoted him to Fort Myers at the end of May, and his final 13 appearances came in the FSL. In 69 1/3 innings, he posted a 3.38 ERA with a 1.21 WHIP, but his K/9 dropped to 6.6 with the bump in competition. Enlow was solidifying himself as one of the organization's top pitching prospects, and the 2020 season had a chance to be a breakout year. 
Unfortunately, the pandemic forced the cancellation of the 2020 minor league season, and Enlow's 2021 season was also cut short. He started the season well as he limited batters to three earned runs (1.84 ERA) on 13 hits with 23 strikeouts in 14 2/3 innings. But he underwent Tommy John surgery in June 2021 and missed the rest of that season and the beginning of the 2022 campaign. Minnesota still valued Enlow enough to add him to the 40-man roster that winter, even though he would miss time during the following season. 
Enlow returned from Tommy John surgery in May 2022, less than 12 months after the team announced his surgery. Many pitchers see ups and downs in their return from Tommy John surgery, which was the case for Enlow. Batters posted a .968 OPS against him during his first five starts, but his OPS allowed dropped by over 300 points in June and July. In the second half, batters started to find success against him again, and the team moved him to the bullpen to control his innings total. He ended the year with a 4.20 ERA, and the Twins removed him from the 40-man roster. 
Thankfully, Enlow cleared waivers, and the Twins kept him in the organization. This season, he's made eight starts at Double-A with a 3.02 ERA, a 1.13 WHIP, and a 48-to-10 strikeout-to-walk ratio. His control has improved this season, which can take time following Tommy John surgery. In 2022, he posted a 4.7 BB/9 and allowed nearly ten hits per nine, and this year his walk rate has dropped to 2.2 BB/9 with 8.0 H/9. He's allowing his career's highest home run rate (1.1 HR/9), but it's a limited sample size to this point.  
The Twins will likely need more starting pitching depth at the big-league level, especially with injuries to Tyler Mahle and Kenta Maeda. Enlow has been surpassed by other pitching prospects on the organization's depth chart, but his numbers this season are hard to ignore. He is on pace to be promoted to Triple-A, and then he is only a phone call away from making his big-league debut. 
What have been your impressions of Enlow in 2023? Will the Twins need him at some point this season? Leave a COMMENT and start the discussion.