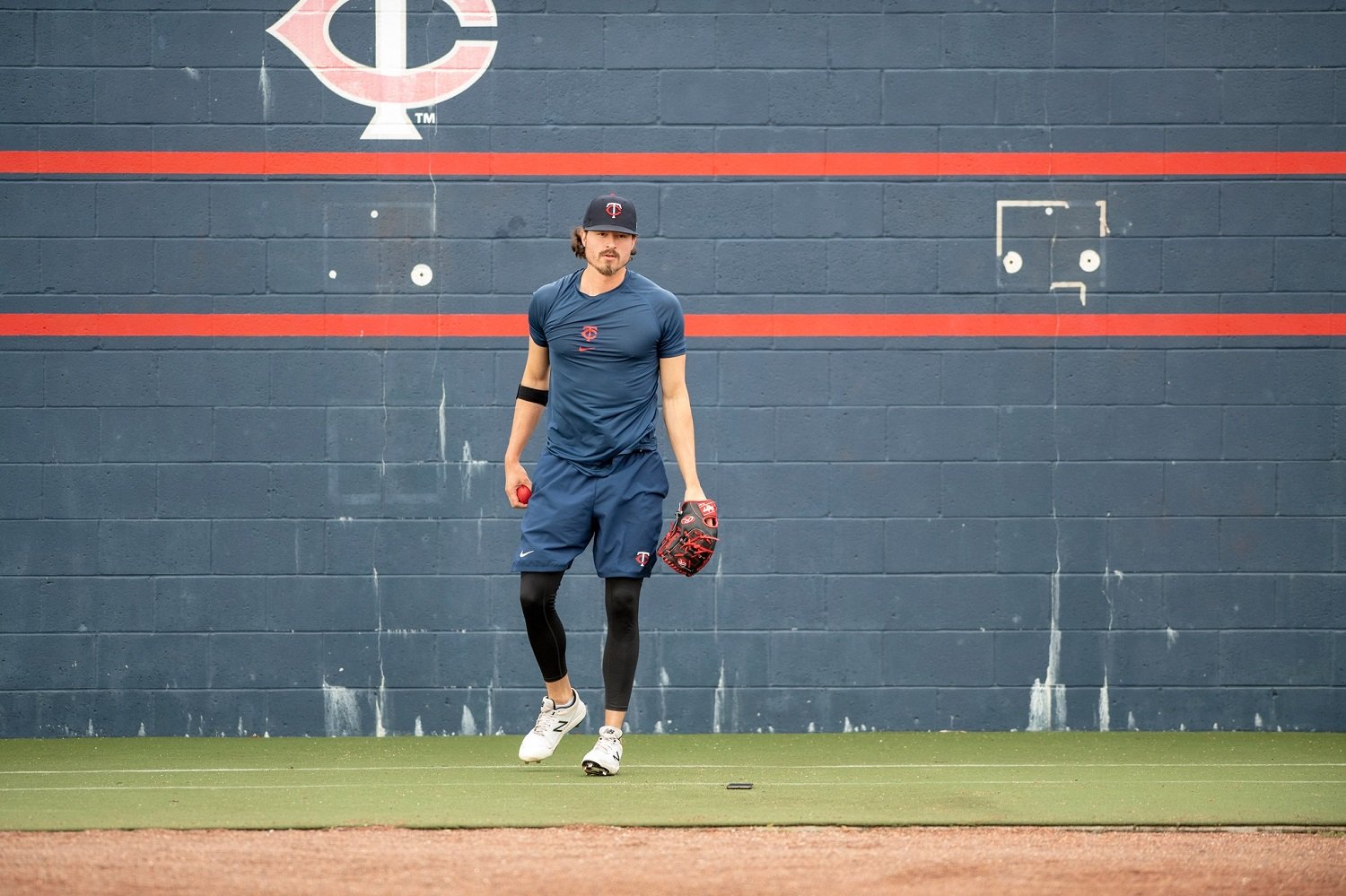 Image courtesy of William Parmeter
What does it take for a starting pitching prospect to torpedo off of global Top 100 prospect lists aside from injury? Jordan Balazovic showed us in 2022, when he spent his entire season in Triple-A St. Paul allowing 2.55 HR/9 innings, and finishing with a 7.39 ERA in just over 70 innings. It was quite the uphill battle to regain the lost prospect status, and that was before he suffered a broken jaw during an off-field altercation at the beginning of spring training, resulting in him being the first player sent out of Major League camp. Fortunately, since returning to the mound, Balazovic has shown that he has the talent to wipe away the past.
The Twins appear to have changed their view on their 2016 fifth-round pick. He began the season as a traditional reliever and has since moved back to making scheduled starts for the Saints. The Twins remain consistent in saying that they look at Balazovic as more of a potential bullpen piece for the MLB roster this season despite his starter's workload thus far. If that's the case, Balazovic is nearing the point where he's more than deserving of a look. 
It's been a small sample thus far in 2023 for Balazovic, but it's hard not to be impressed. In 18 2/3 innings, the 6'5 right-hander has posted a 33.8% K rate and a 2.89 ERA with matching peripherals. Most notably, he's allowed just one homer after struggling with the long ball in 2022. His walks have been uncharacteristically high at 14.3%, but it's the only real blemish on his otherwise dominant line to begin 2023.
Balazovic is currently built up to around 70 pitches per outing and has been able to maintain his mid-to-high-90s velocity along the way. He has secondaries to face off against hitters on both sides of the plate between his slider and splitter, though it's worth noting that during his last outing hitters did a decidedly better job of staying on him in his fourth inning. It's possible he's just destined for a bullpen role at this point rather than starting.
The Twins have been churning multiple bullpen spots to begin the season, and while the bullpen performance has been acceptable as a whole, they've had some relievers struggle mightily. Unfortunately, Jorge Alcala appears to be a husk of his pre-elbow injury self, as his velocity remains down 2+ mph, and he continues to allow a barrage of homers. Cole Sands had an opportunity to stake his claim to a bullpen role on Saturday and subsequently allowed five walks in mop-up duty. Simeon Woods Richardson and Brent Headrick likely need to maintain their Triple-A starting jobs at this point due to the injuries to the MLB rotation. Balazovic conveniently is on the 40-man roster already as well.
There are a few ways the Twins could use Balazovic. He's built up to fill a true bulk reliever role, but that spot has been rarely utilized so far this season and regardless of how well he pitches, it would remain a revolving door with whatever pitcher filling it being optioned immediately after each appearance. They also appear to be dead set on the struggling Jorge Alcala being a multi-inning reliever, and they've declined to send him right back to St. Paul following his outings so far. If they want to give him a chance to cement himself onto the big league roster, they could simply send Alcala down to see if he can right the ship while giving Balazovic a chance to snag that job. He wouldn't be so stretched to fill multiple innings and can have a real opportunity to work his way up the bullpen hierarchy.
Whatever the Twins decide for his role, Balazovic is at the doorstep of his Major League debut. His main competition if Sands or Alcala are optioned back to St. Paul is likely Ronny Henriquez fresh off a rehab assignment and Josh Winder who has been an absolute disaster since being moved to the bullpen. Having just thrown over 70 pitches Sunday, it may be a few days until Balazovic is available to throw again. When that day comes, should he get the call?