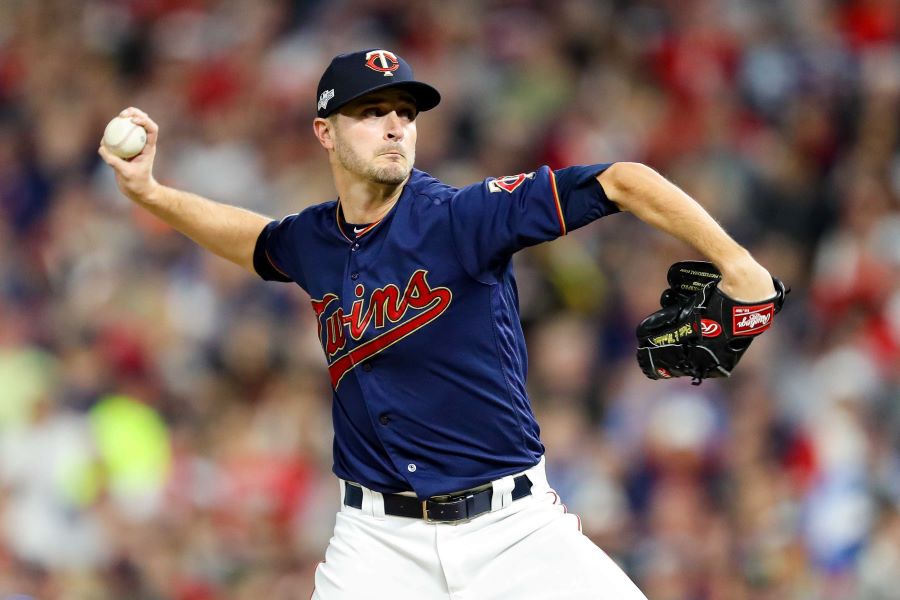 Image courtesy of © Jesse Johnson - USA TODAY Sports
While it's certainly ill-advised to bet against Berrios or Hill who are well set up to succeed, Odorizzi has the kind of skill set that could excel in a shortened season.
Jayson Stark and Eno Sarris of the Athletic recently collaborated on a piece that looked at impossible things that could happen in a 60-game season. One thing they looked at was whether a pitcher such as Matthew Boyd, who has above-average strikeout and walk rates but is susceptible to the longball, could win the Cy Young award due to the fluctuation in home run rates from year-to-year with pitchers. Interestingly, both Odorizzi and Maeda rank amongst the top-five in baseball when taking these three factors into account.
Of course, being included in a top-five grouping that includes giving up a bunch of dingers isn't in and of itself such a good thing, but if either Odorizzi or Maeda finds a way to lower their home run rates (or really just gets a bit lucky in such a short sample-size), they have the potential to be really good in 2020.
It's not hard to find evidence of Odorizzi's ability to dominate in short stretches. In fact, if we take a look at his statistics for Minnesota's first 60-games of 2019 we can see just how good Odorizzi can be. Odorizzi made 12 starts and recorded a 1.96 ERA, allowing only four home runs and five doubles, along with a 2.58 Win Probability Added (and this includes the rain-filled two-thirds of an inning disaster against Philadelphia on April 5th).
If we take a look at Odorizzi's results for the next 60-games we can see what happens when he does give up the longball. Over his next twelve starts Odorizzi gave up 11 homers (along with 17 doubles) and his ERA ballooned to 5.11 (with a WPA of -0.419). This includes the month of July, which was Odorizzi's only month of the year with an ERA above four (7.43), but this coincides with a blister injury that landed him on the 10-day IL. If we chalk July's struggles up to the blister injury, then Odorizzi didn't have a bad month in 2019.
Odorizzi credited his success in 2019 to offseason work he did at the Florida Baseball Ranch, where alterations to his mechanics and workout routine led to gaining a couple of ticks in fastball velocity and increased carry. His offseason work blended nicely with pitching coach Wes Johnson's philosophy and there's no reason to believe Odorizzi's success won't spill over into 2020 as well.
The biggest obstacle to Odorizzi reaching dominance may be his inability to pitch late into games. He has been plagued by high pitch counts throughout his career and it showed up in the Twins first scrimmage. Byron Buxton fouled off pitch after pitch in Odorizzi's fourth and final inning, going 13 pitches deep before the plate appearance was prematurely ended due to Odorizzi reaching his pitch count.
It would certainly be nice to see Odorizzi finish off batters more efficiently and go deeper into games, and to be truly dominant he must do so, but the Twins are well situated for short starts. If Homer Bailey takes the fifth and final spot in the rotation, Minnesota has Randy Dobnak and Lewis Thorpe available for longer relief stints. If Odorizzi is maxed out after five or six really good innings the Twins also have a borderline elite bullpen that runs deep and should avoid being overly taxed due to the overall quality and quantity of the starting rotation.
Whether he's Cy Young-worthy or not, Jake Odorizzi and the Minnesota Twins are well positioned for greatness in 2020. Let there be baseball!
MORE FROM TWINS DAILY
— Latest Twins coverage from our writers
— Recent Twins discussion in our forums