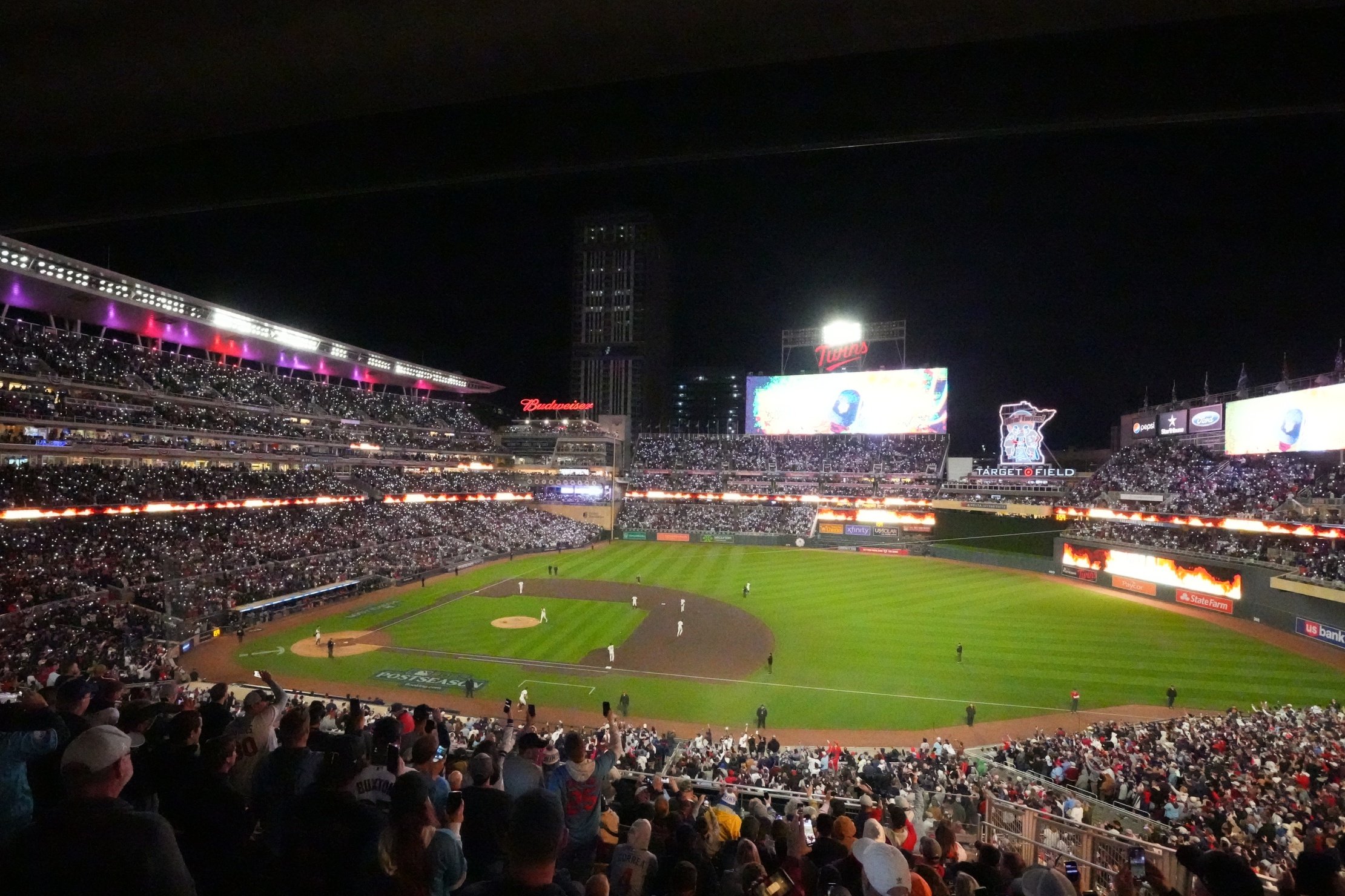 Image courtesy of Matt Blewett-USA TODAY Sports
Late on Tuesday night, Bobby Nightengale of the Star Tribune and Dan Hayes of the Athletic reported that the Twins will lower their payroll from around $155 million in 2023 to $125 million - $140 million in 2024. Twins fans could expect this as the team hinted this was coming due to the lost revenue from their television deal with Bally Sports ending. Hoping didn't make it any less frustrating. The vibes around the team were the best they had been in years, but now fans are rightfully angry. 
This Team Deserves Investment
When the Twins ended the longest playoff losing streak in North American Sports history, Target Field erupted, and fans everywhere were jubilant. After years of playoff frustration, this team finally showed something when the lights were bright and lifted a humongous monkey off the entire fanbase's back. They were the talk of the Minnesota media market, for once.
While fans were disappointed after the Game 4 exit against Houston, fans and media believed they could build on that short run in the coming years to go even further. If they add a couple of impact players to their terrific core, the sky should be the limit for this team. But it now seems unlikely they will make the necessary additions to elevate the team from good to great. 
Harsh Roster Ramifications
The consequences of slashing payroll during a "winning window" are severe. To make regular season success as likely as possible, depth is critical. We saw that in 2023 when Michael A. Taylor, Donovan Solano, and Kyle Farmer stepped up as leaders off the field and essential contributors on the field. With a slashed payroll, veteran depth becomes a luxury that the Twins can't afford. Without that veteran depth, if things get nasty on the injury front, things will likely spiral like in 2022.
The top of the roster will suffer, too. If ownership just held payroll to what it was in 2023, the Twins would have the flexibility to add at least one more marquee talent. Under these conditions, they will likely lose a key player like Jorge Polanco. If they want to add impact talent, it'll have to be via trade, costing them prospects critical to maintaining a cheap yet successful team. Whichever route they opt for, choosing to reduce your total available assets is detrimental to any team. 
Penny Pinching Billionaires
The Twins cite diminished television revenue as the reason for cutting the payroll. While this is a reasonable explanation, there are also reasons they shouldn't do this from a business perspective. Making a playoff run brings in extra revenue with a sold-out ballpark and more expensive tickets. Further, enthusiasm leads to a more extensive season ticket base, a key revenue driver. By retreating from this team financially, enthusiasm will go down, and so will ticket sales- not just in 2024 but for multiple years. 
The Twins point out that they pushed payroll to franchise-record highs in recent years. But nobody should thank the Pohlads for spending in line with their market size for the last few years. They underinvested during the Joe Mauer and Justin Morneau era and retreated from spending during a long and hard rebuild in the following years. The criticism they receive for not spending has been merited for most of their time owning this team and is merited now.
The Pohlads are the second-richest family in Minnesota. The Twins aren't their primary source of income. No Pohlad, present or future, would be impacted if they chose to go into the red to invest in this team, and we won't even know if they go into the red because their books aren't public. This family is wealthy beyond our imagination and owns a constantly appreciating asset that happens to be our favorite baseball team. If they want us to believe them that they are good stewards of this multi-billion dollar "community asset," they should show some respect for the community and try to win a World Series- instead of sucking any bit of profit out of the organization that they can.