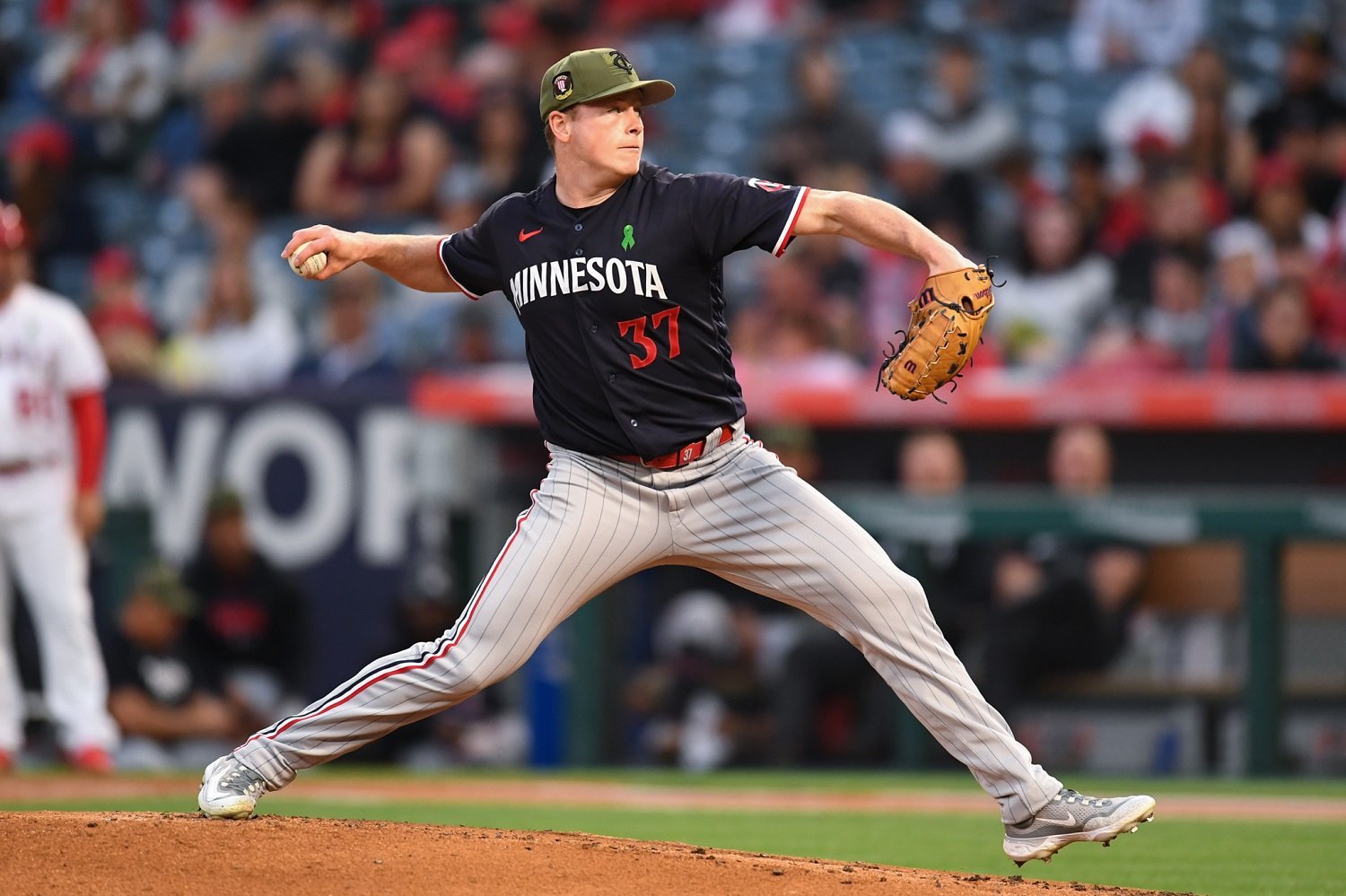 Image courtesy of © Jonathan Hui-USA TODAY Sports
Last season saw the Minnesota Twins call on Louie Varland in a big spot on the road facing the New York Yankees. He went on to make five starts and posted a 3.81 ERA. He more than held his own, and while it wasn't expected for Varland to crack the rotation out of spring training, he was a key part of the starting rotation depth established by Minnesota.
Fast forward to where Rocco Baldelli finds his club now, with both Tyler Mahle and Kenta Maeda n the shelf, and Varland is squarely in line for an extended run. It's not often you find success through the lens of a 15th round pick, but this is both Varland's and the Twins opportunity to showcase his development.
Derek Falvey was hired on the premise of his pitching development prowess when with the Cleveland Guardians. Minnesota has not seen as much of that take place during his tenure, but Varland gives the organization another option alongside Bailey Ober. While Varland has yet to see the same level of success, there is reason to believe he could take another step forward.
Through five starts and 28 innings this season, Varland has compiled a 31/7 K/BB, which is a significant jump from the 7.3 K/9 he posted a year ago. Although there is not a substantial amount of familiarity developed with opponents yet, he has shown that attacking the game's best hitters is not something that deters him. Aaron Judge struck out in their first matchup last season (before eventually taking him deep), and Varland got both Mike Trout and Shohei Ohtani (before the designated hitter went yard) on Saturday night in Anaheim.
Coming into professional baseball from a Division II school in Concordia, St. Paul, Varland saw a very real jump in talent, but also a jump in development. He went from being a low-90's arm to pushing his fastball into the mid-90's and having nearly reached triple-digits. This season Varland has averaged 95.2 mph on his fastball, which is nearly a two mph jump from where he was a year ago.
Leaning into his repertoire a bit more, the former Golden Bear has upped the slider usage in 2023 and his whiff rate is nearly double what it was last season. Varland is also allowing less contact, dropping down to 74.3% while having a good amount of success out of the strike zone. 
The biggest thing holding him back continues to be the longball, and that has gotten worse than last season. Despite keeping opposing hitters below a 40% hard hit rate, far too often Varland's offerings are being barreled. Owning a 6.4% barrel rate last year and now jumping up over 10%, he's seen nearly one-quarter of the balls put in the air against him leave the yard. Having allowed seven homers in just 28 innings this year, it's often been the longball that has done him in.
Fortunately Varland has kept the bases clean when giving up home runs. With a tight walk rate and manageable hit rate, the big fly has often been limited to solo shots. Still though, with the threat of a single swing doing significant damage at any point, it's a part of his game that can be improved upon as he grows.
Without the pedigree of a big school and a background with significant technology to work through, it seems fair to reason that the developmental curve could be longer here. Varland has impressed at each level, and he's taken measurable strides forward every season in pro ball. This wasn't an expected path, but he's certainly established himself as a capable fifth arm in a Major League rotation. The hope for Minnesota is that he can continue to grow and tweak his game, potentially serving as a number three down the line.
What the Twins get from Varland this season remains to be seen, but he has a sizable opportunity in front of him. As a tireless worker and someone who has shown an ability to make consistent improvements, watching him grow at the highest level could be a good amount of fun in the year ahead.