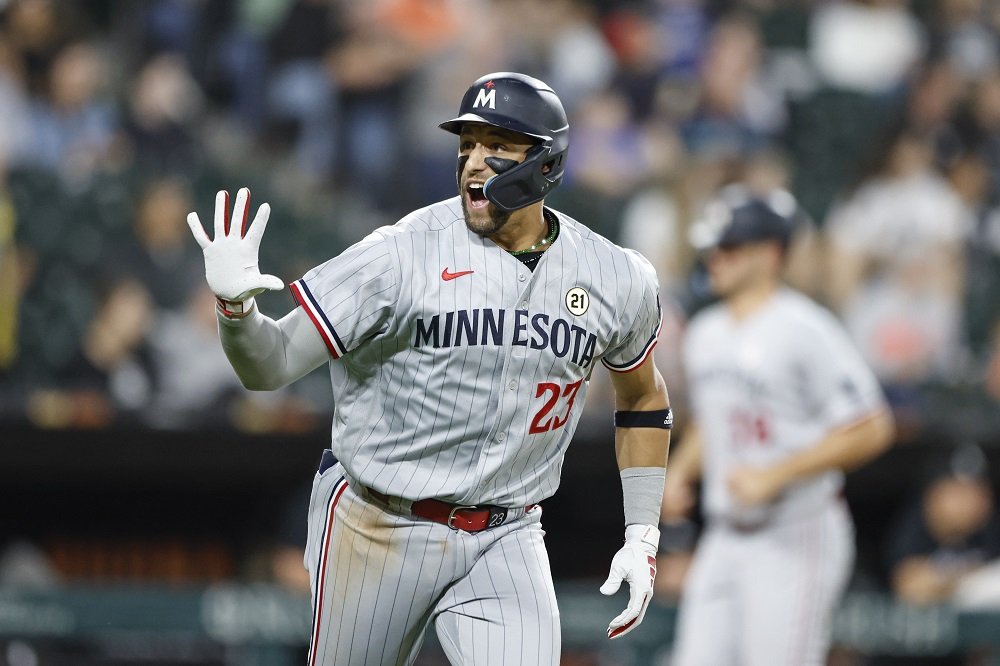 Image courtesy of Kamil Krzaczynski-USA TODAY Sports
Stories of the demise of Minnesota's farm system were perhaps exaggerated.
The Twins did notably move a handful of good prospects in the past few years to acquire the likes of Sonny Gray, Tyler Mahle and Jorge Lopez, with the last two deals of course not looking so great at the moment. With the exodus of some young talent, there was chatter about Minnesota's system taking a hit, and it certainly did from a depth perspective. 
However, I think we've seen enough from a handful of Minnesota youngsters to still feel pretty good about the system, both from a real baseball and fantasy perspective. In terms of minor league prospects, Brooks Lee and Walker Jenkins continue to look like studs, while David Festa has gotten off to an encouraging start at the Triple-A level, and Austin Martin has rehabbed some of his stock with the Saints this season as well. Emmanuel Rodriguez is also still an intriguing long-term prospect for dynasty players.
Looking at players already in the majors, Royce Lewis is the obvious dynasty riser, and I have more on him below. Edouard Julien has also seen his stock climb dramatically in the past year. Meanwhile, Joe Ryan, Pablo Lopez and Jhoan Duran aren't quite as young as Lewis and Julien and perhaps don't have as much upside in dynasty formats, but all three have boosted their outlooks this year. The trio is still in their 20s, so plenty of good baseball should be ahead. Overall, these five players are likely the best Minnesota dynasty targets when considering both immediate impact and long-term upside. It's a pretty solid group that fantasy managers can feel comfortable investing in.
Let's now take a look at some key injury updates, plus which Twins have their stock rising and falling from a fantasy perspective due to results from the past week as well as a prospect to keep an eye on. I'll also take a look at the week ahead and highlight some matchups to target and avoid.
Twins Injury Updates
Michael A. Taylor
Expected return: This week
Taylor took batting practice and ran the bases last week as he recovers from a hamstring strain. It looks like a return is imminent, which could cut into Willi Castro's playing time in center field.
Brock Stewart
Expected return: Sept. 22
Stewart began a rehab assignment with the Saints on Friday and looked sharp. He'll likely get in a few more appearances for St. Paul, and assuming everything goes well, he should return from his elbow issue when the Twins start their final homestand of the season. 
Chris Paddack
Expected return: Late September
Paddack tossed 58 pitches in a rehab game for Double-A Wichita last week after previously logging 54 pitches in his first rehab game. The righty is still hoping to help the Twins at the end of the regular season and possibly in the playoffs, with a long-relief role his likely landing spot as he returns from Tommy John surgery.
Byron Buxton
Expected return: Late September
Buxton's hamstring injury  remains a mystery hanging over the team. He was pulled from a rehab assignment in early September and has yet to pick it back up. He could still return at the end of the month and give the squad a jolt, though fantasy players shouldn't count on anything more from Buxton at this point.
Nick Gordon
Expected return: Late September or 2024
Gordon suffered a fractured tibia earlier this year but could work his way back before the regular season ends. He started a rehab assignment with the Saints on Friday and will likely need a little time there considering his long layoff. Gordon could give the Twins a dynamic bench option for the postseason but likely won't have any more fantasy impact in 2023.
Stock Rising: Royce Lewis
ESPN ownership: 48%
We're running out of words to describe what Lewis has been doing. He's now batting .311 this year with a .923 OPS, 14 home runs (including four grand slams!) and 51 RBI across 55 games. Over the course of 162 games, that comes out to around 41 long balls and 150 RBI. I still can't believe that his ownership is under 50%, and managers who've enjoyed Royce's run could very well be in line to win their leagues. Lewis should rocket up draft boards in 2024, particularly in dynasty formats considering he's still only 24.
Stock Falling: Dallas Keuchel
ESPN ownership: 1%
Keuchel is not scheduled to start again this season as he shifts to a relief role, which makes room for Bailey Ober's return to the rotation. The veteran southpaw had a few nice moments, though he has an 8.03 ERA across his last three starts, so he may be running out of gas. Either way, his fantasy value is essentially zero as a long reliever, so managers should look elsewhere.
Prospect Spotlight: Walker Jenkins (Single-A Fort Myers)
Jenkins quickly earned a promotion from the Florida Complex League, and the 18-year-old has continued to mash for his new team. Across 12 games for Fort Myers, he's batting .392 with a 1.054 OPS and 10 RBI. The offensive talent is clear, and while Jenkins likely won't appear with the Twins until 2025 at the earliest, he's a definite target in dynasty formats.
Upcoming Week Matchup Notes
3 Games vs Cincinnati (Connor Phillips, Ben Lively, Hunter Greene)
3 Games at Los Angeles Angels (Griffin Canning, Tyler Anderson, Reid Detmers)
The Twins will face the Reds for the first time this year, which means getting a closer look at former Minnesota prospects Spencer Steer and Christian Encarnacion-Strand. While Cincinnati has been strong on offense, the pitching matchups don't look particularly daunting. Same goes for the Angels, so it could be a big week for Minnesota hitters.
Two-Start Starting Pitchers
Joe Ryan is set to start Monday and Sunday. As noted, the Reds are a tricky matchup, but if Ryan can navigate that one, he could be in line for two wins this week with the Angels struggling lately and playing without both Shohei Ohtani and Mike Trout. 
Twins Fantasy Hitters to Watch
Greene probably has the best pure stuff of anyone Minnesota will face this week, but no one on the slate looks too scary. Phillips has an ERA over 8.00 and is currently at Triple-A, while Lively and Anderson have ERAs above 5.00. Those are the spots I'd focus on in DFS. Phillips and Lively are both righties, so Julien, Max Kepler and Alex Kirilloff are good targets. Anderson is a lefty, so Lewis and Carlos Correa probably deserve a bump. Frankly, Lewis looks matchup-proof at this point, and with middling pitchers on the docket this week, he could be in line for a huge week. As noted above, he should probably be more widely owned, so now could be a good time to scoop Lewis up if he's still out there in your league.
Willi Castro also merits a quick shoutout, as he's batting .304 this month with a pair of home runs and stolen bases. He's been dynamic for Minnesota when given the opportunity, and while the return of Taylor could cut into Castro's role, I think he's a good bargain option in DFS whenever he's in the lineup.
Which Twins are you most excited about in dynasty leagues? Let me know in the COMMENTS, plus post your thoughts on the matchups this week.