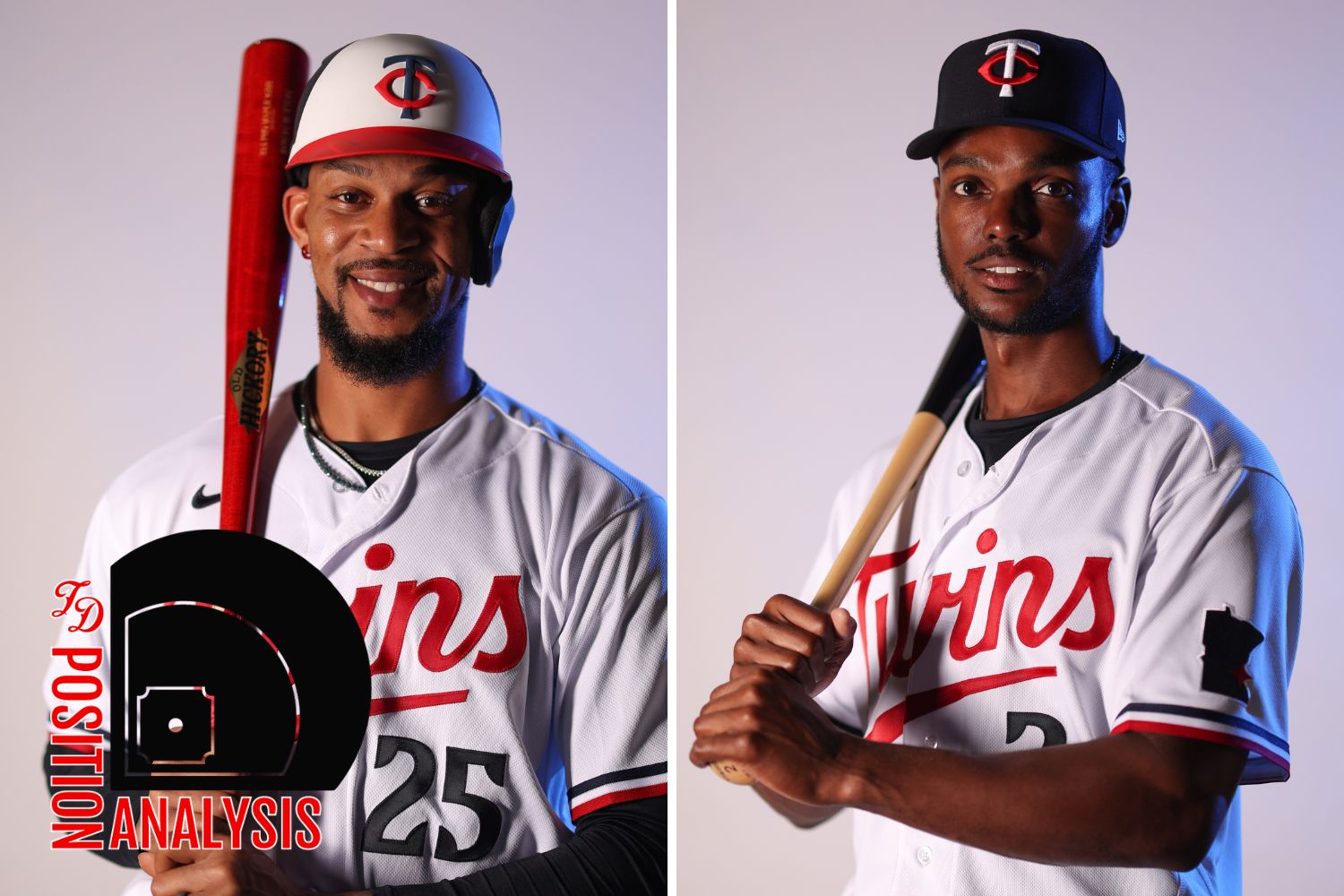 Image courtesy of Nathan Ray Seebeck-USA TODAY Sports
Projected Starter: Byron Buxton
Likely Backup: Michael A. Taylor
Depth: Joey Gallo, Nick Gordon, Gilberto Celestino
Prospects: Royce Lewis, Emmanuel Rodriguez, Yasser Mercedes, 
THE GOOD
Since 2019, Buxton ranks sixth among all MLB center fielders in fWAR, which is pretty amazing considering that he's played in roughly half of his team's games (51%) during that span. Even at half-capacity, Buxton is among the most valuable handful of players in baseball at a crucial defensive position.
Minnesota's utmost priority is finding a way to keep Buck on the field as much as possible, and they know that. New head trainer Nick Paparesta came aboard this past offseason knowing it would be his primary directive. 
The Twins are taking it slow this spring with Buxton, who has yet to appear in an exhibition game and may see very little action on-field until Opening Day despite being ostensibly healthy.
The Twins know how much Buxton means to their lineup. And while his bat is a game-changer, they also know that a big portion of his peak value derives from top-tier defense in center field. Even if he's lost a touch of speed and (tried to) cut back on hazardous risk-taking, Buxton remains one of the rangiest and overall outstanding defenders in the game when he's out there.
He takes away runs. Lots of them. Add that to all of the runs he's creating with his elite power and you've got the recipe for one of the most impactful players in baseball.
The Twins need to balance keeping him on the field as much as possible with adequately protecting his body and maximizing his chances of helping the team all season. This might mean adopting a usage model with built-in days for DH and rest. It's a luxury the club can more easily afford thanks to one of their most underrated offseason moves: the acquisition of Taylor from Kansas City.
Taylor is the closest thing you'll find to Buxton's equal defensively in center. He's a lightning-quick playmaker with great instincts and a big arm. Another human highlight reel covering the vastest expanse of the baseball field.
As Nash Walker pointed out, Taylor leads all MLB outfielders in Defensive Runs Saved since the 2020 season. Buxton ranks third on that list. Sandwiched between them? Gallo, whom the Twins also insist they're factoring in as CF depth even though he's played just one game there since 2019. 
Between those three, the Twins can be fairly confident they're fielding a great glove in center almost every night, setting the tone for what could be the best defensive outfield in the majors. 
This experienced and proven depth will hopefully prevent the Twins from needing to press players like Gordon and Celestino, who combined to make 98 starts in center field last year, beyond their means. Those two are now padding a robust depth chart, further bolstered by prospects like Lewis and Austin Martin who might eventually profile best in center.
THE BAD
The looming downside in center field, as it ever was: Byron Buxton's likelihood of missing significant time. Last year seemed to hammer home the inevitability of attrition for Buxton, who managed to make his first All-Star team while leading the team to a strong start before, once again, succumbing to multiple injuries that kept him off the field in September.
Is the knee issue that plagued his 2022 season behind him? For that matter, can we count on his right hip to hold up after sustaining serious strains in back-to-back years? 
Outside of those carryover concerns ... Is there any feasible preventative measure that can stymy the crimson tide of injuries relentlessly keeping Buxton off the field? 
These are the questions no one likes to ask, and Byron certainly doesn't like to answer. Unfortunately, they overwhelmingly control the team's fate. That's always going to be true. No one else can replicate or replace what a semi-healthy Buxton brings to the table.
What the Twins did do this offseason is work to ensure the table won't be bare without him present.
THE BOTTOM LINE
Last year, when analyzing the center field position for the Twins ahead of the season, I concluded: "Their immediate depth behind Buxton is questionable, which is quite troubling all things considered."
Questionable was being kind. Buxton ended up missing a ton of time – unfortunate but not unexpected – and the ill-prepared Twins were forced to give more than two-thirds of their center field starts to: Celestino, Gordon, Mark Contreras, Jake Cave, and one sadly unforgettable appearance from Lewis.
This has been a continuing trend for the Twins over the years, and a costly one. All the way back in spring training of 2017, while covering camp in Fort Myers, I wrote an article underlining the urgency of strong contingency plans for Buxton. Even then, when he was 23 and less than two years into his career, the writing was on the wall. He was never going to dial back the aggressive style that helps make him special.
"I can't really be worrying about getting hurt out here," Buxton told me. "I'm focused on being myself between those lines instead of trying to be somebody I'm not."
His top backup that season was Zack Granite. In many years since, we've seen plenty of other flawed stopgaps in center, but never a player truly capable of substantially lessening Buxton's void.
At long last, the front office seems to have learned its lesson. Buxton's top backup is now a defensive whiz who's started 262 MLB games in center field over the past two seasons, and won a Gold Glove there in 2021. (That's in addition to Gallo, Gordon, Celestino, and the multitude of CF-capable prospects at all levels of the system.)
Michael A. Taylor is a joy to behold in center. Here's hoping we see very little of him there in 2023.
Catch Up On Our Position Preview Series: