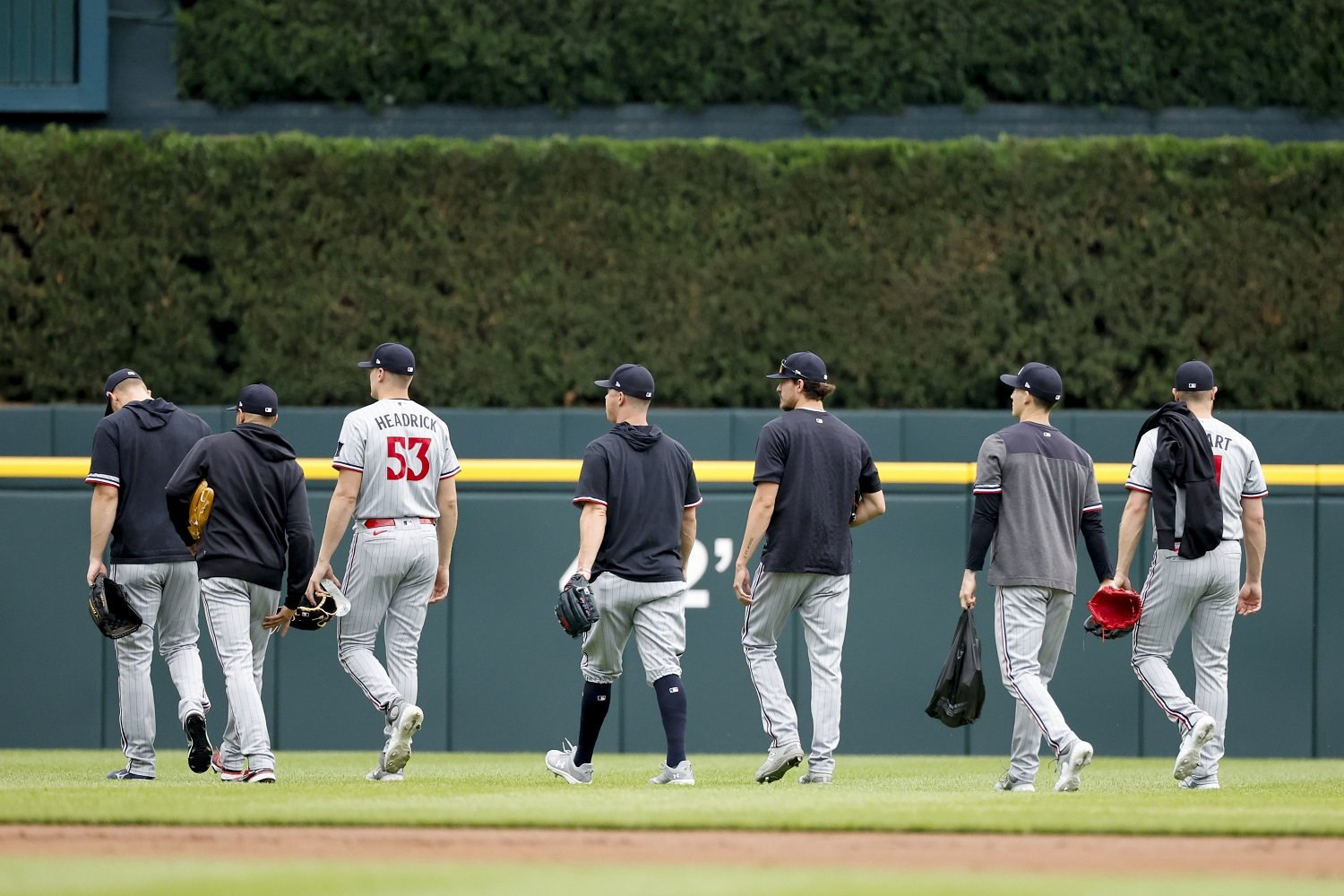 Image courtesy of © Rick Osentoski-USA TODAY Sports
On the field, fans watched Rocco Baldelli and the Minnesota Twins play American League Central Division-winning baseball. The 2023 squad ended an 18-year postseason drought, and they swept a Toronto Blue Jays team while besting former ace Jose Berrios in an elimination game.
Behind the scenes, pitchers like Chris Paddack and Jorge Alcala were working their way back toward the active roster with an eye on competing alongside their teammates. Paddack ultimately realized the goal and looked great when deployed in September and October. As those bullpen sessions took place, I connected with Bryan Ludwig, a catcher doing it all behind the scenes.
Despite working as an attorney, Ludwig has had the pleasure of working with the Twins as a bullpen catcher. Wondering what that experience has been like, what he has seen, and especially the development of arms this season, it seemed like a good time to connect.
Twins Daily: How do you wind up as a bullpen catcher in a major league organization? What does your baseball background look like?
Bryan Ludwig: I grew up in Woodbury and played ball at Woodbury High School ('04). I attended Augsburg University, where I played ball as a C/1B/DH (2004-2008). I also played for and ran the St. Paul Mudhens (Class A Townball) from 2005-2020, managing the team from 2010-2020. Since 2020, I've been playing summer ball in the Federal League (35+) for the Lakeville Lobos and moonlighting with Baseball 365's townball team.
I've been a coach with the Minnesota Twins Youth Training Academy and the RBI Program since 2010. I work traveling camps/clinics in the spring/summer and train catchers in the offseason. I have also worked in club baseball as a head coach and trainer. Mostly with Great Lakes Baseball Academy until recently. Having a seven and nine-year-old is pulling me into the coach-dad realm lately with little league and softball. I've also been a volunteer assistant coach back with Augsburg, working with their catchers in fall ball and early spring, and since 2020, I've been working with the Midwest Speed Softball Club, training their catchers during their winter season. 
Rehab bullpen catching is a story of "right place, right time, right person."
I had a unique skill set with unique connections that enabled me to meet a unique need. I was just a volunteer with the Twins academy in 2009, trying to log hours for my volunteer requirements at law school. The Twins' lefty specialist bullpen thrower was the one running those camps at the time, and leading up to the start of 2010, he got wind that the Twins were asking around about having a local catcher on-call to be a bullpen guy. The ask was to work with the training staff as guys rehabbed and fill in for home games as needed. This was a completely new role with the christening of Target Field. While they were in the Dome, an injury was a one-way ticket to Ft. Myers to rehab because no on-site facilities were available. With Target Field opening and a state-of-the-art training room and team doctors on-site, they needed someone who could work out with the pitchers when the team was on the road, during off days, or when the full-time bullpen catcher was unavailable or needed a break.
It was late March 2010, and I got a call from the Twins bullpen guy in the middle of one of my classes. He explains the situation and asked if I would be interested in reporting to Target Field the following week to work with Scott Baker, Nick Blackburn, and Carl Pavano on the field so they could get on the big mound before the home opener.
The rest is history from there, I have been in this role since, except pausing during the pandemic when the organization limited who was in/around the clubhouse.  I am grateful for the schedule flexibility my job as an attorney has provided to enable me to stay connected to the game, even in this small way. I have gotten to meet and interact with many amazing baseball people, and I hope to continue doing this as long as I am physically able. 
TD: When you get behind the plate for the Twins, what goes into that preparation? Are you working with anyone from the team to ensure you know what each guy wants to do?
BL: There are two routes this goes: the in-game route and the rehab route.
In-game, the preparation for the catcher is minimal. It is dictated by the situation and the call from the dugout. Also, each pitcher has their own preparation timeline. Unless it is a "get hot immediately" call, you have a general idea of who will be getting up depending on the inning and the situation. The bullpen coach and pitcher control the pen, but most of these guys have such a finely tuned internal clock they know exactly how long it will take to get hot as soon as that phone rings. Most guys will start throwing plyo balls and stretching around the 5th/6th inning, and once they get on the mound, it is anywhere between 15-25 pitches to get hot. The other job in-game is warming up left field. Otherwise, the bullpen is just baseball guys being baseball guys on the bench.
For rehab work, it is a little more regimented. The training staff establishes a back-to-throwing program with built-in bullpen days. On those days, there is usually some pre-bullpen treatment and workout for the pitcher: long toss to a specific distance, some throw a short flat ground pen to work on release points and grip, and then a full pen on the big mound or out in the home bullpen. Everything monitored closely to ensure all the movements and metrics are improving or back to normal for a guy before they can go out on minor league assignment for a start or in-game relief work. The training staff I have worked with have been amazing at letting me use of all the tools and resources the big leaguers get to use to get ready to throw. On rehab days, I check in with the trainer to get the session plan, do some light band work and stretching, get on my shins, and head out to the first baseline for long toss. (I'm a Minnesota Townballer. Show-n-go is how we roll.) 
TD: This season, we saw the Twins put together one of their best starting rotations in franchise history. What was it like to work with those guys, and how was their stuff different than what you had seen in the past?
BL: There is no denying that this was one of the most talented staffs the Twins have had in a long time. Aside from pure talent, one of the things that made this staff unique is that each pitcher, starting or relief, was uniquely complimentary to every one of the other guys on the roster.
Pablo Lopez and Jhoan Duran did it with power and flair, Sonny Gray and Caleb Thielbar were bulldogs with control and finesse. Up and down the staff, there was a near-perfect balance of power and finesse, and guys like Pablo and Sonny took the lead on establishing a bulldog mentality across the staff. As an inside-outside observer, there were no wasted opportunities, and they attacked offenses versus just trying to hold an offense off. A lot of credit also goes to the Twins pitching coaches who fostered and supported that approach and gave all of these guys the tools and information necessary to find another edge or slight adjustment to add to their personal pitch arsenal. When you've seen big league "stuff," it is all elite, and pitching has outpaced hitting in how it is tracked, analyzed, and adjusted. I can talk about my thoughts on that for hours. Still, I think what made this staff so difficult was the consistency of its makeup that gave opposing offenses the sense that getting a starter out of a game only meant a constant barrage of difficult arms from the pen and on the days the starters went deep, they were equally unhittable. 
TD: Having done work with some of the guys rehabbing with the intention of making it back for the postseason, what tipped you off that they may be ready? How did their stuff look?
BL: There are all kinds of measurables and metrics (spin rate, pitch depth, pitch shape, velocity, vertical break, horizontal break, etc.) that can give the team confidence that a guy is ready to step back on a big league mound. Those are all invaluable data points, but from my position, there is also a perceptible change in how a particular pitch moves or the snap of my mitt that I can tell the last piece has clicked into place.
For some guys, it's that "out pitch" that bites a little harder, that changeup that disappears like a magic trick at 59 feet, or the fastball that has little lift that tells you "this guy is back." Sometimes, it's even a simple look they give after they let go of that breaking pitch at 100% for the first time, and it has the life and movement they expect. When they start repeating that output on the rehab mound, you can visibly see a weight lifted off their shoulders. I think any catcher would agree, when a pitcher is dialed in and that glove snap is just a little bit louder, you just have the intuitive sense that no hitter will be able to touch it. For all the data and technology, there is still a lot of raw feel in the moment that informs that player that they're ready. The tech, trainers, and coaches will confirm it, but that moment is always fun to be even a small part of. 
TD: You have seen plenty of pitchers while working behind the plate. Is there a guy or a pitch that jumps out as something that has always just been special?
BL: 2014 All-Star Game aside (that is another fun story), It is not velocity that impresses. It is the movement and pinpoint control these guys have on pitches that can move 22 inches horizontally or drop 14 inches and still catch a corner. For the Twins, if you want to talk about wipeout pitches, it is tough to beat a Francisco Liriano slider or a vintage Joe Nathan curveball. However, that Duran splinker is, in fact, some ridiculous voodoo magic.
Regarding a special moment, I spent an entire summer with Michael Pineda as he rehabbed from TJ. Seeing him progress and become a force in the rotation in 2019 was incredible. That grind was real, and he poured everything he had into it. That human element gets lost sometimes with fans who don't get to see that day-to-day drive and passion first-hand. 
TD: For Minnesota going into 2024, how confident should the quality of depth returning make fans feel about the pitching? Why can this group go out and again put up strong numbers?
BL: It will be tough to replace some of the departing arms, but there is real buy-in from the returners to what the training and coaching staff want to develop with these guys individually and as a cohesive unit. The seasoning of some of our younger arms, along with the sustained presence of key vets, makes for a firm foundation to build off of the successes of this season. The bullpen will remain a force, and will be anchored by one of the most electric closers in the game (Duran), but Paddack is the guy I am most excited about. It is a bit of a wild card at this point, but if the Twins don't re-sign Gray and assuming a healthy season, I think his range of outcomes starts at something like 70-80% of what Sonny gave this rotation to a seamless replacement from Paddack in 2024. In both circumstances, Twins fans should be excited by that. 
TD: End it with something fun. What has been one of the best moments or stories you can share since working in this role?
BL: I had the honor of serving as one of the bullpen catchers during All-Star Weekend in 2014. I was assigned to the World team during the Futures Game and the American League during the workout day, Home Run Derby, and All-Star Game. I was in the World bullpen for the Futures game and got to warm up a young stud named Jose Berrios before his start.
This is where I have to get romantic about baseball because it is rare that you recognize one of those "stop and take it in" moments, but that was certainly it. During the game, I got to work with players who span the globe, some of whom didn't speak English. Each of the pins on the globe, MLB team affiliations, and varied languages didn't matter on that day because we all spoke the same language of baseball. There were no cross-ups. No missed signs. Just a couple of guys having a catch on a warm July evening with each new pitcher that entered the game. 
There are many other moments and experiences from that weekend and the years of being granted the opportunity to strap on the gear and play this small role with my favorite childhood team. That particular experience sits at the top for me because it was the perfect baseball microcosm. At the end of the day, players will come and go, and teams will rise and fall, but the game holds this baseball community together. The game lights us up every February as teams report to Spring Training and a new season begins. From the tee-baller in a jersey five sizes too big to the big leaguer catching the last out of the World Series, the game is the heartbeat. 
****
Baseball is a sport everyone experiences differently, and the barrier to entry is so low. While mastering the game is an art form, appreciating it is beyond a straightforward understanding. Bryan Ludwig does something fun outside of his regular work schedule, and hearing how that has all played out was quite the experience.