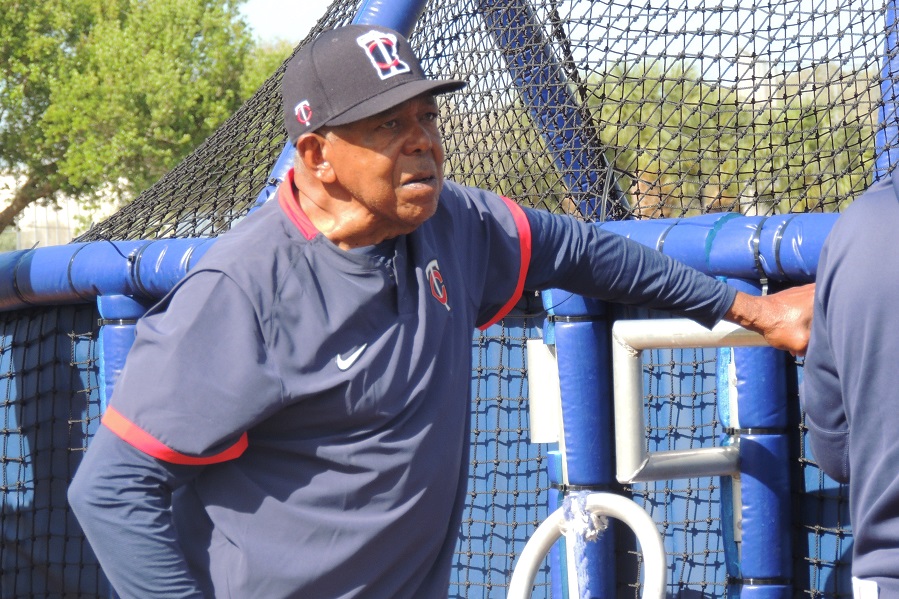 Image courtesy of Seth Stohs, Twins Daily
As you know, the Twins came to Minnesota from Washington DC where they were known as the Senators. In 1961, they won just 70 games. Then they won 91 games each of the next two seasons. 1964 was disappointing as the team finished just below .500. In 1965, the Twins made it all the way to the World Series where they lost in seven games to the Dodgers. They won at least 89 games the next two seasons but then fell below .500 again in 1968. In 1969, under Billy Martin, they won 97 games.
The 1960s was the Twins first decade in Minnesota. As you look through the top hitters below, you might want to ask yourself if the 1960s Twins All-Decade team might just be the best of the six decades.
Share your thoughts. Who did I miss? Who would you name the player of the decade?
THE HITTERS
C - Earl Battey (1961-1967)
853 games, .278/.356/.409 (.765) with 115 doubles, 76 homers, 350 RBI.
Battey spent parts of five seasons with the White Sox but came to the Senators in 1960. That season, he won his first Gold Glove Award. In his seven seasons in a Twins uniform, he was an All-Star in four seasons. He won two more Gold Gloves. He finished in the top ten in MVP voting twice.
1B - Harmon Killebrew - 1961-1969
1,305 games, .266/.388/.547 (.935) with 164 doubles, 362 homers, 933 RBI.
When the Twins came to Minnesota, he had already spent parts of seven seasons with the Senators.In the '60s, he was an All-Star all but one year. His 362 homers were best in the organization by over 150 homers. He hit 39 or more homers in seven of the seasons and led the American League five times. He won the 1969 MVP award and finished in the Top 5 in MVP voting five times.
2B - Rod Carew - 1967-1969
387 games, .299/.346/.408 (.754) with 79 doubles, 17 homers, 149 RBI.
Carew didn't debut until 1967, but he made an immediate impact. He played in all three All-Star games. He was the 1967 AL Rookie of the Year. He led the league with a .332 batting average in 1969. It was just the beginning for the future Hall of Famer whom the American League batting championship is now named after.
3B - Rich Rollins - 1961-1968
888 games, .272/.333/.398 (.727) with 117 doubles, 71 homers, 369 RBI.
Rollins was an All-Star (twice). He finished eighth in MVP voting. He had at least 40 extra-base hits each year from 1962 through 1964. As the decade advanced, he became more of a part-time, platoon player.
SS - Zoilo Versalles - 1961-1967
1,065 games, .252/.299/.387 (.686) with 188 doubles, 86 homers, 401 RBI.
Versalles had played parts of two seasons with the Senators. He became a regular in 1961. He was an All-Star and Gold Glove winner in 1963. In 1965, he was an All-Star, a Gold Glove winner, and the American League MVP. That season, he led the league in doubles (45) and triples (12). It was the third straight year he led the league in triples.
LF - Bob Allison - 1961-1969
1,189 games, .255/.361/.482 (.843) with 162 doubles, 210 homers, 635 RBI.
Allison debuted with the Senators in 1958 and was an All-Star and the AL Rookie of the Year in 1959. He was a starter throughout the 1960s. He was an All-Star in 1963 and 1964, his two best seasons. He hit over 30 homers twice and over 20 homers seven seasons in the decade. His .911 OPS led the American League. He was a leader of the 1965 World Series team and his catch is still one of the great highlights in World Series history.
CF - Jimmie Hall - 1963-1966
573 games, .269/.334/.481 (.815) with 73 doubles, 98 homers, 288 RBI.
Hall debuted as a 25 year old in 1963 and finished third in Rookie of the Year voting. He hit .260 with a career-high 33 homers. He was an All-Star in 1964 and 1965. A left-handed hitter, he started just two of the seven World Series games in 1965 because he didn't play in the games started by Sandy Koufax or Claude Osteen. He hit 20 or more homers in all four of his Twins seasons before he was traded to California after the 1966 season.
RF - Tony Oliva - 1962-1969
912 games, .308/.359/.500 (.859) with 213 doubles, 132 homers, 535 RBI.
Oliva played in 16 games between 1962 and 1963. In 1964, he hit .323 and was the AL Rookie of the Year. He won batting titles his first two seasons. He was an All-Star in 1964 and for each season through the rest of the decade. He twice finished runner up in AL MVP voting, including to Versalles in 1965. He led the league in Hits four times during the decade and in Doubles four times. His 213 doubles was tops in the organization.
DH - Cesar Tovar - 1965-1969
631 games, .271/.329/.371 (.700) with 108 doubles, 25 homers, 189 RBI.
Obviously there wasn't a designated hitter in the 1960s, but we are going to have one… because, well, why not? With the hitters in this lineup, Tovar likely wouldn't be the regular DH in actual games. He would play all over the diamond with different guys DHing each game. Tovar debuted in 1965. In 1966, he became a regular. In 1967, he led the league with 164 games played (and plate appearances and at-bats). He received MVP votes each season from 1967 through 1971.
What an impressive group of players, led by several Hall of Famers, Twins Hall of Famers and Baseball Hall of Famers.
Check back tomorrow for the Twins Pitchers of the Decade of the 1960s.