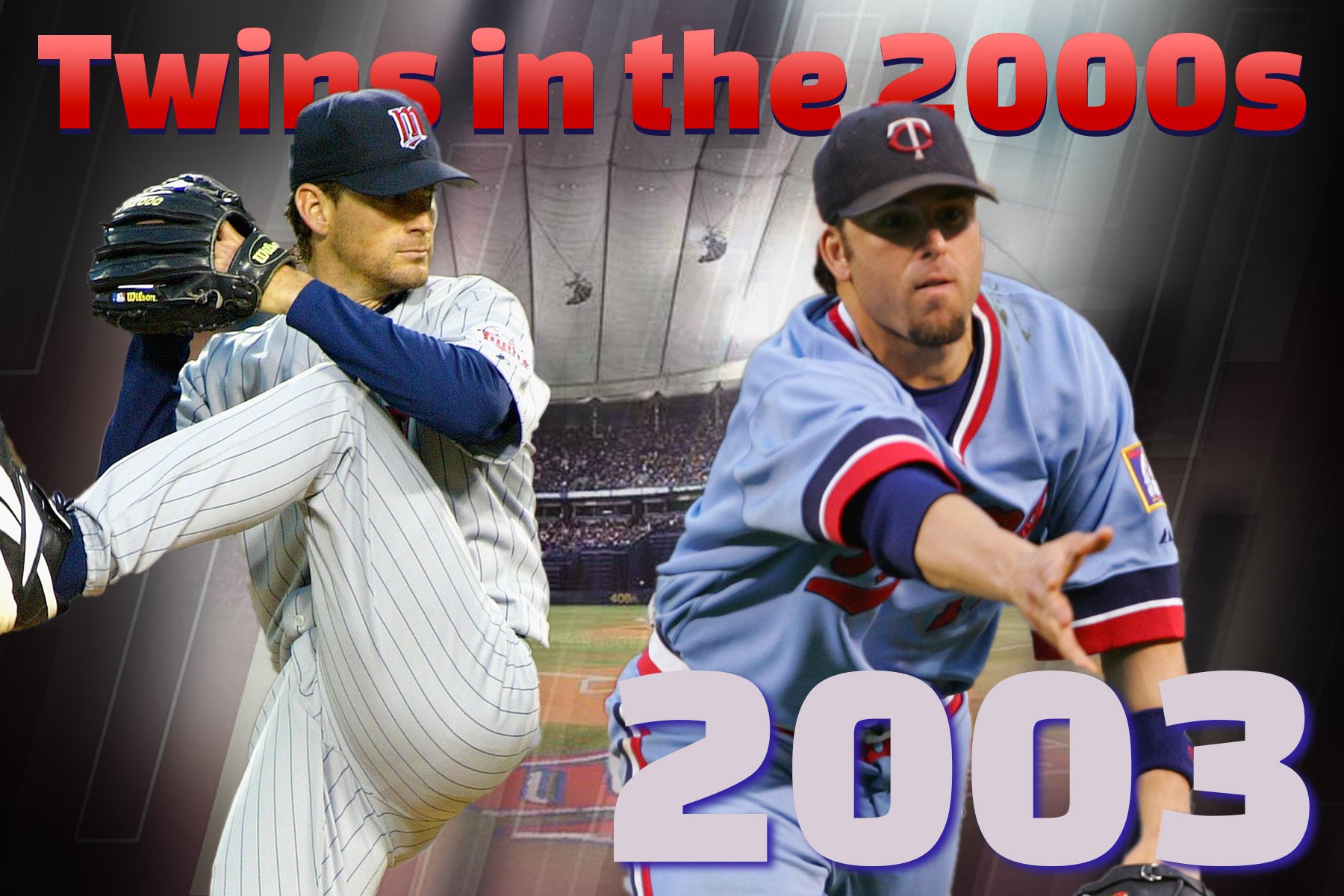 Let's set the stage as we transport back to a time in Twins history that is etched in my mind, but probably considered ancient by many reading this.
The year is 2003. Ron Gardenhire is in his second year at the helm as Twins manager, fresh off the team's first playoff berth in a decade and an ALCS run. His team gets off to an uninspiring start and slumps into the All-Star break, trailing in the division by 7 ½ games in mid-July when Terry Ryan pulls the trigger on one of the most legendary deadline trades in franchise history.
Looking back now at that fascinating journey of a 2003 season, there are a few characteristics that strike me in relation to this year's Twins team. 
Good pitching, bad hitting
The 2003 Twins were also carried by their pitching staff, although the strengths were reversed. That team had more of an ordinary rotation, at least up until Johan Santana finally got unleashed as a starter in July, but the bullpen was absolute dynamite. Led by All-Star closer Eddie Guardado and rejuvenated setup man LaTroy Hawkins, Twins relievers ranked second in the AL in WPA for the season. 
The offense? Not so helpful. At the All-Star break, Twins hitters ranked 18th in the majors in runs scored and 21st in WPA. As the losses mounted in July – eight straight heading into the break – it was clear the team needed a spark. 
One conspicuous weakness in the lineup, at least in the eyes of Ryan and Gardenhire, was the lack of a prototypical guy at the top of the order.
Lacking a traditional leadoff hitter
Since the start of the previous season when Gardenhire took over, Jacque Jones had been serving as Minnesota's regular leadoff hitter. He was hardly of the typical mold: an extreme free-swinging power hitter with lowly walk rates and middling on-base percentages. 
The Twins seemed to like the fact that Jones presented an immediate threat, able to put the Twins up 1-0 right out of the gates (not unlike Max Kepler today), but even Gardy – who hardly embraced the value of OBP value atop the lineup – yearned for a more traditional catalyst who could work counts and control the strike zone. 
This year's Twins also find themselves without a traditional leadoff hitter, with odd fits like Kepler and Joey Gallo regularly rotating through. Similar to the 2003 team, there's also a noticeable lack of quality right-handed options, a perception that back then compelled Gardenhire to (painfully) bat Jones leadoff against lefties, against whom he horribly struggled.
I'm hopeful that the 2023 Twins will receive a big jolt in this regard with the looming return of Royce Lewis, who has the makings of a righty-swinging spark-plug atop the order. But that's a lot of pressure for an untested rookie. The Twins might need to look outside for their lineup jolt, and the 2003 season offers one of the greatest precedents ever.
Upgrading with a big trade at the deadline
On July 16th, the Twins traded outfielder Bobby Kielty for Toronto's Shannon Stewart, a reputed leadoff-hitting maven who had batted .302 with a .369 OBP in his first seven seasons with the Blue Jays. 
Stewart played really, really well for the Twins. He slashed .322/.384/.470, ranking fifth overall among Minnesota's position players in both fWAR and bWAR despite spending only 65 games with the team. His 2.17 WPA in that sample led all Twins players for the season.
He certainly didn't do it single-handedly, but Stewart helped lead a massive turnaround for the offense. After ranking 18th in runs scored and 21st in Win Probability Added leading up the trade, the Twins ranked fifth in runs and fourth in WPA with Stewart aboard.
The timing of the team's revival lent itself to a narrative that gained widespread attention – to the point where Stewart ended up ranking FOURTH in the AL MVP voting. The three ahead of him? Álex Rodríguez, Carlos Delgado and Jorge Posada, all of whom had 5+ fWAR seasons compared to Stewart's relatively modest 3.0 mark.
Does his high finish in the MVP balloting overstate his individual contribution? Definitely. But at the same time, this historical example serves as a great reminder of how one big offensive addition can make an outsized impact and energize the surrounding lineup. 
Again: not to put too much pressure on the kid, but I view Lewis as a talent capable of having such an effect. And I certainly think it's plausible that the Twins end up fishing in the deep waters at the upcoming trade deadline.
I'm not buying into anonymous rumors of Shohei Ohtani interest, but for various reasons – redundant high-minors depth, urgency to boost fan interest, and developing clarity of needs – I believe the Twins front office is poised to make a big splash when the time comes. 
While fans have a tendency to exaggerate the practical impact of deadline acquisitions, the Stewart trade is a fun reminder of what these moves can look like at their absolute peak of short-term success.
One other "foot note"
Since we're on the subject of Stewart, I feel compelled to touch on one other note in light of recent news, and ... it's kind of a downer. Although the left fielder's Twins career started in brilliant fashion, earning him a contract extension the following offseason, its ending was far less glamorous. 
Stewart developed a foot condition called plantar fasciitis in 2004, which limited him to 92 games that year and continued to haunt him in the following two campaigns, suppressing his production and availability. 
If the ailment sounds freshly familiar, it's because Carlos Correa was also diagnosed just two days ago with plantar fasciitis, along with a muscle strain, after rounding first base awkwardly on a double earlier in the week. 
I'm not trying to be a doomsayer regarding Correa's prognosis or outlook. Stewart's case was a more severe one where the plantar fasciitis became chronic and affected both feet. There's no reason to think Correa's issue will even approach that level. At the same time, plantar fasciitis is no joke.
At FanGraphs on Thursday, Jay Jaffe wrote about Correa's stalled recovery from a slow start, and cautioned against expecting the shortstop back in a couple of days, even in a mostly optimistic scenario. "The Baseball Prospectus Recovery Dashboard contains 13 instances of players going on the IL for plantar fasciitis since 2016 (though none for 2020). Those 13 stints averaged 35 days, with a low of 12 (John Lackey in 2016), a median of 30, and a high of 85 (Harrison Bader last year)"
We'll see what happens with Correa, who himself has a chance (one might argue an obligation) to be the internal version of the lineup-reviving sparkplug we are discussing here. But as we look back at the encouraging aspects of the 2003 season and the iconic Stewart trade, we also can't ignore how the more discouraging parts hit close to home at the moment.