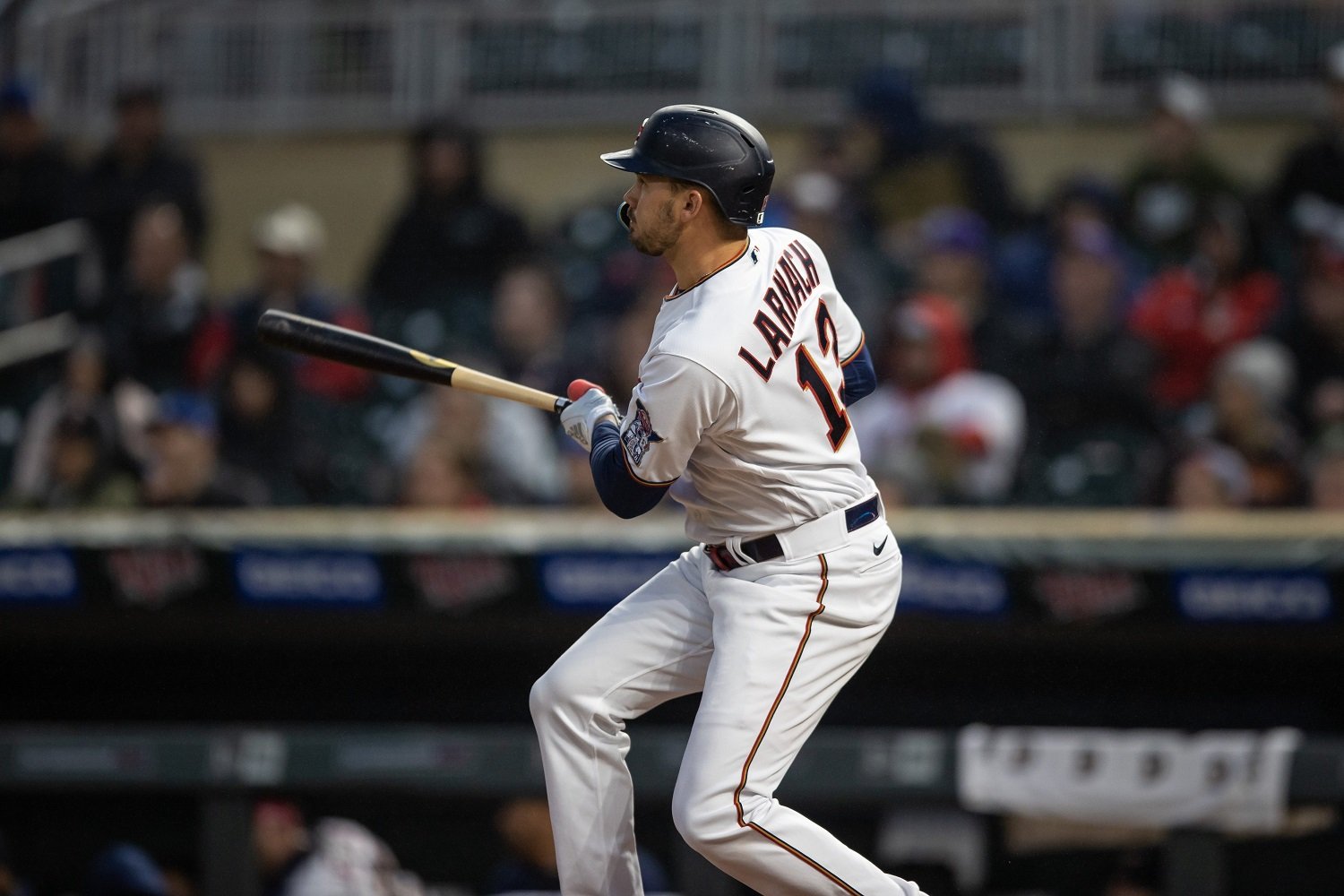 Image courtesy of Jordan Johnson-USA TODAY Sports
Trevor Larnach was drafted in the first round of 2018 and was praised for his advanced knowledge of the strike zone and impressive power. As he approaches a full season's worth of plate appearances at the big-league level, he's been a perplexing hitter, and with so many other options, the Twins could be on the verge of giving someone else an opportunity.
Larnach's big league-level timeline is clouded by two injuries that weighed down his production and ultimately cost him his seasons in 2021 and 2022. Still, he's accumulated a near-league-average slash line according to his 98 wRC+ across nearly 600 plate appearances. The main takeaways we can draw from Larnach so far in his big league career is that he's prone to strikeouts but also excels at walking and getting on base. Add in his body type and he has all of the makings of a power-hitting corner outfielder… except the power, that is.
Larnach has just a .373 slugging percentage through this point in his career. He's on about a 15-home run pace as a whole. His .145 Isolated slugging is equivalent to Cedric Mullins in 2022. The slash line may technically be above league average for 2023, but at this point, it's coming almost exclusively from walks.
Larnach's approach at the plate is intended to make pitchers work and force them into throwing pitches he can drive. He's done a great job of getting himself into those situations, but executing when he gets there is a problem. He lacks the ability to cause chaos on the base paths when walked, and the bat-to-ball skills and strikeout rate are too poor to not capitalize on damage-worthy pitches when he sees them. He's a very smart and polished hitter in regard to his approach, but not finishing the job when he gets pitches to hit is arguably outweighing his on-base ability
Alex Kirilloff lurks in Triple-A St. Paul. Larnach was discussed as a potential send-down as his rehab stint neared a close, but the Twins ultimately decided to keep Kirilloff in the minors to continue working back from his wrist surgery. At the time many argued that Larnach didn't have much to prove at the minor league level given his ability to hold his own in the MLB. This can still be argued. If the former 1st round pick with a 65 raw power grade continues to show such little thump, the Twins are likely to explore other options. It may be a need for a swing change or a mental reset to start trying to drive the ball again. Either way, it's possible that the Twins soon decide Trevor Larnach's power-hitter approach without the power doesn't belong in the Major Leagues.
The Twins have too many left-handed corner options to give a shot to. The aforementioned Kirilloff will likely continue to kick down the door to the MLB. Matt Wallner continues to torch Triple-A, and while his swing-and-miss profile is a more extreme version of Larnach's, there's almost no chance of him providing such little power at the plate if he can come up and adjust to Major League pitching.
Time may be ticking for Trevor Larnach to find his power stroke. His plate approach is polished and he leads the team in RBI, but if he continues to fail in the slugging department, the Twins will begin to wonder whether their wealth of other options can provide more. At some point soon, they may decide to put that theory to the test.