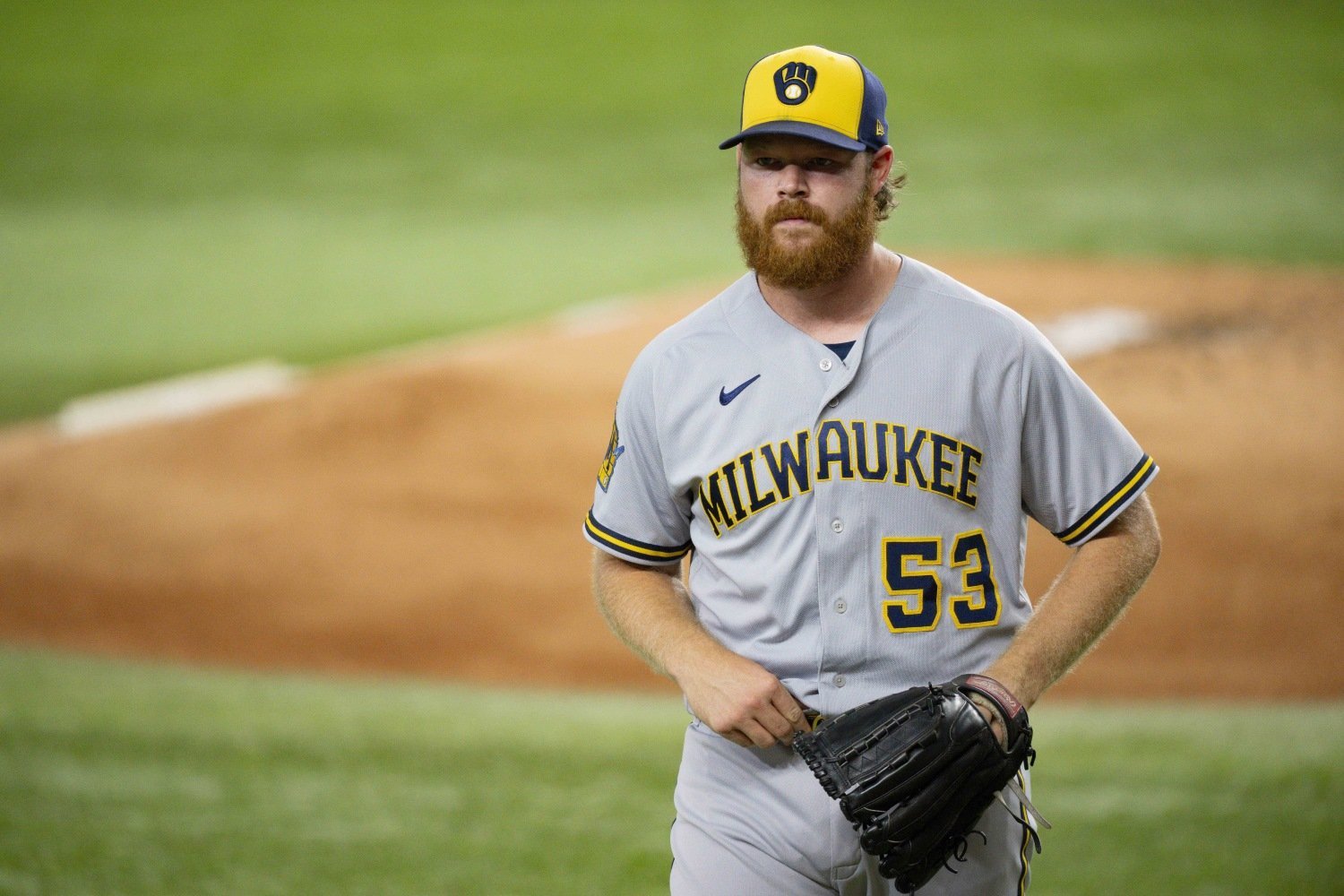 Image courtesy of Jerome Miron-USA TODAY Sports
Derek Falvey will again look to build Rocco Baldelli a roster flush with depth. After the 2022 season saw the Twins fade down the stretch due to injuries, it was notable depth that provided Minnesota with staying power en route to an AL Central title last year. There has been plenty of talk about how the payroll will shake out with decreased television revenues, and other cast-offs could provide options for the Twins.
The landscape of non-tendered players included former first round picks and plenty of big names. Not all of them are fits for Minnesota, but while looking for starting pitching, a bat, and centerfield help, a few could make sense.
Here are ten names to think about:

Spencer Turnbull - RHP
Minnesota knows Turnbull well as he has spent the entirety of his career with the Detroit Tigers. He underwent Tommy John surgery and did not pitch in 2022. Throwing just 31 innings across seven starts last year, he posted an ERA north of 7.00. From 2019 through 2021, however, Turnbull owned a 4.13 ERA with a 3.67 FIP. His 8.5 K/9 was respectable, and his 3.5 BB/9 kept him out of trouble. Turnbull isn't a dominant arm by any means and doesn't come close to replacing Sonny Gray's production, but he could be an excellent back-end depth option for the rotation. Command is generally the last thing to return post-elbow surgery, and if he goes back to being stingy against the long ball, that's a usable arm.
Austin Meadows - OF
Acquired by the Tigers from Tampa Bay for Isaac Paredes, Meadows is a former 9th overall pick and a one-time all-star. He played only 42 games in Detroit battling against both physical and mental health issues. A change of scenery could be a big boost for him, and he was wildly productive from 2019 through 2021 with the Rays. His 125 OPS+ in that stretch would work well in any lineup. Meadows is more of a corner outfielder than an option in center, and he is left-handed, but there are plenty worse dice rolls a team could make on a low-cost deal.
Juan Yepez - UTIL
One of the youngest players to be non-tendered this offseason, Yepez hasn't yet reached arbitration and has an option remaining. He's a right-handed bat that can play in the outfield and is also a first base option. After posting a 109 OPS+ two years ago in his first 76 games for the Cardinals, he got just 28 games of action last year. At Triple-A this past season, Yepez posted a .736 OPS. He's not a huge power threat, but he should be reliable for double-digits in a full-time utility role.
Mike Ford - 1B/DH
The former Yankees slugger was a late bloomer and didn't make his rookie debut until he was 26. His 137 OPS+ across 50 games in 2019 put him on the map, but Ford has never again flashed that production. In 2022, he split 50 games between the Giants, Mariners, Braves, and Angels while producing just a 77 OPS+. Seattle gave him significant run last year, playing in 83 games, and Ford rebounded with a solid 122 OPS+. He hit 16 homer runs last season for the Mariners, and while he's not at all a batting average guy, he takes enough walks to support a passable OBP. Ford can handle first base as a left-handed bopper but is better suited for the designated hitter role.
Rowdy Tellez - 1B/DH
After three seasons with the Brewers, Milwaukee decided that Tellez was expendable. His 153 games in 2022 produced a 113 OPS+ and was propped up by 35 homers. Last year, he played in just over 100 games, and the dip to an 82 OPS+ largely reflected the lack of power production. Tellez hit only 13 long balls last season and has continued to put up poor on-base numbers. Tellez is also left-handed and is not someone you want to play at first base for any significant stretch of time. If the home run production had continued, he probably wouldn't have found himself without a deal. Without the power though, his benefit to any offense is limited.
Daniel Vogelbach - 1B/DH
There is very clearly a theme in the type of player that finds themselves on the outs when it comes to non-tender time. Vogelbach is very similar to Ford and Tellez while having also played for the Mariners and Brewers. The New York Mets cut ties with Vogelbach after playing him for 159 games the past two seasons. Vogelbach was above league average last season with a 104 OPS+, but he hit just 13 home runs in 104 games. Vogelbach is left-handed as well, and with Pete Alonso at first base for the Mets, he didn't make an appearance in the field. 
Dakota Hudson - RHP
A former first round pick for the Cardinals, Hudson will be 29 years old in 2024. After owning a 3.14 ERA through his first 249 2/3 major-league innings, Hudson posted a 4.64 ERA across 221 innings the past two seasons. His peripherals aren't anything to get excited about, and the strikeout numbers make it difficult for him to see a high level of success. Utilizing him as an option for the fifth rotation spot, or even as a sixth candidate in a long-man role, could be of some benefit. Realistically, Hudson may be a better fit as an innings eater for a bad team.
Lou Trivino - RHP
Just a couple of years removed from compiling 22 saves as the Oakland Athletics closer, Trivino didn't pitch at all for the Yankees in 2023 after undergoing Tommy John surgery. New York traded for him in 2022, and he posted a 1.66 ERA after leaving the Athletics. He is now 32 years old, but if he's worked his way back from the surgery, he could be a great pickup for a bullpen. Trivino has pitched in high-leverage spots previously, and while he wouldn't supplant Jhoan Duran for the Twins, slotting in the group of Griffin Jax, Caleb Thielbar, and Brock Stewart is an exciting possibility.
Adam Cimber - RHP
Another familiar name as he has pitched in the AL Central for the Cleveland Guardians, Cimber had his first truly poor year for Toronto in 2023. Cimber dealt with a shoulder issue last season that shelved him for a good amount of the year. He pitched in just 20 2/3 innings, and the shoulder impingement never allowed him to pitch after June 18. He did begin a rehab assignment before the end of the year, and an entire offseason should allow him an opportunity to get healthy for 2024. He's more deception than dominance, but there's a usable middle-relief arm here if he's right.
Brandon Woodruff - RHP
Scheduled to make roughly $11 million in arbitration for 2024, Woodruff is easily the biggest name to hit free agency. It's not that he isn't a dominant pitcher when healthy, but there are real questions about whether he'll ever be healthy again. Woodruff underwent a capsule procedure in his throwing shoulder, which will be a substantially more uncertain return than someone returning from an elbow issue. He is an ace-level arm if and when he's healthy, so taking a risk on a multi-year deal makes some sense. No one should expect him to throw in 2024, but if the Twins want to risk throwing away money, the come-up in 2025 and beyond may be massive.
Which non-tendered free agent are you most interested in the Twins targeting? Is there someone you'd prefer them to avoid completely?