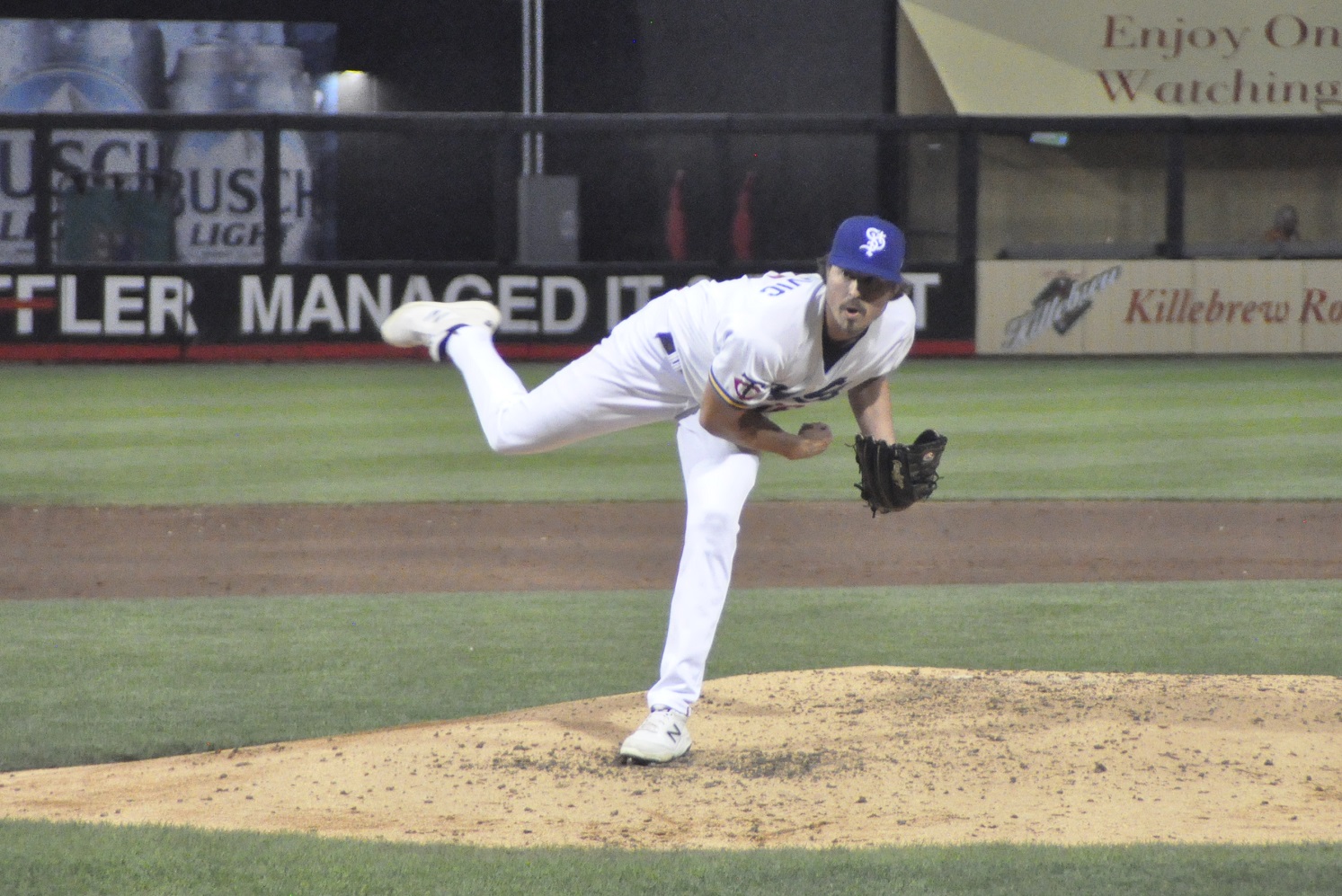 Image courtesy of Theo Tollefson, Twins Daily
Jordan Balazovic was seen as the crown jewel pitching prospect in the Twins system for a few years prior to 2022. Even as a fifth round pick out of Canada in 2016, Balazovic became a big name quickly, as his 6'5 frame filled out quickly and velocity soon followed. He dominated his way up to Double-A in 2019 before the 2020 shutdown interrupted what looked to be an ascension to one of the Twins best starting pitching prospects in some time.
2021 was a mixed bag as Balazovic threw 97 innings in Double-A with a mid-3s ERA. The strikeouts came down and walks came up a bit, but he still flashed the upside the Twins knew was there. While not the dominant pitcher he had shown he could be, 2021 never could have foreshadowed what we saw in 2022.
Balazovic began the season a bit behind due to a knee issue. Still, the Twins had decided they'd seen enough in Double-A to bump him up to Triple-A, setting the stage for a potential call up later in 2022. Unfortunately, these plans did not come to fruition, as Balazovic wound up throwing around 70 innings and posting a panic-inducing 7.39 ERA. He was often chased from outings in the second or third inning, allowing a 2.55 HR/9 that would make Emilio Pagan blush.
There were rumblings of the knee issue continuing to limit the right hander, but the 2022 season was enough for Balazovic to lose all national prospect status. Once bordering on Top 100 prospect lists as an up-and-coming mid-to-high end starting pitcher, Balazovic's future is suddenly a massive question mark. The question of course, is how the Twins view him.
At 24 years old, the Twins don't have to rush to make a decision with Balazovic. Plenty of pitchers such as Josh Winder and Bailey Ober debuted at older ages. The issue, however, becomes the fact that Balazovic had to be added to the 40-man roster. If The Twins want to regain trust in him as a starter in 2023, it will likely take a sizable body of work for them to feel comfortable calling him up given what they saw last year. It also runs the risk of him either continuing to struggle or just putting up middle of the road numbers that don't push the issue at all. Given how often the Twins churn over the fringes of the 40-man roster, it's hard to stash Balazovic away in Triple-A as a starter if they've lost any faith in him. It's possible they take another route instead.
Balazovic's stuff remains intact by all accounts. His massive frame allows him to throw mid-90s out of the rotation, and he has multiple secondary pitches that grade out well. It's entirely possible that a move to shorter stints out of the bullpen allow him to approach triple digits, and he could greatly reduce the usage on his lowest-graded pitch being the changeup. He should have the raw stuff to put any command struggles behind him and simply overpower opposing hitters. This would also put him on an expedited track to the Major Leagues.
Nobody ever wants to see a top prospect make the switch to the bullpen, but it's a quite common outcome. Trevor May, Taylor Rogers, Jhoan Duran, all former starters that made a shift for struggles of some kind and found massive success in the MLB. We've seen Griffin Jax, a low 90s fringe starting pitching prospect transition into a high leverage reliever who sits above 95 mph. Sometimes a move to the bullpen is exactly what a pitcher needs to reach their potential.
It's likely at this point that Balazovic opens 2023 as a starting pitcher in Triple-A once more, which is completely fair. Much like the 2022 Twins, it may be wise not to make any rash decisions when injury accounted for so much of the struggles. Still, it's likely that Balazovic's status as a future starting pitcher is on thin ice. Prospects get hurt and struggle every year, but Balazovic's 2022 was so bad that it's fair to wonder whether it's possible for him to come all the way back.
The Twins should have a backup plan on standby for Balazovic in 2023 should his struggles continue early in the year. He has the talent to make a real impact on the Major League team and if his odds of that impact coming in the rotation continue to wane, the Twins need to be ready to pivot. Jordan Balazovic could easily become the next Jhoan Duran starter turned reliever to make an impact on the Twins roster. It's not what fans have hoped for all of these years, but it's far from a bad outcome.