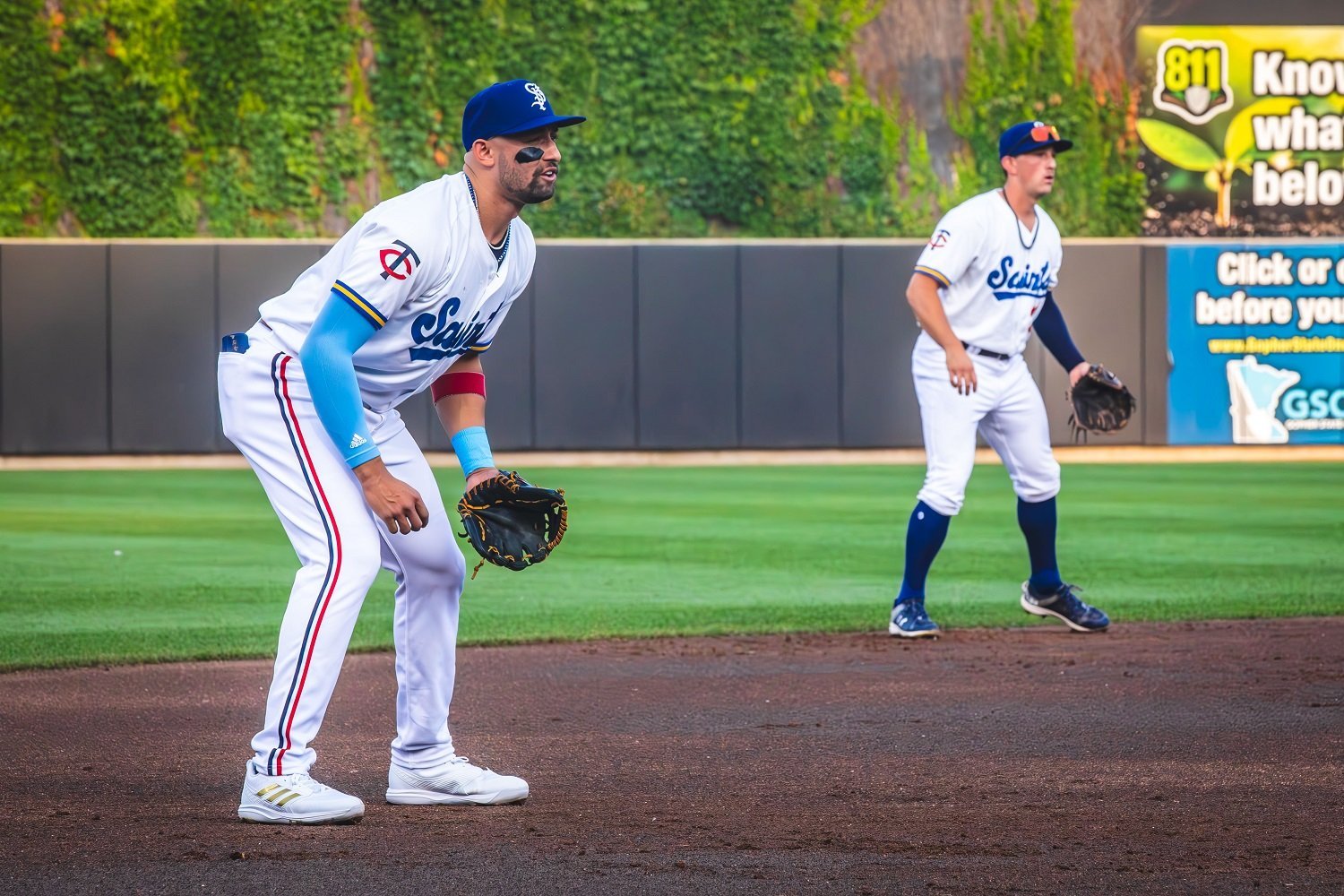 Image courtesy of Rob Thompson, St. Paul Saints
Some organizations are not planning on contending during the 2024 season, which likely means they would be willing to trade away current value for future long-term pieces. Contending teams like the Twins must find the right balance between supplementing the current roster and adding future assets to open the team's winning window. 
The Twins' current roster includes significant depth on the position player side, so that's a strength from which the team will make moves. Minnesota's lost TV revenue means the club plans to cut payroll by $15-30 million next season. Veteran players like Jorge Polanco, Max Kepler, and Kyle Farmer are likely on the trading block to clear some salary space. 
After examining Minnesota's roster, two player types are untouchable in trades. Current young players with surplus value moving forward and veteran players with high contracts and trade restrictions. Baseball Trade Values attempts to quantify each player's surplus value in a potential trade, so it's easy to see why these players are untradeable. 
1. Walker Jenkins, OF
Surplus Trade Value: 45.1
The Twins selected Jenkins with the fifth overall pick in the 2023 MLB Draft, and he's already established himself as one of baseball's best prospects. Minnesota pushed him to Low-A, and he posted a .989 OPS in his professional debut. His surplus trade value isn't the highest in the organization because he is far from the big-league level. The Twins aren't trading Jenkins because he is on his way to becoming a superstar. 
2. Royce Lewis, SS/3B
Surplus Trade Value: 44.2
The Twins saw how valuable Lewis can be to the line-up in the second half of last season. He added muscle to his frame while rehabbing from two ACL tears, increasing his power production. He will get an entire off-season to acclimate to third base, his new defensive home. On a team with big names like Correa and Buxton, Lewis is quickly becoming the face of the franchise. 
3. Pablo Lopez, SP
Surplus Trade Value: 43.1
The Twins have yearned for an ace since trading away Johan Santana was. Lopez stepped into that role last season, and the front office quickly signed him to an extension. He had some ups and downs during his first season with the Twins, but he was fantastic in October. He will be at the top of the team's rotation through 2027. The Twins continue to try to add to their rotation, so there is no reason to try and trade Lopez. 
4. Brooks Lee, SS/3B
Surplus Trade Value: 48.1 
Lee has the highest surplus trade value of any player in the Twins organization because he is on the cusp of the big leagues. He has a full six years of team control, with some of those years being at a minimal cost. Jenkins and Lee are ranked closely on many national prospect lists, but Lee has a lower floor, and Jenkins has a higher ceiling. The Twins were lucky to get both players in their respective drafts, and the hope is they are in the middle of the team's line-up for the next decade.
5. Joe Ryan, SP
Surplus Trade Value: 39.1
Near last year's trade deadline, I wrote that Ryan was the team's most valuable trade asset. His performance struggled in the middle of the season as he dealt with a groin injury. However, there is hope that Ryan can have a healthy 2024 and reach his full potential. Some of his trade value has decreased because he is in his last pre-arbitration season. Still, the Twins want Ryan to take the next step and prove he can be a player they rely on in the playoffs.
How would you rank the players listed above? Would the Twins consider trading any of these players for the right starting pitcher? Leave a Comment and start the discussion.