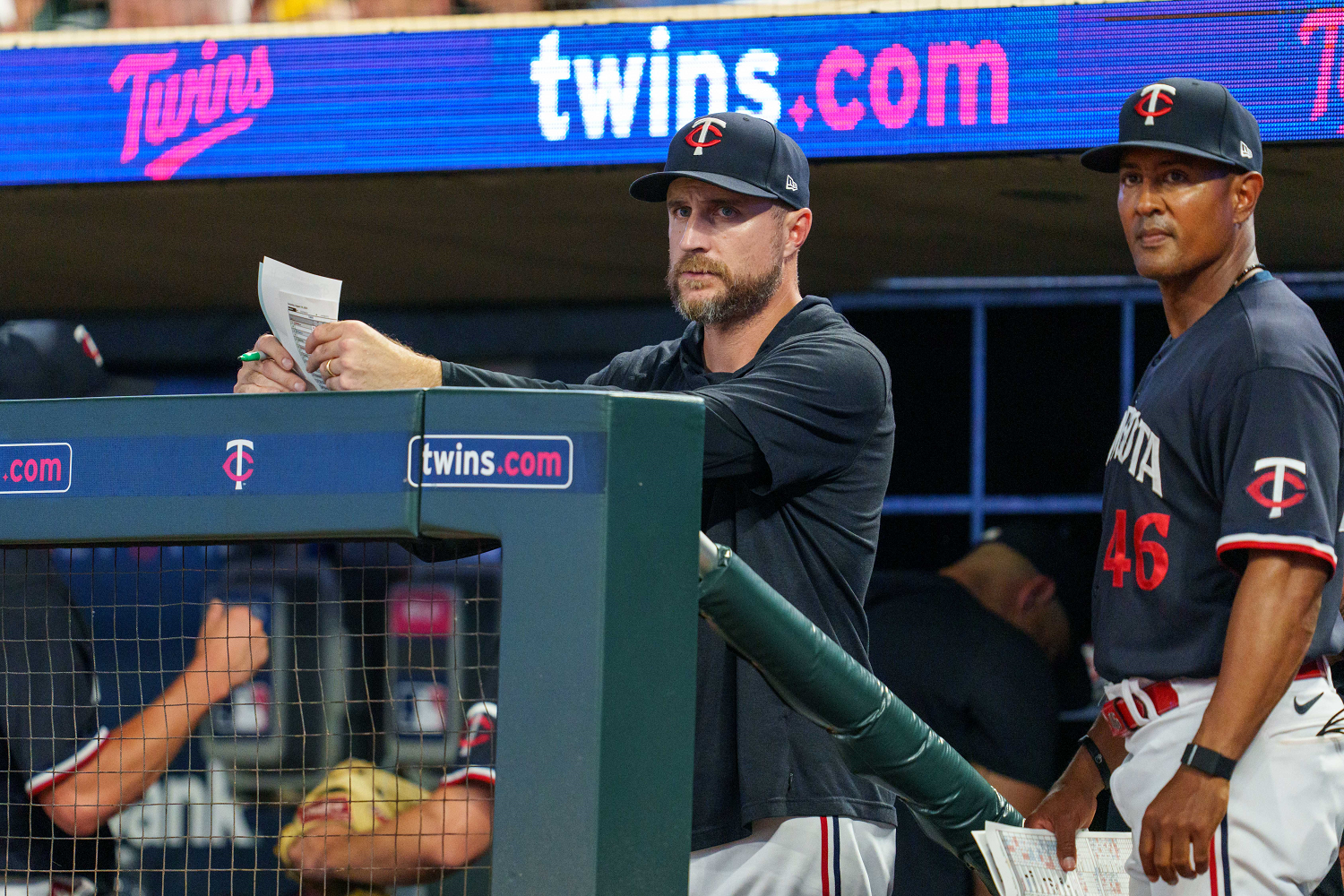 Image courtesy of Matt Blewett-USA TODAY Sports
If you ask a Twins fan, "What does Rocco Baldelli love more than anything else?" you'll probably hear some form of "make substitutions" as a response. Depending on the fan, that response could have any level of emotion to it. Love it or hate it, Rocco loves himself some substitutions.
His strategy of trying to win right now—with less concern about what will happen later in the game—has led to the Twins pinch-hitting the third most times in the league in 2023 (and the tenth most pinch-running). He especially likes platoon swaps in-game, sometimes rolling out total line changes when the opponent brings in a left-handed reliever with as many as four pinch hitters.
The rationale is straightforward. Left-handed hitters struggle against left-handed pitchers. The lefty greats are usable against same-handed pitchers, but none can do nearly the same amount of damage that they can against righties. Even an average righty hitter could be the better choice in that case.
Those average righties can start against left-handed pitchers, too. After the opposing lefty leaves, a manager can bring in all of the left-handed hitters and maintain a strong lineup.
Baldelli has undoubtedly bought into that idea.
As early as Opening Day, the play was on. In the sixth inning, Kyle Farmer hit for Nick Gordon against lefty Amir Garrett and walked. Donovan Solano then hit for Joey Gallo and singled, driving in Trevor Larnach for the season's first run. They finished the last four innings at second and first base, respectively.
The strategy was off to a good start. After Opening Day, though: yeesh.
In a June 30th mailbag, Athletic writer Aaron Gleeman reported that although the Twins had used the second-most pinch hitters in MLB to that point in the season (91 in 82 games), they ranked 26th in OPS at a paltry .496.
That's a pretty abysmal performance. For reference, Alex Kirilloff and Edouard Julien—players who have essentially been banned from hitting against lefties this season—have a .470 and .452 OPS against left-handed pitchers, respectively. They were only marginally worse than all pinch hitters to that point in the season. Against lefties specifically, Minnesota had the 28th-highest OPS from pinch hitters: .490.
At that point, fans and team personnel had to question whether the lineup jumbling and complicated role structure on the team was worth the effort. Why not just let the young lefties play the whole game? Did they need to go through all this effort just to get a different version of a bad result?
Fast-forward to mid-September. It's been two and a half months since that low point. The Twins currently have a .723 OPS from their pinch hitters on the season, just a hair under the MLB average for all hitters. That's good for eighth in the league. Somehow, after all that struggle and consternation, the Twins have cracked the top ten.
From the beginning of July through September 15th, Twins pinch hitters had 80 plate appearances (third in MLB) with a .997 OPS (second in MLB) and a 170 wRC+ (best in MLB). Their pinch hitters have been on an absolute tear. That includes a .785 OPS (sixth in MLB) against lefties from their pinch hitters.
Now, 80 plate appearances is little to go off. It's a month's worth of plate appearances for a full-time player. However, it does provide hope that the big-bench, pinch-hitting approach can work in the playoffs. 11 different players had pinch-hit since the beginning of July, and only Solano, Matt Wallner, and Christian Vazquez had an OPS below .750 during that time.
Admittedly, fans can count on one hand the number of times many of the names at the top of the list have pinch-hit—two for Jorge Polanco, three for Ryan Jeffers, and so on. However, other than Donovan Solano (11 plate appearances), who has otherwise been the paragon of consistency on this team, the guys the Twins will look to as pinch hitters have performed well.
Jordan Luplow (11 PA) and Kyle Farmer (10 PA) will be looked to mid-game against lefties, and they have a 1.260 and .800 OPS, respectively, as pinch hitters. Edouard Julien (11 PA) would be considered a substitution if he sits against a lefty starter, and he's had a .909 OPS as a pinch hitter since the beginning of July.
Of course, these are small samples, and dividing it amongst individual hitters isn't an entirely meaningful analytical exercise. However, the practice of pinch-hitting has helped the team throughout the year, especially in the second half.
There is reason to feel trepidation about Baldelli opening up his bench during playoff games. An early move that doesn't work out can kneecap a team later in the game. There is a general pinch-hitter penalty for batters, as coming in cold off the bench isn't an ideal way to prepare for a plate appearance.
However, it's been working lately. Some have suggested that players have adapted to the unorthodox style, and there's something to be said for a learning curve. No one truly has a day off on these Twins teams. If it's a system that a player is unfamiliar with, it might take a while to adjust.
In this small sample, they have adjusted. Or it's just noise. I won't sit here and declare it fixed or a brilliant strategy. It's just worth remembering that the practice hasn't been as comically bad as it initially seemed.
In the Wild Card, there might be a total of five such pinch hits. Who knows if it will actually work, but recent performance has me hopeful that it will.