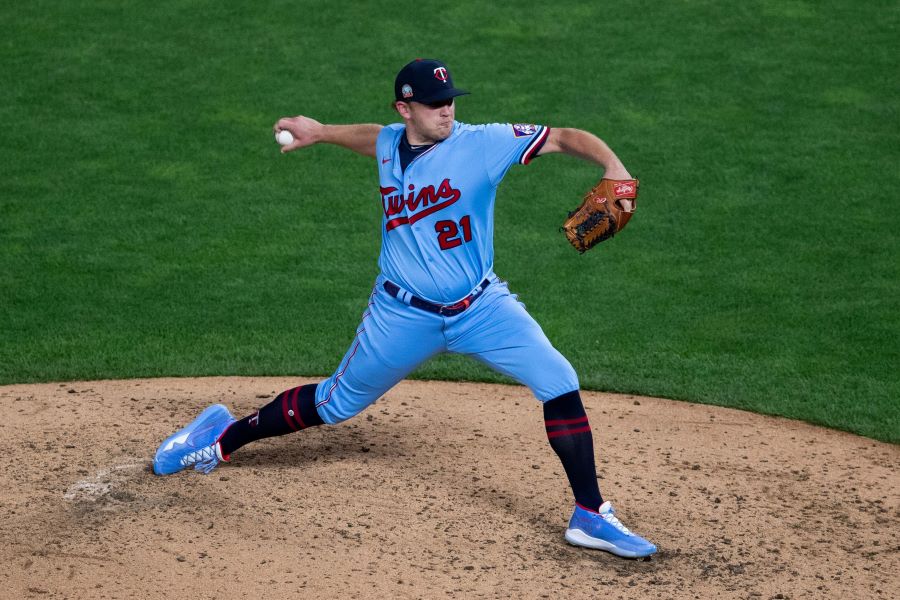 Image courtesy of Brad Rempel-USA TODAY Sports
Minnesota pitching coach Wes Johnson is famous for getting as much velocity as possible out of his pitchers; but outside of Jorge Alcala, the Twins don't have a lot of high-velo arms. The old cliché is that a pitcher must establish the fastball to succeed, but most hitters feast on heaters, and while it seems rather obvious, it certainly makes sense for pitchers to throw their best pitches with greater frequency, which more often than not, isn't a fastball.
Alas, this is exactly what the Twins have done. Minnesota's pitchers rank 27th overall in fastball velocity, with an average of 92.3 mph, and have adjusted by throwing fastballs just 41.9% of the time, which is the third-lowest rate in the MLB. Instead, opposing hitters are seeing a steady dose of sliders and changeups:

This chart might be the most logical thing I've seen in 2020. As a group Twins pitchers have the best sliders in baseball, and lo and behold, they also throw them with the greatest frequency. The changeups are pretty good too, so they're thrown at the fifth-highest rate. And while the Twins are greatly limiting the number of fastballs (down from 51.6% in 2019), the 19th overall value ranking implies that they're performing better than the velocity would suggest.
There are a few possibilities for why Twins fastballs have performed better than the velocity suggests. Generally speaking, faster is better (duh), but more goes into a heater than just velocity. Rising four-seam fastballs are in-vogue, and in order to get the so-called rise, a pitcher needs a good spin rate. But not all spin is created equal, so what you're really going for is spin efficiency (basically how well the spin is turned into movement) and this is another area the Twins excel in. Eno Saris of the Athletic wrote a great piece about spin efficiency, which included a list of the MLB's top spinners, and Minnesota places 5th in average active fastball spin. So while the Twins don't throw the hardest fastballs, they get the most out of their limited velocity.
Another possibility is that the increase in breaking and off speed pitches is making it harder for hitters to sit on fastballs and do damage to them when they do see one. For evidence of this, look no further than Kenta Maeda. He has been unbelievable by altering his pitch usage and throwing more sliders and split-changeups to both sided hitters. In the past, it was Maeda's fastball that got him into trouble, but with all the sliders and splitters mixed in, hitters have been unable to square up either his four-seamer (27% whiff, .094 BA) or his less used sinker (25% whiff, .000 BA).
With some Twins relievers like the slider-heavy Sergio Romo (17.4% fastball) and Matt Wisler (20.8%), it's not all that surprising that they're not throwing many fastballs (although they're taking it to another level), but there have been others as well. Take a look at this list of Twins pitchers that have significantly reduced their overall fastball usage:

An interesting list as it includes a few starters, a reliever, and a swingman. Devin Smeltzer is a great example of a pitcher who doesn't have the fastball velocity to survive on a heater-heavy mix. His four-seamer is averaging a ghastly 87.2 mph, but he's been using the kitchen sink approach (35.1% changeup, 22.5% slider, 10.5% curve) and it's worked. He got roughed up in his first appearance, but he's got a 2.92 ERA and 1.03 WHIP in 9.2 innings since, and he looked filthy in his most recent outing against Kansas City.
Tyler Duffey is an entirely different case, as he has a good four-seamer with relatively decent velocity (92.8 mph), but he's gone all in on the breaking ball as well. He's throwing his curve 62.5% of the time and getting a ton of whiffs (46.2%) while transforming himself into one of the best relievers in all of baseball.
Finally, we have Randy Dobnak, who has been right up there with Maeda as one of Minnesota's most trustworthy starters. As a ground ball machine, Dobnak isn't going away from his sinker anytime soon (he's actually throwing it more – 44.8% this year compared to 36.5% in 2019, it's the four-seamer he's using much less often), but his increased slider usage (up to 32.7%) is getting plenty of whiffs (34.7%) and weak contact (.088 BA, 82.8 EV).
It's easy to say that having pitchers throw their best pitches more frequently is common sense, but baseball is a stubborn and conservative game that is hesitant to change more often than not. Fastball usage is down across baseball, but it's refreshing to see that Wes Johnson and Falvey and Co. are leading the pack rather than waiting around and finally changing after other teams are off to the next thing. The times they are a-changin'.
MORE FROM TWINS DAILY
— Latest Twins coverage from our writers
— Recent Twins discussion in our forums