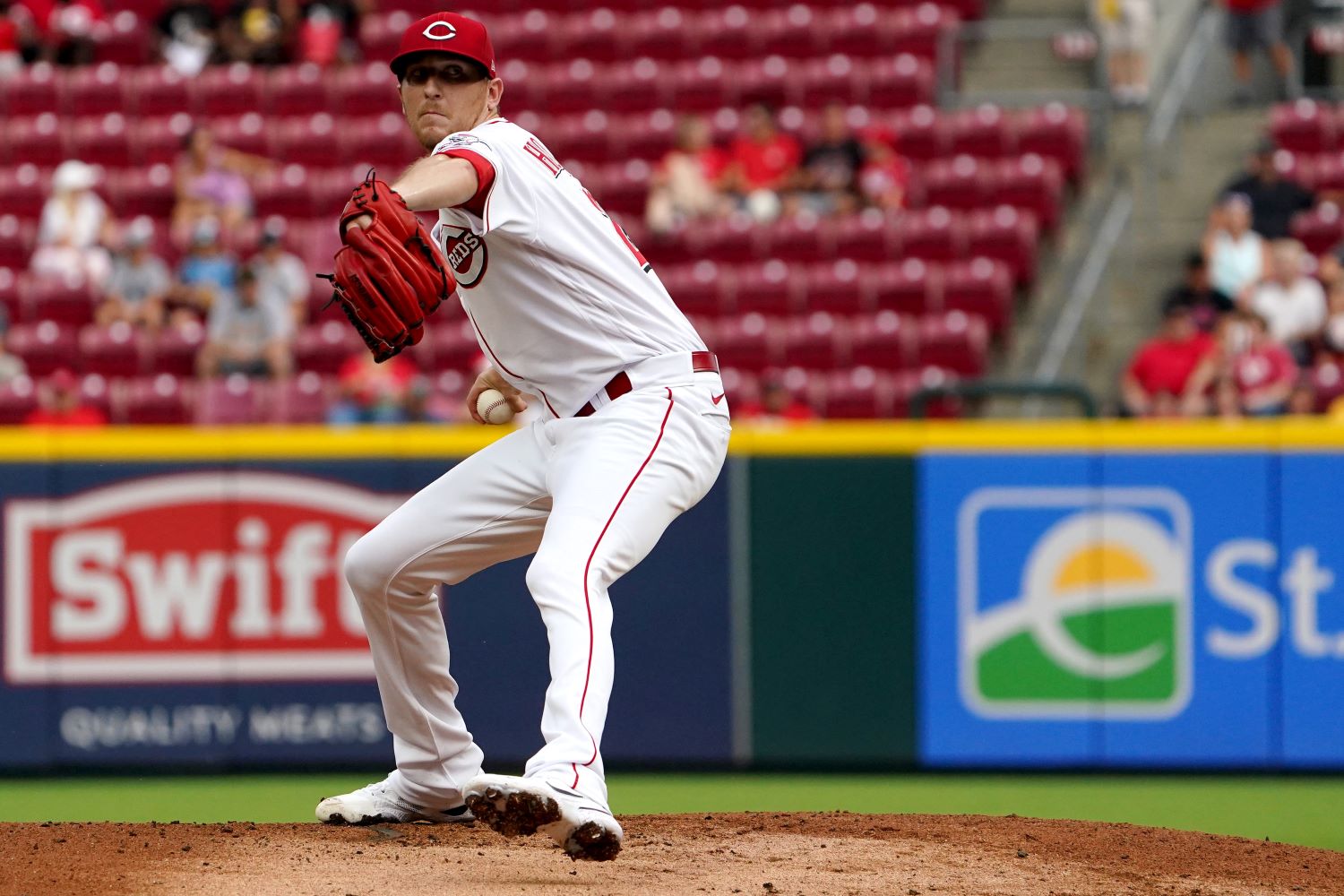 Image courtesy of Kareem Elgazzar/The Enquirer / USA TODAY NETWORK
The Minnesota Twins could end the competition for the final bullpen roles if they declared the incumbents (Trevor Megill and Jovani Moran) victors. Given how the Twins have operated this offseason, particularly in terms of depth, it's likely that they may insulate their roster by sending one or both of them to Triple-A instead. With a few non-roster invites in camp staking their claim, The Twins could add depth to their bullpen.
Dennis Santana, already holding a 40-man roster spot, looked to be the likeliest candidate to make the Opening Day roster at another reliever's expense. After quietly being put on waivers, Santana's name is no longer in the competition.
Instead, it may be time to turn our eyes toward veteran Jeff Hoffman , who signed an interesting minor-league deal earlier this spring.
Hoffman has never quite put it all together, but he has pitched in parts of seven MLB seasons. Originally a starter, Hoffman transitioned to the bullpen in 2020 and has been able to strike out over a batter per inning in each of the last two seasons. His 3.83 ERA in just over 44 innings last season may be the most successful campaign of his career thus far. So why would the Twins be enticed by such unexciting numbers?
Hoffman averaged a solid 94.2 on his fastball in 2022. It wasn't a dominant pitch, but opposing batters hit only .237 and slugged .443 off of it that season. Despite a spin rate in the 93rd percentile, the pitch only had a swing-and-miss rate of 16.5%. For a pitch with solid results but potentially lacking something, it seems that he went to work on it this winter, and early on, the returns are encouraging.
Hoffman has consistently sat in the mid-90s all spring and has hit the high 90s on the heater with regularity. Gains made on the fastball could be a game-changer for Hoffman, and the Twins may be inclined to take a gamble considering the low risk.
Hoffman's two secondary pitches were legitimately dominant in 2022. The slider earned a 38.5% whiff rate and punished hitters to a .222 batting average and .370 slugging. His changeup had a whiff rate of 37.6% and allowed a .209 average and .348 slugging. He threw both pitches around 24% of the time.
The assumption based on the pitch mix is that Hoffman's repertoire is built to match up with both right-handed and left-handed opposing hitters. His numbers don't match what would be expected from a reliever with two dominant secondaries. It's possible the Twins planned to bring him in and cut back on fastball usage while increasing the offspeed. While this still may be the plan, Hoffman potentially increasing his fastball velocity brings his potential to a whole new level.
Hoffman has only made three appearances this spring, allowing two runs in three innings. He's walked one batter and struck out six. With multiple opt-outs in his contract (March 28, May 15, June 15), Hoffman may not be a candidate to take a Triple-A assignment. Given his velocity gains, he's likely to take the first opportunity to pursue a job elsewhere unless the Twins add him to the 40-man roster by March 28. The organization is obviously aware of this.
For the bottom of the bullpen pecking order role that Hoffman would likely fill, the Twins would have little to lose if they believe in the improvements he's shown early this spring. An arm like Trevor Megill could be stashed in Triple-A in case of injury or if Hoffman himself struggles. The Twins may see this as a more advantageous option than letting Hoffman walk for nothing and having no obvious replacement waiting in St. Paul should another reliever go down.
Has Hoffman's performance this spring been enough to earn an Opening Day roster spot? Should we trust the velocity gains we've seen from him early in camp? Let us know below!