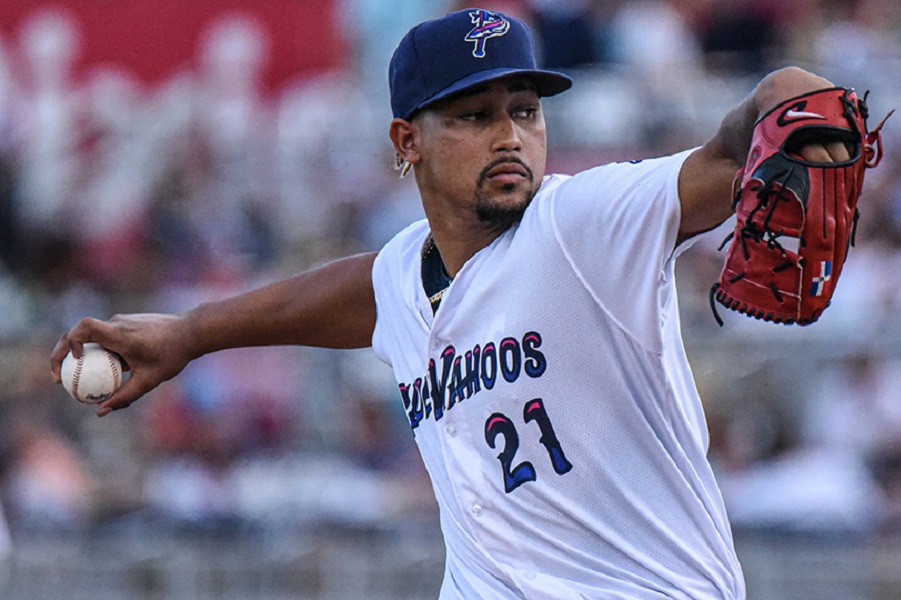 Image courtesy of Pensacola Blue Wahoos (Jhoan Duran)
Going into the season, Minnesota's rotational depth certainly looked like a strength, but injuries to Jake Odorizzi, Rich Hill, and Homer Bailey have taken a toll. Odorizzi is back in the rotation, but with Hill battling back issues and Bailey dealing with right biceps tendinitis, the Twins can use all the help they can get. And while Randy Dobnak has continued to amaze, both Lewis Thorpe (due to velocity loss and lack of command) and Devin Smeltzer (whose stuff is better suited for long relief) leave a lot to be desired as starters.
Both rebuilding teams such as Kansas City (Brady Singer, Kris Bubic) and teams hoping to contend like Toronto (Nate Pearson), Philadelphia (Spencer Howard), and Houston (Christian Javier) have been quick to turn to top-pitching prospects as injuries have been abundant across the MLB. And for the most part the results have been pretty good, as the Twins can attest to after losing to the Royal's Singer on Sunday's series finale.
With José Berríos, Kenta Maeda, Randy Dobnak, and Jake Odorizzi anchoring the rotation, Minnesota could make its own rookie splash by calling up Jhoan Duran to fill in the fifth and final rotation slot.
Duran spent the majority of 2019 in High-A Fort Myers where he pitched really well (3.05 FIP, 29.9 K%) and didn't skip a beat in his seven AA starts (2.76 FIP, 26.8 K%/5.9 BB%). In his final two starts he went 13 innings with 17 strikeouts, two walks, and allowed just one earned run. But most importantly, Duran has the stuff to succeed at the MLB level.
Unlike Thorpe or Smeltzer, who need pinpoint command to succeed with sub-90 mph heaters, Duran can hit 100 mph, and sits in the high-90s. Duran features a two-seam fastball rather than the four-seamer that is in-vouge these days, but the two-seamer gets Duran plenty of ground balls (52.9% in A+ and 63.3% in AA) and he doesn't give up many home runs (0.55 HR/9 in 2019).
While the fastball velo is certainly enticing, the most exciting pitch in Duran's mix has to be his "splinker." As the name implies, the splinker is a hybrid between a splitter and a sinker. Twins fans have likely become somewhat familiar with splitters, as Homer Bailey and Jake Odorizzi both throw the pitch and Kenta Maeda throws a split-change, but Duran's pitch is on a whole nother level.
Rather than acting like an off-speed pitch, Duran's splinker is more fastball than changeup. He manages to throw the pitch up to the mid-90s and it has the potential to miss a lot of bats and induce weak contact as it falls off the table. Having a unique pitch that is unfamiliar to big-leaguers should help Duran keep hitters on their toes and keep us entertained as well.
The 22-year-old complements the two-seamer and splinker with a slower curveball that gets plenty of break and is working on a changeup as well. His pitch-mix is anything but traditional, and without the benefit of watching Duran pitch in the minors, it's difficult to know exactly how well he's progressing with the remainder of the 60-man roster over in St. Paul. However, the stuff is enticing and the Twins clearly have a need for high-upside starting pitching, so maybe we'll see Johan Duran and his splinker in action sooner than later.
What do you think? Are you ready for the Jhoan Duran Experience? And how do you feel about splinkers? Please leave your comments below!
MORE FROM TWINS DAILY
— Latest Twins coverage from our writers
— Recent Twins discussion in our forums