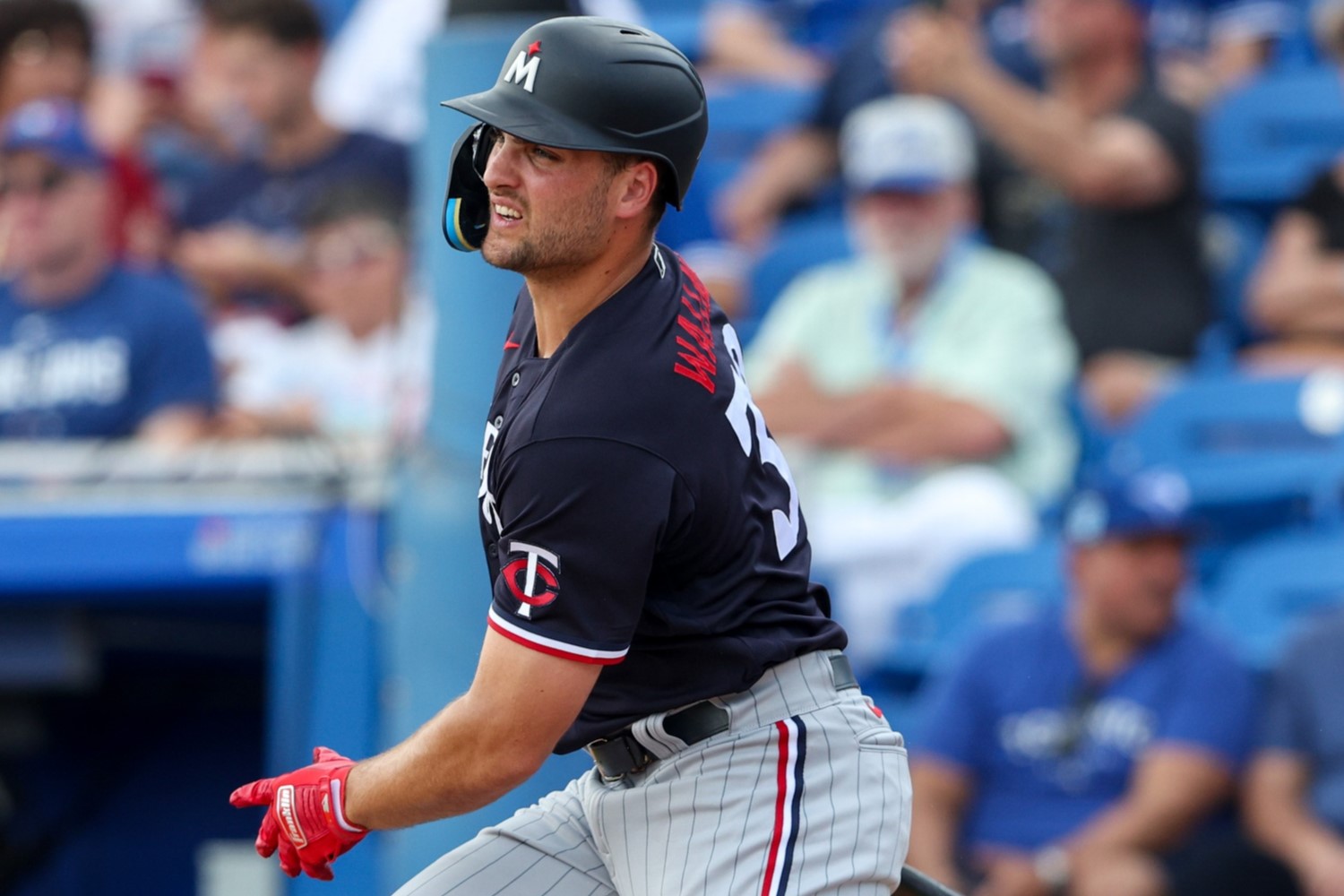 Image courtesy of Nathan Ray Seebeck, USA Today
Seven players on the 40-man roster have been either optioned (Jordan Balazovic, Matt Canterino, Brent Headrick, Edouard Julien, and Simeon Woods Richardson) or placed on the 60-day Injured List (Chris Paddack and Royce Lewis). That leaves decisions to be made on seven players, whether it's an IL move or an option, before Opening Day. 
Injured List
Alex Kirilloff remains the biggest question mark for the Twins. Will he be ready for Opening Day? The 2016 top pick took live batting practice on Monday against teammate Kenta Maeda. No further news of injury or discomfort in Kirilloff's wrist from the live BP was reported by Twins beat reporters. The possibility of Kirilloff landing on the IL and staying in Ft. Myers for Extended Spring Training remains a possibility. 
At least one player will move to the Injured List before Opening Day. Gilberto Celestino's thumb injury will keep him out for six to eight weeks with a rehab assignment to follow. At that point, he will likely be optioned and play daily in St. Paul. 
The status of Ronny Henriquez and his sore posterior elbow has not been updated over the last week. While his health status has yet to be confirmed for Opening Day, it's unlikely he'll start the season on the Twins' 26-man roster as he has not thrown in a spring training game. 
Henriquez had a strong cup of coffee with the Twins bullpen last season posting a 2.31 ERA and 0.94 WHIP in 11 2/3 innings pitched across three games. It's likely that healthy or not, the Twins' front office will want Henriquez to develop at Triple-A before getting back into the team's bullpen. 
Minor League Options 
Matt Wallner's has had a decent spring hitting .250/.358/.450 (.798 OPS) in 20 at-bats across eight games. Since he is an offense-first player in a Twins outfield group filled with great defenders, it is likely he will start the season in St. Paul to have more guaranteed plate appearances and continue his development. 
Wallner's opportunity to crack the 26-man roster and expect everyday playing time is in the designated hitter role or if there is another injury. 
Trevor Megill is second to only Jhoan Duran having the fastest pitch out of the entire Twins bullpen, but his lack of command from 2022 is still showing in spring training. Megill had a 2.88 K/BB ratio last year with the Twins. He has walked six batters and struck out 11 (K/BB ratio of 1.83) in 5 1/3 innings this spring.
The blazing fastballs will not be enough for Megill to crack the Opening Day roster if he cannot get his command of the strike zone under wrap before then. 
Cole Sands has no bigger fan than the Twins Geek himself. However, with so many reliever options to choose from and Sands' bad streaks in the majors last year, the Twins front office may see more benefit for him to start the season in St. Paul getting innings as a starter and reliever. Sands can stay ready to be called up and sent back down based on injury moves. 
Louie Varland and his abilities certainly are exciting. However, while Bailey Ober is forcing the hands of the Twins' front office to consider starting 2023 with a six-man rotation, Varland is Starter #7 on the depth chart. To open the season in the Twins rotation would mean that two of the top six starters would start on the Injured List. 
Varland could theoretically make the Twins' Opening Day roster as a long reliever. However, the Twins Minor League Pitcher of the Year in 2021 and 2022 will go to St. Paul and continue to develop as a starter. 
Who do you think will be among the Twins' last seven roster cuts to trim the Opening Day roster down to 26? Leave your predictions and thoughts below.